The Skilsaw Sawsquatch is a beast of a circular saw that effectively puts miter saw capacity in a more portable and maneuverable handheld unit. Officially listed under model number Skilsaw SPT 70 WM-22, it's been dubbed the Sawsquatch and is hoping for a legendary reputation.
The Skilsaw Sawsquatch design has one major purpose in mind – cut 4X material in one pass. That's fortunate for me since I've been looking for ways to cut the tops off of fenceposts on our farm more easily. We set them well into the ground so they're solid, but they're far from perfectly in line at the tops. So far my options have been a recip saw, chainsaw, or two passes with a standard circular saw. None of these are terribly attractive solutions but I typically default to the circular saw for a faster, cleaner cut.
So does the Skilsaw Sawsquatch fit the bill will it be too bulky and tough to manage?
Top 5 Features
Big Saw, Big Capacity
Without a doubt, the most noticeable feature on the Skilsaw SPT 70 WM-22 is the 10-1/4-inch blade. I went with the -22 model that includes a Diablo blade. If you prefer, the -01 model includes a Skilsaw blade. That blade will get you up to 3-11/16 inches of cut capacity at 90 degrees and 2-3/4 inches at 45 degrees.
Sawsquatch Made a Deal with the Devil
The Diablo blade that comes with the saw is the D1040WP – 10-1/4-inch, 40-tooth design that's great for framing applications. Even though it's a circular saw, this is still a miter saw size blade, so a 40-tooth design doesn't equate to a finish blade here. The blade is a perfect pairing for ripping and crosscutting in just about any lumber.
Sawsquatch Has a Set of Brass Ones
The Sawsquatch is a worm drive, so you're going to get the classic left side blade orientation and weight that comes along with it. Skilsaw uses brass worm drive gears to generate plenty of torque. Even though a worm drive design weighs more than a sidewinder, you really want the extra torque to drive a blade this size.
Sawsquatch Likes to Hook Up
With a handheld tool of this size and weight, Pros would be screaming if there wasn't a rafter hook. Fortunately, you've got one. It's sturdy enough to hang the saw on any 2x material or smaller. Just use discretion – the saw weighs nearly 16.5 pounds and lighter materials you're used to hanging a saw on might buckle.
Housing a Sawsquatch
Skilsaw uses a mix of aluminum and magnesium for the housing and foot plate on this model. Magnesium is a good thing. It's strong and lighter than other metals but can also drive up the cost. Skilsaw fits the foot plate and gear housing with magnesium to get those weight benefits while leaving the motor housing aluminum.
Areas for Improvement
While the Skilsaw Sawsquatch keys in around high cutting capacity, there are a few areas that it can use some help outside the depth of cut and power.
The main handle would really benefit from some rubber overmold. As it stands, it's just textured tool plastic – tough, but not terribly comfortable. You can certainly argue that you should always use gloves when using, but many users won't.
The carry handle is placed well, but really too narrow as all the weight bears down on a relatively small surface area. On the other hand, the auxiliary handle offers a nice, full gripping surface. It's technically reversible, but I'm not sure lefties will really want to have any crossover with their grip.
I found the bevel tilt to be a little on the tough side, making it difficult to dial in odd angles. This is relatively minor given almost everything I need to cut with the saw is going to be at 90 or 45 degrees. Still, it's beginning to loosen up the more I use it.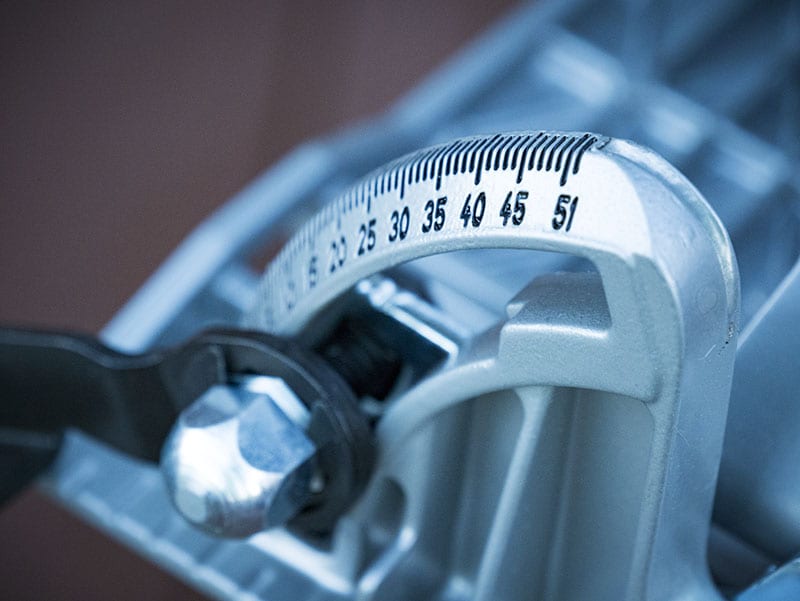 Performance
I don't always have the luxury of being within 50 feet of an electrical outlet on our farm, so being able to run the Sawsquatch from a generator is a make or break feature. Even with the inrush current of a 15-amp motor, it runs just fine on our 5000-watt unit.
One of the first things you'll notice when you turn the saw on is that the trigger is not variable speed. And it shouldn't be. You'll feel it positively click and spin the blade up to full speed to cut through your chosen material as quickly as it can.
Even with the weight of the worm drive, I went to work cutting each of the 4 x 4 and 4 x 6 fence posts to an even height. At full cutting depth, the Skilsaw Sawsquatch made the cut in one pass.
Handling is a nice surprise. Honestly, the size of the saw intimidated me at first and the 10-1/4-inch blade made me wonder how much I would have to fight such a powerful tool – particularly with the horizontal cuts on my plate. In the end, it's only the weight you need to muscle around. The motor and blade combination slice through pressure treated wood with no problem. The auxiliary handle helps tremendously with stability and can be removed for cutting in tight spaces.
Skilsaw did a nice job giving the tool end of the cord a protective tail. This comes out several inches to help prevent the common pinching and eventual shorting out of the cord.
The Bottom Line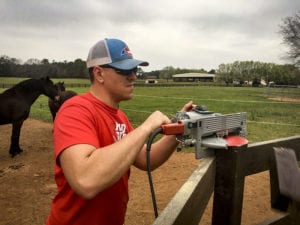 Take a 10-inch miter saw with its 15-amp motor and wrap it around a circular saw housing and you'll still fall short of what the Skilsaw Sawsquatch really is. You'll have to add the worm gears and the torque that comes with it before you can even talk about them in the same sentence. The question for you will be if you really need the capacity to cut through 4x material in one pass with a handheld saw.
If the answer is yes and you're willing to trade off nearly 16.5 pounds of weight (other options in this class tend to be heavier) and a couple of ergonomic issues to get it, then the Sawsquatch is a very valid option.
Capacity is the key here and Skilsaw gets the magic 4x dimensional cut in one pass with confidence thanks to the 15-amp worm drive motor pairing. At the end of the day, this is a heavy duty tool that's up to the task. The downsides really boil down to handle comfort or lack thereof.
Sawsquatch comes at a nearly $400 price point, but it's well built and gets the job done.
Skilsaw Sawsquatch Manufacturer's Key Features
Larger than life saw for cutting 4x cleanly and efficiently in one pass
15 Amp dual-field motor designed specifically for saws for relentless power and durability
Magnesium construction means legendary durability
Dual Field motor with copper coils for cooler operations
Electric circular saw has ergonomic handle design for superior control
Brass worm drive gears for smooth drive train
Durable Diablo blade provides excellent power
Skilsaw Sawsquatch Specifications
Model: Skilsaw SPT 70 WM-22
Amperage: 15 Amp
Maximum No Load: 4600 RPM
Motor Gearing: Worm Drive Geared
Blade Location: Left
Blade Type: 40-Tooth Diablo Carbide-Tipped
Arbor Size: Diamond
Blade Size: 10-1/4″
Bevel: 51°
Bevel Stops: 0°, 45°
Maximum Cut Depth at 45°: 2-3/4″
Maximum Cut Depth at 90°: 3-11/16″
Foot Material: Magnesium
Gear Housing: Magnesium
Motor Housing: Aluminum
External Motor Brush Access: Yes
Integrated Rafter Hook: Yes
Cord Length: 8 ft
Height: 12.23″
Weight: 16.45 lbs
Includes: 40T Diablo blade and multi-functional wrench
Warranty: 80-day STAY TRUE Guarantee and 1-year limited
Price: $389.99
Shop Amazon