Lighting has been a major push for nearly all the big players in the professional tool industry and Ridgid is making a move with several new offerings. For a complete line, you have to have room-filling flood lights, bright spot lights, smaller handheld lights for tight space, and everything in between. When we saw the array of new lights a few weeks ago, I immediately claimed the Ridgid Gen5X 18V Dual-Power Light Cannon.
As we begin to unpack each of these new lights to discover where their places are on the jobsite, it's natural to wonder where they might fit into your life when you're not at work. For me, that's everything from hiking and fishing to gator hunting and camping. With gator season just underway here in Florida, spotlights are a big draw.
Features Worth Talking About
Design
The Ridgid Gen5X 18V Dual-Power Light Cannon reminds me of the old 1 million candlepower Q-Beam we used to have in the boat to help navigate waterways after dark. It has a ergonomically sound handle surrounded by Ridgid's Hex Grip overmold. That leads up to a lens just over 3-1/2 inches across protects the 4 large LED chips.
Ridgid extended the overmold up and around most of the light's frame. Additional overmold protects the controls at on the back of the light housing and is substantially extended around the lens.
Power Up
Like many lighting and fan options entering the market recently, the Ridgid Light Cannon has dual power sources – just not the way most lights do. It starts with the typical battery connection using any Ridgid 18V battery pack. When battery power isn't available or convenient, Ridgid includes a 12-volt vehicle adapter as a backup source along with a cord retainer on the back to help keep it under control. This actually makes a lot of sense for packing in utility and service vehicles, not to mention that you're rarely on a jobsite without transportation.
While I wish it were so, the 12-volt adapter will not charge your 18-volt battery when connected. Maybe next time.
Light Output
We don't measure light output in candlepower anymore like our old spotlights. With a name like "Light Cannon" it darn well better be powerful though! Ridgid's new spotlight boasts an impressive 2500 lumens.
Dial it Down
Anyone can make a spotlight, but subtle features make a difference. Ridgid got rid of the modes usually cycled by clicking the power switch multiple times and instead added something incredibly intelligent – a power dial. Rather than being forced into 1, 2, or 3 modes, you now have some 18 micro adjustments between low power and high.
Head on a Swivel
While the Ridgid Gen5X 18V Dual-Power Light Cannon is mainly a handheld spotlight, the balance is good enough with a battery for it to sit upright on a flat surface. It'll do that while plugged in using the 12-volt vehicle adapter as well so Ridgid included a 180-degree (it's actually a little more than that) swiveling head.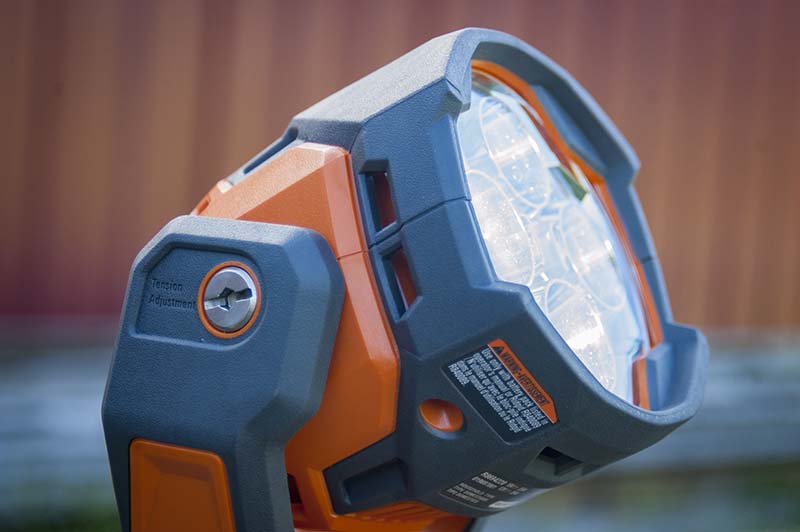 The design means that the swivel will happen vertically rather than horizontally which make sense in the majority of situations. After all, you can just turn the light horizontally whichever direction you need to. The pivot includes a tension bolt that can be tightened or loosened with a hex key or slotted screwdriver/knife blade edge.
Just Hanging Around
There are more ways to direct light to your target than just setting the Ridgid Light Cannon on a flat surface. A belt hook can be installed on either side and doubles as a point to hang the light from.
If you're serous about lighting, Ridgid has a new tripod stand specifically designed to work with their new lighting solutions. You'll notice the 1/4-inch threaded connection point to use with it or any other compatible tripod.
Get to Where the Action Is
When it comes to performance, there are two major considerations – how those 2500 lumens are directed and how long it will run.
With spotlights, I typically like a nice tight beam. Not only does that put as much light as possible on my target, but it also helps kick the light out father. The Ridgid Gen5X 18V Dual-Power Light Cannon has a beam that is a little broader than I like for outdoor use, but is pretty solid for lighting up a working area from distance – particularly if you're working at height and someone on the ground is taking care of illumination.
When it comes to run time, Ridgid tells us that we can expect up to 30 hours on a 5.0 amp hour battery in low. With the potential to run much longer than I care to sit by it, I decided to run the light on high using one of Ridgid's compact batteries. The power draw on an LED light is pretty small, so we can reasonably estimate that the 1 hour, 42 minutes I got with the compact battery will stretch out to at least 4 hours, 15 minutes with a 5.0 amp hour pack, but likely longer.
The Bottom Line
As the first in line of our reviews on Ridgid's new lighting solutions, this is a good start. I really like the the Q-Beam style design and the 2500 lumen output is more than sufficient. Adding the touches of innovation with a power dial and vehicle adapter really add to the draw of this model while the amount and placement of overmold build confidence for its jobsite use.
Is there room for improvement?
Sure. I'd love to see an adjustable beam for this model, but at this price point and with the other options available in the line, I don't think it's necessary. While I do like the belt hook, I'd like to add a lanyard as well to keep the light attached to my wrist when working at height.
Overall, if you're on the Ridgid battery platform and need a spotlight, the Ridgid Gen5X 18V Dual-Power Light Cannon is an easy recommendation to make.
Ridgid Gen5X 18V Dual-Power Light Cannon Specifications
Model: Ridgid R8694220B
Power Source: Ridgid 18V battery or 12V AC adapter (included)
Light Output: 2500 lumens
Modes: Dial for micro adjustments
Run Time: Up to 30 hours on 5.0 amp hour battery
Warranty: Lifetime service agreement
Expected Retail Price: $89