We think of the Ridgid Octane JobMax Multi-Tool like this: Buy it for the oscillating tool. Then, benefit from the whole 7-tool suite if you decide to purchase the other heads separately. Having already played with the Ridgid 18V JobMax multi-tool, the Octane "big brother" oscillating tool and sander came in handy on the job site. In fact, it has come in handy enough times to pay for itself several times over.
Pros
Performs seven different functions using interchangeable heads (sold separately): sander, jigsaw, oscillating tool, reciprocating saw, metal shears, right angle drill, and right angle impact
Handy for cutting drywall, trim, and anything involving plunge cuts
Each head can be rotated in four positions around the power base
Lots of power and runtime from the Octane battery system
Cons
Spring-loaded lever provides tool-free blade changes but can snap back on your hand painfully if you're not careful
It's hard to press the buttons to remove the head
The work light doesn't rotate with the head
Ridgid Octane JobMax Performance
Back and Forth
Like the impact driver, the oscillating tool is in the What did we do before we had them? category. Our crew uses them for flooring, finish work, rough-ins, general carpentry—you name it. After our first experience with the impressive Octane Megamax, the Ridgid Octane JobMax Multi-Tool sounded like a fine idea to us.
It turns out we were right. When you take an eminently useful tool and boost the power and runtime, you get something special. It can certainly out-cut any of its peers—at least any we've used. Plunge cuts, flush cuts, on-the-fly mortises, trim work, making holes in drywall—we always take the JobMax along. It seems like there's always something it can do better than another tool. We're not sure if it's the best oscillating multi-tool on the market, but it has plenty of power.
Heads on a Swivel
As is usually the case, we couldn't resist playing with the Ridgid Octane JobMax Multi-Tool as soon as we got it to the shop. You know, before it did any "real" work. We cut some quick field mortises and used the sanding head to ease some edges.
Of course, those are just two of the JobMax's seven functions. For around $50 each, you can also pick up a jigsaw, recip saw, metal sheers, right angle drill, and right angle impact. We don't have those yet (do we smell a future review update?) but all indications are that they work well.
All is not perfect with the Ridgid Octane JobMax Multi-Tool, though. The buttons that release the head from the power base are stubbornly hard to push—at least simultaneously, which is what you need to do to switch heads or rotate it to one of its four positions. We had the same experience with the Octane 7-inch Grinder's buttons. Also, the work light is on the power base and therefore doesn't swivel as you rotate the head. That's a bit of a nitpicky caveat, but it's worth pointing out that the light will only illuminate your work in the "standard" position.
Spring Forward
You've probably seen about as many tool-free oscillating blade change mechanisms as there are manufacturers. The Ridgid Octane JobMax Multi-Tool's uses a spring-loaded lever that can snap back on your hand if you're not careful. It holds the blade and sanding block very tightly, but it's still not our favorite part of the design.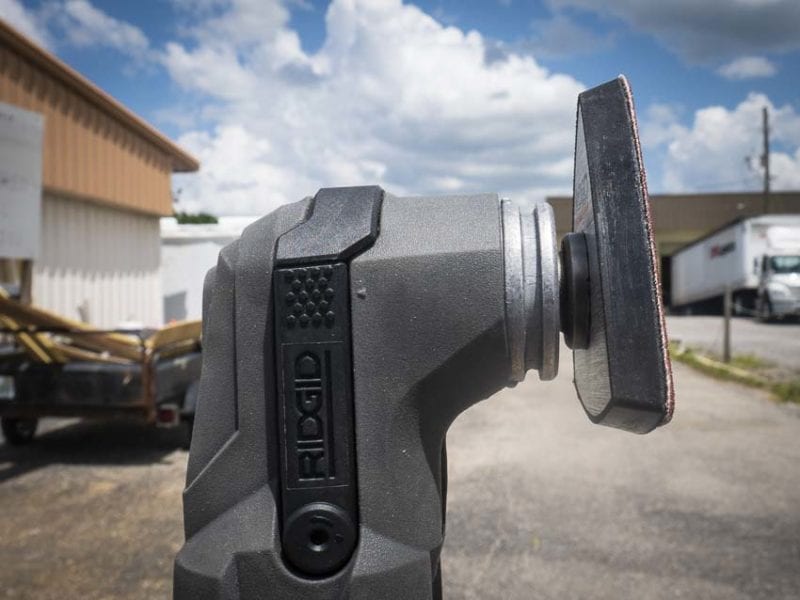 A lot of guys on our crew are big fans of Ridgid because of the Lifetime Service Agreement (LSA). If you've had difficulty registering for the LSA in the past, RIDGID has streamlined the process considerably, It's also nice to know that if you do register the JobMax, it's covered.
Price
The Ridgid Octane JobMax Multi-Tool is in a class of its own. Its competitors only offer a couple of functions—usually an oscillating tool and a sanding tool. The bare Octane Jobmax comes in at $129 which we think is quite a deal given its capabilities.
The Bottom Line
Ridgid Octane has been flexing its muscle with some impressive tools lately. The new JobMax is no exception. We used it as an oscillating tool and sander and found it excels with lots of power and runtime.
You also have options to add a jigsaw, recip saw, metal sheers, right angle drill, and right angle impact head for around $50 each. It won't replace your tool fleet, but Octane's capability allows the JobMax to more closely approximate dedicated tools.
We'd like it to be easier to remove/rotate the heads and the spring-loaded blade exchange lever gave us some difficulty. Still, all things considered, the souped-up Octane JobMax means versatility at a great price.
Ridgid Octane JobMax Multi-Tool Specifications
Model: R862105B
Speed: 0-20,000 OPM
Oscillation angle: 4°
Brushless motor
Variable speed
Dimensions (HxWxD): 3.5 x 3.25 x 13.4 in.
Weight: 3.2 lbs.
Warranty: Ridgid Lifetime Service Agreement
Price: $129 (bare tool)