We've talked a little bit about the benefits of Ridgid's new Octane technology on their 18V platform. We also got to see one of the first applications with Ridgid's 18V Octane brushless reciprocating saw. But it's the new Ridgid MegaMax that really pushes the new battery/tool/communication system to show off what Ridgid has in mind for their next generation of cordless tools.
We've been using the MegaMax for several weeks, keeping a close eye on what kind of tradeoffs you might have to make to get its multi-function convenience.
Pros
All three tools perform at a Pro level
Saves space compared to carrying three different tools
Electronics confirm solid connection and give specific power curves to each head
Cons
A little more bulk and weight than standalone products
Recommendations
The Ridgid MegaMax system is an excellent investment for remodeling and renovation Pros that use each of these tools frequently, but not exclusively. Plumbers and electricians will find some benefits as well.
Here's what Ridgid MegaMax offers on the surface:
Powerbase with Ridgid's largest brushless motor to date (similar to what you see in cordless lawn mowers currently)
Reciprocating saw head (1-1/8″ stroke, 3100 SPM)
Right angle drill head (Hole Hawg style, 0 – 450 RPM)
SDS-Plus rotary hammer head (2.2 ft.-lbs., 0 – 1400 RPM, 0 – 5000 BPM)
The big deal is the combination of interchangeable heads along with the size and power of the motor. It's what you can't see that gives Ridgid the ability to push forward, though. The tool communicates with each head so it knows exactly what tool you're using. From there, it tells the battery exactly how to transfer energy to get the most power and efficiency without risking damage to the battery cells.
Field Testing
We're very thankful that we couldn't be busier. One of many projects in process is a major home renovation for some clients moving from south Florida. It's an excellent site to demonstrate all we've learned about the Ridgid MegaMax. We had to remove masonry from a porch, install wiring through studs, landscape, and much more.
Ridgid MegaMax 18V Octane Brushless Multi-Tool Key Features
Octane tool/battery combination optimizes performance
Smart powerbase identifies each attachment and configures settings automatically
LED communication panel gives status feedback
Each head can attach in 4 positions
Tool-free attachment changes
3-year warranty backed by Lifetime Service Agreement (registration required for LSA)
Ridgid MegaMax Powerbase
Model: Ridgid R86400B
Power Source: Ridgid Octane 18V battery (other Ridgid 18V batteries work with lower performance)
Weight: 3.95 lbs
Motor: Brushless
Variable Speed: Yes
Price: $99 (bare)
Each head attaches to the Powerbase in any of four directions – down, up, left, and right. An audible beep from the tool confirms that the head has engaged. The Powerbase's lights indicate "Ready", "Lock-on", and "Safety" statuses. We really like the audible and visible information from the tool.
Ridgid MegaMax Reciprocating Saw
Model: Ridgid R86401B
Stroke Length: 1-1/8″
Stroke Speed: 0 – 3100 SPM
Weight: 4.95 lbs
Orbital Action: Yes
Price: $69 (bare)
Cutting speed is right where you expect it to be on a Pro-level saw. There's just a little too much vibration to make cuts as precisely as we would have like on cuts where you're trying to demo a very specific area without damaging surrounding material. However, the sightline blower does help.
Pro Tip: When you need to be accurate with a reciprocating saw, slow the speed down and take your time. The extra time you take now will save you having to repair collateral damage on the back end.
Conversely, we didn't find the vibration a problem on landscaping tasks where there is more room for error. Compared to other saws on the market, it's in the middle – you'll find models with less vibration or much more vibration.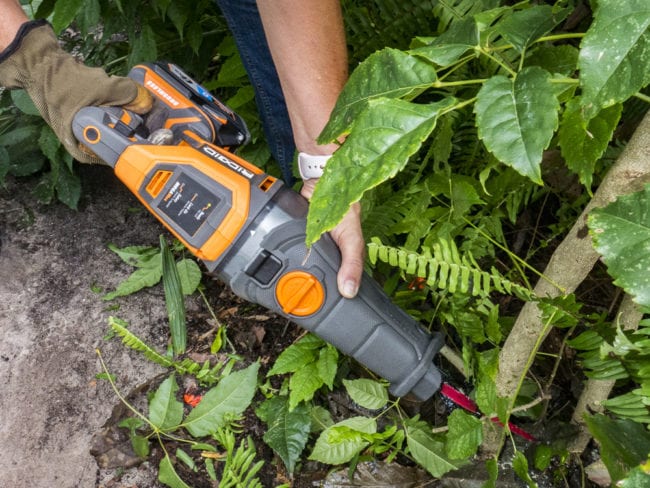 It's worth noting that the MegaMax with its reciprocating saw head is bigger and heavier than the standalone Ridgid Octane brushless model. One idea here is to have both. You can use the MegaMax for the majority of your work and switch to the lighter model for overhead. Thanks to Ridgid's pricing structure, it won't hurt your bottom line as much as other brands.
Ridgid MegaMax Right Angle Drill
Model: Ridgid R86402B
No-Load Speed: 0 – 450 RPM
Chuck: 1/2″ keyed
Weight: 5.9 lbs
Side Handle Included
Price: $99 (bare)
The right angle drill works really well, perhaps even outshining several of its competitors. It has plenty of torque and a smooth start. We didn't experience any binding or jerky behavior – something that's key with the high-torque kind of work you do with a tool like this.
While we found it very impressive overall, it's on the bulky side. You might find it a challenge to fit it into the tight spaces that right angle drills often need. If you're in one of those tight spots, the top grip comes off with two screws, giving you some breathing room.
The long auxiliary handle is just a little too long. Closer to the tool, it might give you better control. One option would be to use the same threads used for both the handle and the handle's bar. Then you could thread just the grip into the tool or the grip and bar. As it stands, you have either the long extension (which we find to be a little wobbly) or nothing.
Practically, the length of the handle is a function of the torque. That's most obvious on several of the high-torque drills and hammer drills running around. So this really is a safety move to prevent bind up injuries.
Ridgid MegaMax SDS-Plus Rotary Hammer
Model: Ridgid R86403B
Impact Energy: 2.2 ft-lbs
No-Load Speed: 0 – 1400 RPM
Blow Rate: 0 – 5000 BPM
Weight: 4.75 lbs
Modes: Hammer with rotation, chisel only, chisel rotation/lock
Price: $82.99 (bare)
Shop Amazon
The Ridgid MegaMax feels a little hefty. That's not always a bad thing, depending on the application. For instance, the weight helps while in chisel mode, with the MegaMax performing more of the work than our smaller Milwaukee rotary hammer. On the other hand, the weight works against you if you have to work overhead, as we did with the reciprocating saw head.
For power, 2.2 foot-pounds of impact energy puts this in the 1-1/8″ class. Obviously, it's sporting the longer style. Compared to something like Bosch's GBH2-28L, it's only slightly less power (0.2 foot-pounds)
The good news for the Megamax is that Ridgid has made an interchangeable system that doesn't detract from the individual functions. Each of the three tools performs quite well.
Price & Value
Add up the components of the Ridgid MegaMax Interchangeable System with Octane and you'll spend about $515 for three tools and one 6Ah Octane battery (without the charger). The original Octane reciprocating saw with 6Ah battery will set you back $278 alone. The Octane SDS-Plus rotary hammer with the same battery: $398! The company doesn't have a comparable right angle drill.
If you often perform the Megamax's three functions, the space economy of the Powerbase and attachments make for an attractive proposition. We already pack our dedicated tools in together like the MegaMax anyway. But having three tools packed into a smaller case feels like a big advantage, especially when you need the whole system in difficult-to-reach spaces, like an attic or crawlspace.
Because the performance is as high as it is, the MegaMax can a better value than purchasing separate, dedicated Ridgid tools. With Ridgid's Lifetime Warranty, the value seems even harder to pass up.
The Bottom Line
The Ridgid MegaMax overcomes any skepticism of major performance drops to get multi-function convenience. Though there are some minor tradeoffs in size and bulk that you'll need to adjust for, it's a solid system for remodelers, plumbers, and electricians.