For a wood worker or wood furniture maker, the router is an indispensable piece of equipment. It's what allows use to take a piece from simply being functional to becoming a timeless beauty. Technology has brought with it the ability to accomplish what would have taken days by hand in just a few minutes. Weeks worth of work can be done in an afternoon.
Recently I had the pleasure of working with the Ridgid R2200 Heavy Duty 2HP Router kit. Bringing this router in was certainly critical to the tasks I had on hand. It was also about the potential of the projects I still have in my head. Overall, the product performed really well and Ridgid has added some innovative elements to their full sized router offering. I also uncovered a few suggested design modifications for the Ridgid engineers. Let's dig in a bit!
Ridgid R2200 Router Build Quality
You will quickly find Ridgid's quality standard is high. Their heavy duty router model is very solid. Adjustments are precise and components are tight with little play. As with all Ridgid tools the standard durable plastic orange casing is complimented with a rubberized over-molded grip material. The motor is well balanced providing comfortable operation. The included fixed base is solid with angled ergonomic handles. Ridgid has constructed the base from magnesium which is lightweight and very stiff.
In addition to the motor and base, the Ridgid R2200 kit includes a standard adjustment wrench along with a centering tool and pin. This is to ensure the non-marring bottom plate is mounted to the base precisely–a thoughtful solution to ensuring you're dead center. The router comes packaged with a ½" collet and includes a ¼" collet adapter to accommodate both bit sizes. Ridgid has also included a unique T handle wrench for precision above the bench depth adjustments when the router is mounted in a compatible router table or a router lift.
Ridgid R2200 Setup and Operation
The Ridgid R2200 is easy to set up. I found bit changes are easiest if you remove the clear plastic chip shield and work from this access port to loosen and tighten the collet nut. Ridgid's engineers have designed a very simple, precise depth control mechanism, which is one of the best I've seen. This design is very similar to the mechanism employed by their laminate trim router. You can easily release the locking strap to slide the motor up and down within the base, or remove the motor from the base altogether. Once you get the base close to your desired depth, simply use the micro adjust dial to make the fine adjustments needed. Once you dial in the depth simply pivot the locking strap to the locked position and the base is locked firmly in place; you are ready for work.
The Ridgid R2200 is powered by a very robust, 2 horsepower, 11 Amp motor with a soft start feature. I plowed through some very old red oak and hickory stock without any issues whatsoever. The motor delivers continuous torque to the bit and the soft start feature minimizes startup kickback. The variable speed motor easily adjusts with a modest dial right under the power switch from 10,000 to 23,000 RPMs. Adjustment increments are by 1,000 RPMs.
Kudos to Ridgid for their LED light placement! They really do a nice job of illuminating the work area when operating the tool. This combined with the clear, non-marring base makes it easy to follow a line and stay on track. Also, the angled ergonomic handles are really comfortable and well designed making the router easy to control.
Three design considerations I'd like to call out for improvement: First, the unit's motor measures 3 ⅝" which is ⅛" larger than the standard 3.5" diameter most router lift's are set up to accommodate. This difference is so small it may not make a discernible difference but it's worth noting, especially if you plan to mount the R2200 in a router lift. Second, the power switch is located in a difficult spot to power on/off when holding the router with two hands. And finally, the motor housing has an oxidation issue which over time can cause difficult depth adjustments. I recommend cleaning the motor housing regularly and storing the router in it's case, in a dry place, perhaps even with a silica gel packet. I noticed the oxidation issue starting to occur within about a week of having the router unboxed and in use. Other reviewers have also mentioned the issue. I simply used some light gun oil on a rag to coat the motor housing.
In the course of my review I mounted the Ridgid R2200 in a router table to put it through some paces with a variety of bits. The unit mounted into place on the mounting plate securely using some included screws from Ridgid's kit. One important discovery; if you plan to use the R2200 in a router table or router lift I recommend you inspect the model to see if it has an existing hole (or if one could be added) for above the table depth adjustment using the T handle wrench from Ridgid. This feature enables very convenient and precise blade adjustment. If your table or lift does not accommodate this feature you will have to make the desired depth adjustment underneath using the standard R2200 depth adjustment methodology.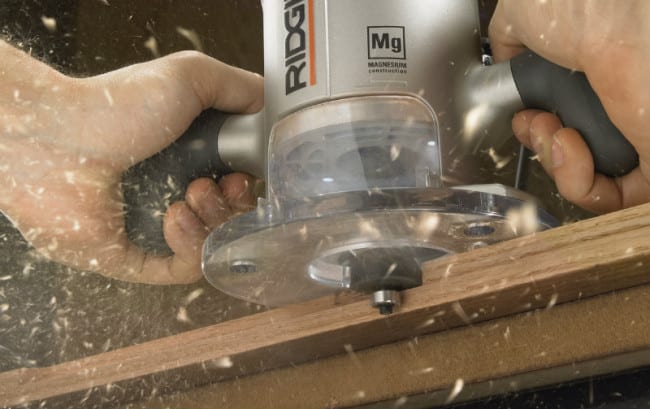 When mounted in router table, the R2200's operation was consistent and powerful, quickly trimming through the work pieces. The LEDs are well positioned for table operation and provide helpful illumination. I hooked up my shop vac to the table's vacuum port and ran 65 board feet of trim through adding a cove edge. Cleanup was a breeze as the router passed the bulk of the mess right into the vac.
Ridgid R2200 Manufacturer Features
2 Peak Horsepower Mode – Provides the power needed for dense material
Precision Milled Magnesium Construction – For added durability and exact fit
Electronic Variable Speed with Feedback – Helps maintain speed under load
Micro Depth Adjustment – For precise depth control
SoftStart – For gradual start-up and extended motor life
Spindle Lock – For easy bit changes
Dual LED Lights – Illuminates work area for improved visibility
Hex Grip Handles – Innovative micro-texture for secure grip and maximum user comfort
No Mar Flat Top – Router sits upside down for easier bit changes
Accessible Brushes – Can be serviced quickly for minimum downtime
Ridgid R2200 Specs
RPMs– 10,000 – 23,000
Peak Horsepower – 2 HP
Input – 120 volts AC, 11 Amps
Package Contents
Ridgid R2200 Fixed Base Router
Router Table Attachment Screws
Wrench
Centering Tool and Pin
T-Handle Wrench
¼" Collet Adaptor
1-1/4" Vacuum Adaptor
Contractor Bag
Operator's Manual
Summary and Final Thoughts
Ridgid has put together a very solid router for less than $160. The unit is well designed, powerful, and easy to use. Ridgid includes a three year warranty and lifetime service agreement with the R2200. As mentioned previously, there are certainly some design elements that could be improved upon. Perhaps Ridgid's engineers will take note in the next iteration. Overall, I was very pleased with the performance of the Ridgid R2200 Heavy Duty 2 HP Router. In terms of value, I believe this router offers tremendous usability and quality for the price.