Recently I've found myself working entirely in the medium of birch plywood for a variety of projects. Perhaps it's my inner Scandinavian coming alive or maybe just too many visits to my local Ikea store. The list of recent projects includes a new kitchen island, a sofa table, a short window seat with storage, and now a very large bookshelf/desk system for my bride who also happens to be my harshest critic.
When the boys over at Pro Tool Reviews offered for me to review the Ridgid Trim Router I jumped at the chance. I've been looking for one of these for a while and could now easily put a finished round over edge on all those blonde projects stacking up in my workshop.
Ridgid Trim Router Manufacturer Features
LED Light – illuminates work area for increased visibility
Round and Square Bases – for added versatility and convenience
Easy Access Micro Adjust Dial – for precise depth control
Overmold Grip – for maximum comfort
Spindle Lock – for easy bit changes
Flat top – router sits upside down for easier bit changes
No Mar Top – overmold on top of router prevents marring of work surface
Soft Start – for gradual start-up of motor
Quick Release Lever – allows for easy removal of motor from base
Variable Speed – easily adjust speed to material type and application
Electronic Feedback – for consistent speed and power
Lifetime Service Agreement
Ridgid Trim Router Specs
RPM – 20,000 – 30,000
Input – 120 V AC 5.5 Amps
Collet Size – ¼ inch
Ridgid Trim Router Package Contents
R2401 palm router with ¼ collet
Round base
Square base
Collet wrenches
Edge guide
Guide bars
¼ Bit
Nylon tool bag
Operator's manual
Unboxing and Build Quality
My first impression of the R2401 upon boxing is positive. The Ridgid Trim Router is very solid, constructed of professional grade materials. This is not your standard, low cost, low duty trim router. You'll find Ridgid's standard, heavy grade orange casing, and a rubberized overmold grip The tool fits well in my XL hand and is a well balanced three pounds. They've added a clever flat top to the design so you can simply flip the unit upside down to change bits easily without attempting to awkwardly balance the machine.
The Ridgid Trim Router comes packaged with the ¼ inch collet installed and the clear, round non marring base mounted to the router base. She is ready to roll right out of the box. The Ridgid R2401 is easy to setup. Installing the bit is as simple as depressing the spindle lock, sliding the bit all the way into the collet, and tightening the collet nut. The power switch is similar to some of Ridgid's other tools, pull up to turn on, push in to turn off – a very safe design. Flip the tool upside down on its flat top and the tool shuts itself off.
Setup and Operation
Ridgid's engineers have designed a very simple, precise depth control mechanism. It's easily one of the best I've seen. You can release the locking strap to slide the motor up and down within the base. If you prefer, you can remove the motor from the base altogether. Once you get the base close to your desired depth, simply use the micro adjust dial to make the fine adjustments you need. The adjust dial is a bit small and takes some thumb strength to move. Perhaps an oversized dial on the next model would help. Once you dial in the desired depth, simply pivot the locking strap to the locked position. This locks the base firmly in place, and leaves you are ready for work.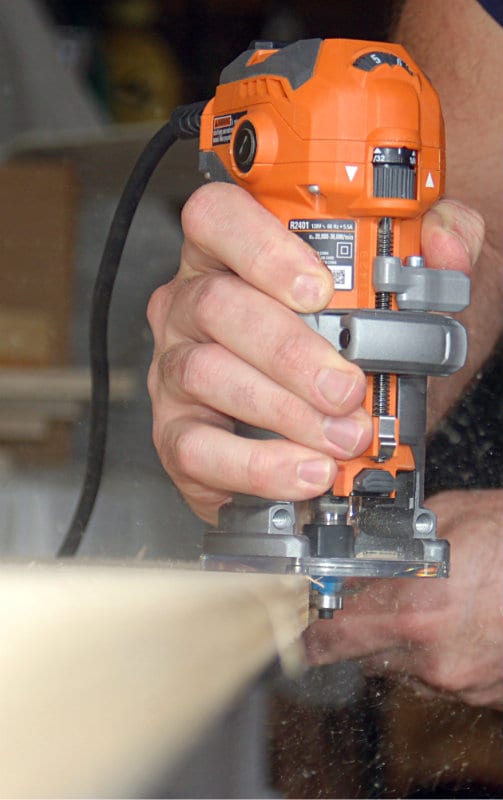 The Ridgid R2401 is powered by a 5.5 Amp motor with electronic feedback to deliver constant speed and power to the bit. The variable speed motor (20,000-30,000 RPM) is easily adjusted by a numbered dial directly above the micro depth adjustment dial. When I switched the tool on, I quickly notice the soft start feature designed to eliminate startup kickback. This is a very nice feature for a precision applications.
The Ridgid Trim Router performs well under load. I started with some simple round over passes on a few scrap pieced of birch plywood. The tool handles these types of passes as if it doesn't even notice the minor load. I then switched things up to a ¼ inch straight bit and routed out my name in a piece of maple. Later I used a ⅜ straight bit to rout out some slots for some 1"x4" ladder steps as I attempted to repair my fold down attic ladder.
In my assessment, the router maintains consistent speed and power through the workpiece. It handles well and is easy to control. Ridgid has placed 2 LED lights on the R2401 to illuminate the work area. This combined with the clear base makes following your line very easy. I was very pleased with the motor's performance in a variety of use cases and materials.
Summary and Final Thoughts
Ridgid has put together a best in class trim router with a three year warranty and lifetime service agreement. The R2401 is feature rich and well built. It performed better than I expected and delivered consistent, finished quality results. I'm finding the tool to be extremely versatile and well suited for it's designed application. The R2401 Ridgid Trim Router is quickly becoming one of the favorite tools in my arsenal.
Currently, the Ridgid 2401 is running $89 at The Home Depot by itself or for $99 with a 1/4 inch sheet sander.