The First-Gen Ryobi 18V Cordless Framing Nailer Packs A Serious Punch
In the past few years, Ryobi has introduced a variety of 18V cordless finish and brad nailers for tackling trim and finish work. Now, they're focusing on more heavy-duty framing applications with their first-generation cordless 21° framing nailer. Will it have the performance, driving power, and runtime to replace your trusty pneumatic framer? Let's find out.
Ryobi 18V Cordless Framing Nailer Performance
Nail Range: 2 in.-3 1/2 in. Round Head nails
Nail Gauge: 0.113 – 0.131 in.
Runtime: 750 nails per charge with 4.0Ah battery
This is Ryobi's first run at a full-sized framing nailer and, for us, the performance is right on par with our expectations. The firing control slide-switch allows you to easily alternate between the single-fire and bump-fire modes, plus, there's no firing delay as we've seen from other cordless models. This gives the nailer the feel of a pneumatic nailer without an annoying air hose getting in your way.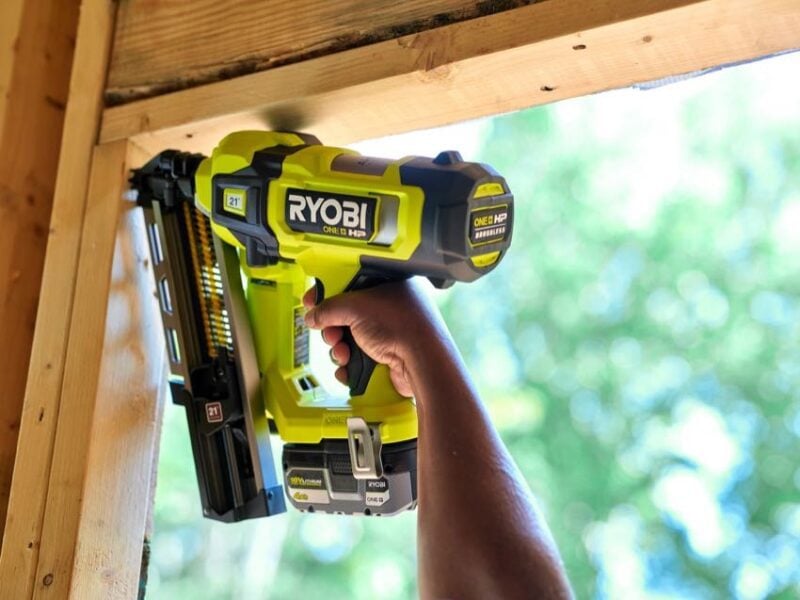 Ryobi did a good job of managing the recoil but it's still slightly more noticeable than some of the pneumatic nailers we've tested. While managing the recoil isn't too difficult, it is important to monitor your technique to avoid leaving nails proud, especially in denser materials.
Shifting toward the business end, Ryobi includes a removable no-mar tip that won't damage delicate materials. For toe-nailing, remove the plastic cover to expose the claw tip. This allows the nailer to really "bite" into the material at a better angle so it's less likely to slip while working.
One thing that is a little unique about this framing nailer is it has an onboard air tank that is user-refillable through a standard air valve. If you start noticing your drives are consistently unsuccessful, just top off the tank to the recommended max 125 PSI. From our past experience with this style, you should get around 50,000 shots before needing to add any air.
Ryobi 18V Cordless Framing Nailer Design
Model: Ryobi PBL345
Power Source: Ryobi 18V battery
Magazine Pitch: 21°
Magazine Capacity: 33 nails
Weight: 9.3 lbs. (bare), 10.9 lbs. (with 4.0Ah battery)
From an ergonomic standpoint, the rubber overmold grip is on the larger side compared to some pneumatic models we've tested. However, since this nailer is on the heavier side, this larger grip does offer a little more control and helps minimize fatigue.
There aren't too many surprises as far as configuration is concerned. From tip to tail, it measures 15 inches and it stands 13-3/8 inches tall. As a bare tool, it weighs 9.3 pounds, adding a 4.0Ah High-Performance battery brings that number up to 10.9 pounds. Arguably, that is quite a bit heavier than most pneumatic models but it does fall in line with what we expect from battery-powered nailers.
One small surprise we encountered is the jam-clearing procedure. In lieu of a tool-free system, Ryobi utilizes a more traditional system. You'll first need to loosen a couple of screws and then slide the magazine down to access the firing chamber. Ryobi includes an onboard hex wrench so you can clear jams quickly without needing to run to your toolbox.
A few of the stand-out features on this nailer are the flattened head design that lets you stand the tool upright and the shock-absorbing battery plate. The spring-loaded battery plate helps reduce wear and tear on the battery connection, ultimately helping to extend its lifespan.
Additional Features
Dry fire lockout
Tool-free depth drive adjustment
Rafter hook
Belt hook
Compatible with all Ryobi 18V batteries
Ryobi 18V Cordless Framing Nailer Price
The Ryobi 18V AirStrike Framing Nailer is currently available as a kit for $389 and as a bare tool for $329. The kit includes a 4.0Ah High Performance battery, a single-port charger, and a 3-year warranty for the tool and battery.
The Bottom Line
The Ryobi 18V Cordless Framing Nailer really hit the mark in many ways for a first-generation tool. Its confident driving power and solid feature set really helped this nailer earn high praise from our team. There is still a little room for improvement concerning weight and ergonomics but for now, we really like what we see from Ryobi.
Click here to register your new tools with Ryobi!