Ryobi Adds 2-Speed Cordless Orbital Buffer To 18V One+ Auto Care Lineup
Here in Central Florida, it's almost a necessity to keep a layer of wax on your car to help protect your car's paint from the intense sunshine. However, that very same sun is what keeps some of us, meaning me, from getting out there and hand waxing our cars. Luckily, the Ryobi 18V Cordless Orbital Buffer is here to help speed up the process and give your hands a break.
Ryobi 18V Cordless Orbital Buffer Performance
2-Speed Motor
This orbital buffer features a 2-speed brushed motor that oscillates the pad at 3,000 OPM on low and 4,600 OPM on high. The speed switch is located on top of the handle easily within your thumb's reach so you can switch speeds on the fly. The lower speed is best for applying the buffing product while the high speed is for buffing it away.
Application Bonnets
Ryobi includes an application bonnet as well as a polishing bonnet. These bonnets slip over the foam pad for a secure fit. Apply the recommended amount of product evenly on the pad and you're good to go. For best results, be sure that the surface is clean and dry.
Both the application and buffing/polishing bonnets are reusable. For maximum life and performance, it's best to remove and hand wash after use then allow them to air dry. The bonnets are machine washable using cold water with a small amount of detergent, then machine dried on a low heat setting.
Are You Waxing Your Grill???
If you're not waxing your grill, you should be. At least the painted parts. Just like your car, regular cleaning and waxing help the paint last far longer and keep it looking great. If you're willing to put in the work, apply a quality car wax every 3 months.
Want to know more about our Pit Boss pellet grill? Check out that review here.
Ryobi 18V Cordless Orbital Buffer Design Notes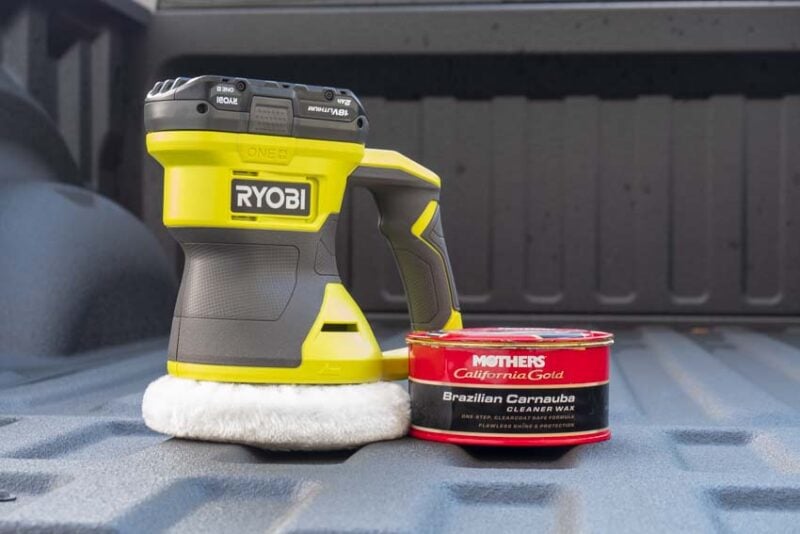 The overall profile of this orbital buffer is very similar to its predecessor, the Ryobi P430, but with a few helpful modifications. It weighs 2.8 pounds as a bare tool and 3.7 pounds when paired with an 18V 2.0Ah battery. The tool body measures 7.5 inches and it stands just 7 inches tall so it's definitely more compact than your standard 10-inch buffer.
Ryobi's lightweight compact design gives you better accessibility and comfort while working on contoured or detailed surfaces. The D-handle and tool body feature a textured rubber overmold that gives you an improved grip when using this buffer.
One thing we really like about the D-handle design is that it gives you better control and also extends your working reach.
Ryobi 18V Cordless Orbital Buffer Price
This buffer is available at your local Home Depot and retails for $44.97 as a bare tool and $89.97 as a kit with a 2.0Ah battery and charger. Ryobi also covers this buffer with a 3-year warranty.
The Bottom Line
Ryobi's cordless orbital buffer produces great results with a design and feature set that is approachable for all skill levels. While it does lack the efficiency of a brushless motor, it's hard to ignore the attractive price tag compared to other brushless models on the market. If you're looking to replace your old corded buffer or just don't want to hand wax anymore, Ryobi has your back.
Click here to see what's NEW from Ryobi!
Ryobi 18V Cordless Orbital Buffer Specifications
Model: Ryobi PCL460
Power Source: Ryobi 18V battery
Runtime: 2hrs (with 2.0Ah battery)
Max Speed: 4,600 OPM
Pad Coverage: 6 in.
Throw Length: 10mm
Weight: 2.8 lbs. (bare), 3.7 lbs. (with 2.0Ah battery)
Motor Type: Brushed
Warranty: 3-year
Price: $44.97 (bare), $89.97 (kit)