5 years ago Ryobi released their first battery-powered riding mower, the RM480E. It featured a lead-acid battery and a 38-inch stamped steel deck. That was followed by a Ryobi RY48ZTR100 48-inch zero turn mower and, eventually, the 54-inch brushless ZT with a fabricated deck. So what's the big news for today? Ryobi has brought three new lithium-ion battery-powered zero-turn riding lawn mowers powered by a brand new 80V lithium-ion suitcase-style battery. They also use a new iDrive (Intelligent Drive) joystick drive control.
Three Ryobi 80V Zero Turn Mowers, Three Deck Sizes
Let's start with the models and deck sizes. Ryobi 80V Zero Turn Mowers include 30-, 42-, and 54-inch decks and feature a lot of innovation.
I-Drive Joystick Replaces Lap Bars or Steering Wheel
Right off the bat you can't help but notice these mowers don't use either a steering wheel or lap bars. Instead, Ryobi spent over a year developing a single iDrive joystick that lets you maneuver the mower quickly and easily.
We get it—people typically hate change. However, we gave it a try—in fact, we rode this mower for quite a while…and I have to say, the joystick works REALLY really well. If you like playing video games you're going to feel right at home. If you haven't, Ryobi dialed in the sensitivity and control so that we were able to run through slaloms, maintain straight lines, and even execute 360-degree turns in place without much of a learning curve.
Traditional Riding Mower Features
You pull up on a red knob to activate the blades—just as you would with a gas zero turn. It's also keyed, so not just anyone can jump on and start it up.
Deck height is adjustable using a side pull lever from 1.5 to 4.5 inches. You also get LED headlights that activate with the push of a button underneath the LCD panel. Finally, a USB port lets you recharge your smartphone or other electronics as needed. And, yes, you get a couple of cup-holders.
New Suitcase-Style Ryobi 80V Battery Packs
If you listened closely, you'll remember we said this mower operated off an 80V battery. Actually, it operates off more than one. Each 80V pack resembles a small suitcase and features 100 individual battery cells. A small LCD screen next to the handle shows you the percentage of charge remaining.
The 42-inch and 54-inch models support up to three 80V batteries and four 40V auxiliary batteries. The 30-inch mower supports two 80V batteries and two 40V auxiliary batteries.
Ryobi 80V Lithium-ion Battery Packs and 12Ah 40V Batteries Specs
Each Ryobi 80V Lithium-ion battery pack operates at 72 nominal volts and specs out at 10Ah (amp-hours). That gives it a capacity of 720 Wh (watt-hours). Each 12Ah 40V battery pack yields 432 Wh once you factor in the 36V nominal voltage.
Do the math, and you can fully load either a Z42Li or Z54Li with 3,888 Wh of lithium-ion battery power!
3 x 80V/720Wh = 2160 Wh
4 x 40V/432Wh = 1728 Wh
Ryobi's Tesla-Style Wall-mountable 80V Rapid Charger
Where the older lead-acid battery-powered mowers took a long time to charge, the new 30-, 42-, and 54-inch zero turns use a 120V external fast charger that you can mount on your garage or shed wall. It charges these zero-turn mowers in 2, 3, and 4 hours respectively. That's super quick—and yes, it charges both the 80V batteries and the 40V batteries at the same time.
Even if you don't plan to use the 40V ports to extend run-time it might make sense to make use of the fast charger for the rest of your handheld 40V power tools.
So Are the Ryobi 80V Riding Mowers Also 40V? Not Really.
So how do the Ryobi 80V riding mowers mix 40V and 80V batteries together? That's a great question. While the mowers prioritize the 80V packs for operation, they use any additional 40V packs to add more runtime.
And lest you think it needs to operate these 40V batteries in pairs—it doesn't. Ryobi uses electronics to step up their 40V packs to 80Vs and deliver the required voltage. That means you can add just a single 40V battery and extend your runtime.
LCD Control Panel with Blade and Drive Speed Controls
If that weren't enough, Ryobi also updated the control system on these mowers. Now, an LCD screen lets you independently configure Low, Medium, and High drive and blade speeds. The screen shows you the remaining runtime and battery life. It also displays whether the vehicle is in Drive or whether the center-mounted golf cart-style parking brake is engaged.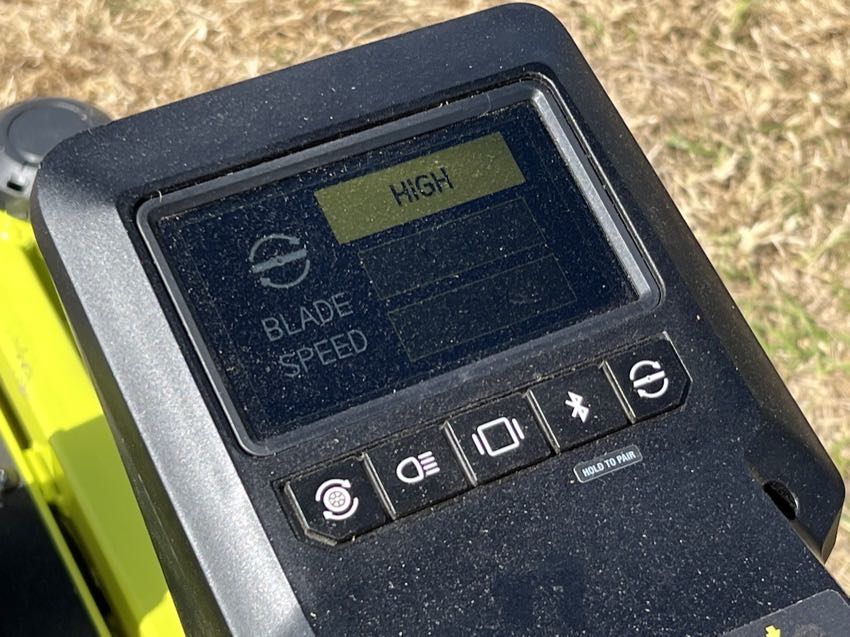 As we mentioned earlier, we rode this mower, and so did several of our colleagues from the media. The air-ride seat suspension on the 42-inch and 54-inch models makes for a very comfortable ride. A dial on the front lets you adjust for your weight—which worked well since I weighed significantly less than one of the gentlemen testing the mower before I sat in the seat.
Fabricated and Stamped Steel Decks
Ryobi continued the use of a fabricated steel deck on the 54-inch mower, but the 30-inch and 42-inch models use a stamped steel design. The blades on the 54-inch mower also utilize a cross-cut design very similar to what you find on their premium walk-behind mowers. That means you have six blades in the 54-inch model. The result is an extra-fine cut that grabs a lot more grass during bagging and leaves finer clippings when mulching.
Ryobi 80V HP Electric ZT Riding Mowers and Bagging Options
Ryobi plans to offer several bagging systems and release them alongside the mowers. Notably, they included a "Bagger Boost" system. Bagger Boost works with both the 80V HP 30″ Lithium Electric Zero Turn Riding Mower and the 80V HP 42″ Lithium Electric Zero Turn Riding Mower:
30" ZTR Bagger Boost Model Number: ACRM018
42" ZTR Bagger Boost Model Number: ACRM026
The Bagger Boost button is located on the control panel for both the 30" and 42" ZTRs. With just the press of a button, Bagger Boost sends a powerful gust of 700 CFM into the bagger chute. This helps clear out clogs and clumps of grass. This keeps you from having to stop mowing and manually clear out the chute.
The Ryobi Bagger Boost baggers will be sold separately as an accessory online only. You will also be able to buy a bagger option that does not feature Bagger Boost. Pricing has not yet been confirmed but should be solidified closer to when these units launch on Home Depot online in the Spring of 2022.
Which Ryobi 80V Riding Zero-Turn Mower Should You Get?
Ryobi Z30Li 30-inch Riding Mower
When looking at all three models, we can see some pretty clear reasons for getting each. For example, the Ryobi Z30Li 30-inch mower fits through most gates and presents a great solution for delivering a rider that fits where most zero turns can't. Ryobi even designed the bagging system to fit completely within the width of the body so it doesn't expand the footprint. The side-discharge grass chute is made from rubber and won't damage your shed or gates when you get too close. At $4,000, this mower should provide a solid solution for anyone trying to get a battery-powered zero turn mower that can tackle properties up to an acre in size.
Ryobi Z42Li 42-inch Riding Mower
Stepping up to the 42-inch Ryobi Z42Li, you get a great mid-tier product with all of the same great controls and features of the 54-inch but with a stamped deck and reduced deck size. The $5,000 retail price gives you double the mowing range—up to 2 acres. You also get an additional 80V battery and two more 40V battery ports for extending your runtime.
Ryobi Z54Li 54-inch Riding Mower
Finally, the $6,000 flagship Z54Li brings a 54-inch fabricated deck that, combined with the trio of 80V batteries nets you up to 4-acres of grass-cutting.
Pricing and Final Thoughts on the Ryobi 80V ZT Lawn Mowers
We have to admit, we're kind of excited about these mowers—not because we haven't seen anything like this before, but because manufacturers like Ryobi are starting to drive the industry forward in a new direction. A joystick steering wheel? Air ride seat suspension? Between innovative new features and familiar features we've come to expect from gas products, manufacturers are really starting to produce products that require a very small learning curve and tons of benefits to consumers looking to make the transition into battery-powered products.
As for how much they cost, Ryobi plans to sell the Z30Li, Z42Li, and Z54Li at $4999, $5999, and $6999 respectively. You can preorder all three Ryobi zero-turn mowers now. While not inexpensive, you're getting a lot of mower and battery capacity for the price. We look forward to doing even more performance testing on these mowers when we get them in-house later this year.
Shared Specs for all Ryobi 80V Zero-turn Riding Mowers
LCD control screen

Low/Med/High blade speed
Low/Med/High drive speed
Remaining battery and cut time

iDrive joystick drive control
External wall-mountable fast charger

Plugs into rear of mower
Chargers both 80v and 40v simultaneously

Power: 80V battery pack w/LCD charge level display
40V battery compatibility
Armrests
USB charging port
Cup holders
Golf cart style parking brake
1.5″ to 4.5″ deck height
LED headlights
Keyed start
Ryobi Z30Li 80V Zero-turn Riding Mower Specs
30-inch stamped steel deck
Max cut area: 1 acre
Batteries: 2 x 80V Lithium-ion
Spare 40V battery ports: 2
Charge time (w/rapid charger): 2 hours
Price: $4,999
Z42Li Ryobi 80V Zero-turn Riding Mower Specs
42-inch stamped steel deck
Max cut area: 2 acres
Batteries: 3 x 80V Lithium-ion
Spare 40V battery ports: 4
Charge time (w/rapid charger): 3 hours
Price: $5,999
Ryobi Z54Li 80V Zero-turn Riding Mower Specs
54-inch fabricated steel deck
Max cut area: 4 acres
Batteries: 3 x 80V Lithium-ion
Spare 40V battery ports: 4
Charge time (w/rapid charger): 4 hours
Price: $6,999