It's been a while since I last shared my thoughts with you, but I've sure been busy! I was out of town for several months building restaurants in the mid-Atlantic states and I'm thankful to have plenty of work closer to home. The Ryobi drywall screw gun that I have today might have come in handy in my travels. If there's a chance a tool can make those repetitive installation tasks a little quicker, I'm all ears.
Let's take this drywall screw gun for some test drives.
Pros
Excellent value
Nearly complete Pro feature set at a DIY/Prosumer price
Standard Pro design
Brushless motor
Excellent performance over an impact driver for drywall applications
Cons
Some Pros will be turned away by the lack of a collated magazine
Recommendations
If you're using an impact driver for drywall or only do occasional drywall work, the Ryobi drywall screw gun is one you should give a shot. Full-time drywallers may want the extra confidence of a more premium model.
Feature Set
Most of the features are pretty standard for what Pros expect. The big deal for Ryobi, as always, is giving you those features at a price other models can't match.
QuietDrive locks variable speed trigger on and uses forward pressure to turn on and engage the motor
Adjustable and removable nose cone offers depth control and access for bit changes
Improved Magtray magnetic holder for bits and screws
Fastener-free belt clip mounts to either side of the tool – it's nice not to worry about that screw!
LED work light in front of the Magtray
Missing Features
Performance
Setting the Table
I've been the super of an Outback Steakhouse remodeling job for the last few months. Although I'm a hands-on sort of guy, it's been nice to do a little less of the heavy lifting, even if we have to work through the night so customers can still eat during the day. I drove a few screws with the Ryobi drywall screw gun, but I gave it to a couple of my subs who did the vast majority of the drywall.
This is one of those great situations where a guy starts off skeptical and reluctant to use a tool. My subs balked at the Ryobi at first, but I urged them to give it a shot. Wouldn't you know – it didn't take long until they actually loved the Ryobi P225.
Making the Change
They thought they'd get along just fine driving screws into the metal studs with their impact drivers. But the impacts proved to fall short in performance. How? At 4700 RPM and perfect torque, the cordless Ryobi drywall screw gun sinks those screws incredibly fast without a hiccup. It didn't take long for them to put their impacts away for the rest of the job.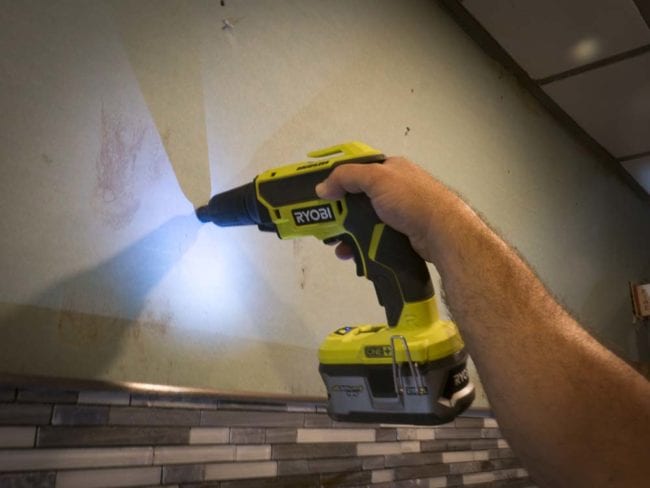 The team really likes the QuietDrive that engages by pressing a button in front of the Magtray and flipping the lock on switch below the trigger. This mode shuts the motor off until you apply pressure to the tip, at which point the motor kicks on, drives the screw, and shuts off again until you repeat. It eliminates unnecessary noise which has been nice, especially since we're used to sleeping instead of working during this time!
Pressure-sensitive driving is a feature you normally find on Pro models, but not DIY. As a tool that can straddle the line between DIY and Pro, it's a feature that makes pulling the trigger on your purchase that much easier.
Like any drywall screw gun, you'll notice that the tool can be held in the traditional pistol grip fashion or in a barrel grip along the tool head. Using the barrel grip in combination with QuietDrive, my team was able to work with exceptional speed.
Price & Value
This Ryobi drywall screw gun will set you back $99. If you're not already on the One+ battery platform, you'll need to add at least $69 for a battery and charger starter kit. It's a solid value based on what it gives you if the lack of a collated magazine isn't a deal-breaker for you. Here's how some of the competition holds up:
DeWalt DCF620
2.7 pounds bare
4400 RPM
$139.00 bare
$219.00 kitted with two 2.0 Ah batteries
Collated magazine attachment option sold separately
Milwaukee 2866-20
2.5 pounds bare
4500 RPM
$149 bare
$229 kitted with two 2.0 Ah batteries
Collated magazine attachment sold separately
Makita XSF04Z
4.1 pounds (with battery)
2500 RPM
$172 bare
$210 kitted with two 2.0 Ah batteries
Ridgid R86630K
Tool weight not listed
4700 RPM
$199 kitted with two 2.0 Ah batteries and collated magazine
The Bottom Line
When a tool convinces skeptical Pros, you know you've got a winner – especially when the tool presents the best value around! The major downside is the lack of an available collated magazine. If that's not a deal-breaker for you, the Ryobi P225 has the performance and features to move from the DIY ranks to Pro use.
Ryobi Drywall Screw Gun Specifications
Item Number: P225 (Bare Tool)
No Load Speed: 0 – 4,700 RPM
Tool Weight: 2.25 pounds
Screws per charge: Up to 3,000 using P108 battery
Warranty: 3 Years
Price: $99 (Bare Tool)