When Ryobi dropped off their new RTS31 10″ Table Saw we knew the company had made some pretty big changes. The most obvious was the sliding miter table and newly-designed outfeed support. This $299 Ryobi RTS31 10-inch Table Saw aims to position itself squarely at the DIY market and it certainly seems like a capable product for that.
Editors Note: Check out the Ryobi 7-1/4″ Miter Saw review for a good companion product to this saw.
We got to play with it quite a bit as we built a murphy bed as part of a complete built-in system within an historic home built before 1920. We had tons of rips and crosscuts to make, and the Ryobi RTS31 got quite the workout.
Ryobi RTS31 10-inch Table Saw Features
The big features of the Ryobi RTS31 10-inch table saw include its fairly large right-side rip capacity. We got around 31-inches off our sample, thanks to the sliding miter table and outfeed support. The fence seemed easy enough to adjust. It had that same "looseness" common to lower-priced table saws, but when you lock it down it straightens out. Our blade was properly aligned without having to adjust it, but the table scale was off by a full 1/8″, and we weren't able to fully adjust it given the minimal amount of play available in the adjustable guide. That meant we had to pull out the tape measure for most of our cuts.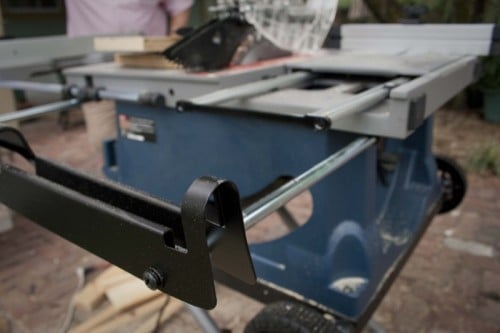 The outfeed support on the Ryobi RTS31 10-inch table saw was a great feature, but one that didn't look like it would hold up to job site abuse—it simply doesn't have teh metal required to withstand impacts or bending under a heavier load. This is largely why we feel this to be an excellent DIY saw, but not so well-suited for professional applications. Given its price point, it's still a great value.
An adjustable spring-loaded foot on the folding stand means that you can now balance the saw on almost any surface. One thing to keep in mind, however, is that the rather steep angle of the leg may allow the bolt on the adjustable foot to bend over time, so we recommend using it sparingly and to not leave it extended fully when its not needed.
Ryobi RTS31 10-inch Table Saw In the Field
We were able to use the Ryobi RTS31 10-inch table saw, as we indicated earlier, to rip and cross cut all of the pieces for a queen-sized Murphy bed that we built right into a bedroom of an historic home. Sheet goods received plenty of support from the outfeed, and the sliding miter table really made quick work of smaller cross cuts. The fence held up nicely for our rips and we found it easy to make repeated cuts. The blade guard is flexible and it wasn't too difficult to reach in and adjust it when we went back and forth between through-cutting and non-through-cutting applications.
Adjustability of both bevel and blade height was simple and the mechanism seemed fairly precise as well. The on/off safety switch was easy to use and it was in a proper location to avoid accidental shut-off during use. The bevel of the Ryobi RTS31 10-inch table saw felt easier to adjust over the Ryobi RTS30,possible because of its slightly larger arc. We also liked how most of the accessories stored on the tool, so it was easy to roll on and off the job site.