One of my biggest complaints when using a socket set is that I'll inevitably run into space where the ratchet and socket won't fit. Enter stage right the ratcheting wrench with a much slimmer profile. But when there's barely enough room to swing the wrench, frustration can build quickly. For those ultra-tight areas, there's the SK X-Frame Ratcheting Wrench.
1.7 Degrees of Arc Swinging Fun
The concept is pretty simple – create a 1.7-degree swing arc. The application is a little tougher. The SK X-Frame Ratcheting Wrench uses six pawls, two of which engage at any given time. The result is 216 positions to engage. That's even better than the 3-degree swing arc you get from a 120-tooth configuration.
Realistically, you really don't want to be in a situation where you need this low a swing arc. You'll be moving back and forth until next Tuesday as is takes 216 back and forth motions to produce one full turn. That kind of makes me want to grab an oscillating multi-tool and rig it to do the work. Needless to say, you'll be cursing whoever engineered the nut or bolt in that position. But at least you'll be able to work on it.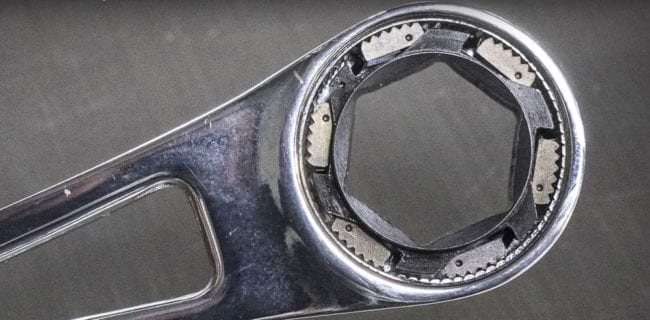 Other Design Considerations
The SK X-Frame Ratcheting Wrench features a flat design. You may be used to wrenches that are offset, but in this case, that would defeat the purpose of being able to get into those tight areas for both tightening and loosening. It's not unique, but it is a bit different if you use offset wrenches exclusively. From a performance standpoint, it's simply a trade-off between two different types of access that are both positive in their particular niches.
Opposing the ratcheting end is a standard wrench head of the same size. It has what SK calls their "SureGrip" design with plier-esque shallow ridges that grab hold of the bolt for a more secure grip.
The edges of the handle could be rounder. As the sizes go up, the hard edges create slight pressure points that you might notice over a long day. It's fairly minor, you barely notice if you're wearing gloves, and it's far from being a deal-breaker.
The Bottom Line
Overall, the SK X-Frame Ratcheting Wrench is a fine option for mechanics and other wrench users that need a tight-space solution for those awkward bolts. Despite the 216-position, 6-pawl design, there doesn't seem to be an issue with strength and durability. SK backs the wrenches for life and they're Made in the USA products, so there's some additional confidence to go along with my claims.
Pricing, like the performance, is on the Pro side of things. The 12-piece metric set will run just under $400, but you can find it online closer to $225. The 7-piece SAE set has a price just under $240. You'll find it online for about $135.
I've only had a relatively brief amount of time with these wrenches, but Tim Johnson at Shop Tool Reviews has been using them for a lot longer, so check out his review by clicking on the link below.
SK X-Frame Ratcheting Wrench Key Features
Industry's lowest 1.7 Degree arc swing for maximum precision and power in the tightest spaces with 216 positions
Revolutionary 6 pawl technology that works in pairs, so one pair is always engaged
I-Beam handle distributes added force evenly for superior strength and lifetime
SureGrip design drives the sides of the fasteners for maximum strength and minimum rounding
Made in USA
SK X-Frame Ratcheting Wrench Set Options
Shop Amazon