I'm a big fan of barrel grip jigsaws and when I saw the Skil PWRCore 12 Brushless Jigsaw came with that design, it went to the top of my priority list. We've been using it for a while now and it's an impressive tool in the 12V class. However, there are a couple of quirks to know about before you pull the trigger.
Editor's Note: Check out our best cordless jigsaw reviews article for our top recommendations.
Pros
Barrel grip design offers better control
Good sightline to the blade
LED halo lights up your cutline
Dust blower
Variable speed dial
Brushless motor
3 orbital modes plus off
Cons
Larger hands may feel a little cramped on the handle
Auto mode takes more of a push to dial up the speed than we'd like
No bare tool option
Skil PWRCore 12 Brushless Jigsaw Performance
On the performance side of things, the Skil PWRCore 12 Brushless Jigsaw is impressive. Its variable speed dial governs the blade from 800 to 3000 SPM and it has a 7/8-inch stroke length. That matches Makita's 12V specs and is a bit better than the 12V offerings from Milwaukee and Bosch.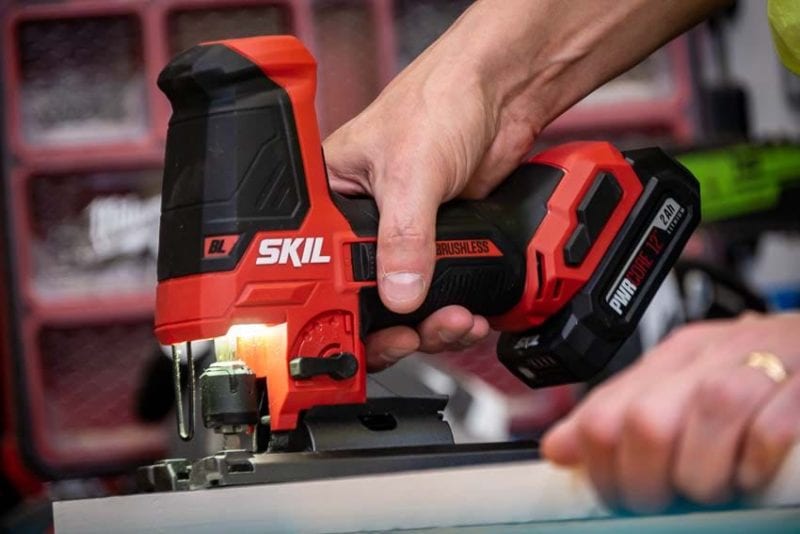 It shows when we're cutting. Cuts in wood are agreeably quick and the saw feels more confident cutting at a 45° bevel than other 12V models.
Unsurprisingly, you'll get faster cutting from the 18V class. However, vibration is pretty minimal at this level and Skil's is on par with what we expect from the 12V class and finds a nice balance of speed and vibration control.
Like most barrel grip jigsaws, Skil uses an on/off switch paired with a variable speed trigger. That's my personal preference over a variable speed trigger.
They also include an auto-sensing mode, which we generally like to have. As the saw senses increasing pressure, it kicks the SPMs higher to deal with. It takes a bit more pressure than we'd prefer to kick it into gear, though. It's there if you want it, but we stick with the standard speeds most of the time.
Blade changes have a little twist. Or less twist, actually. Instead of the typical twisting blade clamp, you just push the collet up to release the blade. There's no spring ejection and you have to use two hands to install your blade, but we find that it's a little easier than other styles.
Like all 12V jigsaws, your runtime is somewhat limited compared to what we expect from 18V models. The kit comes with a 2.0Ah battery and it's good for smaller projects and cuts that require a higher degree of control. Plan on cycling a couple of 4.0Ah batteries on the PWRJump charger if you are a heavier user, or consider Skil's 20V brushless model.
Skil PWRCore 12 Brushless Jigsaw Design Notes
One of the reasons I enjoy barrel grip jigsaws over D-handle styles is that I find the grip more natural, especially as I'm making turns in my cuts. Skil does a great job nailing the right feel and comfort for both the main and front handles.
For my medium size hands, it's an excellent fit. However, if you have large hands, the main handle may seem a touch short to you.
As I made my first test cuts, I was pleased with the sightline to the blade. The LED halo we've enjoyed on other Skil cordless tools makes its way to the jigsaw. Combined with the blower, they do a great job keeping your cutline visible when you're cutting at high speed.
Like most jigsaws, the cutline blower's strength is tied to the blade's speed. If you're cutting at lower speeds, the saw doesn't move as much of the dust and chips away.
Skil uses a standard jigsaw shoe with bevel 15°, 30°, and 45° bevels. You need to loosen the bolt on the bottom using the onboard hex wrench. From there, push the shoe forward, adjust to the angle you're looking for, pull it back, and tighten the bolt back up.
Skil PWRCore 12 Brushless Jigsaw Feature Set
Brushless motor
On/off switch instead of a variable speed trigger
3 orbital level plus off
Variable speed dial includes five speeds plus auto-sensing mode
Tool-free blade clamp
Dust blower
0°, 15' 30°, and 45° L/R shoe bevel adjustment (onboard hex wrench required)
LED halo lights up cutting area
USB charging port built into the battery
Kit includes upgraded PWRJump fast charger
Skil PWRCore 12 Brushless Jigsaw Pricing
Amazon has this model as a kit with a 2.0Ah battery and PWRJump charger for $129.99. There's no bare tool option at the moment.
Compared to the other 12V options out there, that's a pretty solid value. It's even more attractive when you consider the saw's performance is as good or better than the more expensive options out there.
The Bottom Line
Skil's compact 12V size, barrel grip design, and excellent performance make this jigsaw a lot of fun to use. 12V batteries have less runtime than 18V, of course, so this is a tool that's better suited for smaller projects and select cuts. It's also a great tool to start learning with if you're new to jigsaws or you're teaching someone else. If that sounds like the type of jigsawing that's on your plate, there's no reason to spend more.
Skil Compact Jigsaw Specs
Model: Skil JS5833A-10
Stroke distance: 7/8″
Speed: 800-3000 SPM
Speed Dial: Yes
Bevel: 0°, 15°, 30°, and 45° left and right
Blade Compatibility: T and U Shank
Length: 8.4 in
Width: 2.7 in
Height: 7.05 in
Bare Weight: 3.0 lbs
Warranty: 5-year warranty with registration
Kit Price: $129.99
Check out more 12V tools at Skil's website.