Sawsquatch is at it again, this time bringing its worm drive design to the new Skilsaw Carpentry Chainsaw. Realistically, this isn't a very crowded space with Prazi and Festool (UK only) filtering into the main conversation.
A couple of large diameter circular saws, like the Super Sawsquatch, also fit the beam cutting bill, but with nowhere near the cutting capacity that this Sawsquatch has.
Pros
Deep 14-1/4″ cutting capacity (8-3/4″ at 45º)
Adjustable angle of attack to ease into cuts
Tool-free chain tensioning
Full house chain leaves a better finish
Only specifically designed tool in its class available in the US
Cons
Finish isn't as clean as a circular saw blade
Skilsaw Carpentry Chainsaw – The Basics
General Design
If this is an unfamiliar class for you, carpentry chainsaws set themselves apart by adding a footplate to a beefed-up (and highly modified) electric chainsaw. This gives you the ability to slide the saw across a beam or other large stock similar to the way you would a circular saw. If you're ambitious, you can even start from the tree of your choice and mill it down to the exact lumber you want.
The Skilsaw Carpentry Chainsaw replaces a standard chainsaw handle with a worm drive design, giving it the appearance of a 90º chainsaw/circular saw mix. You still get a self-oiling chain, but there's a chain barrier that acts as a stabilizer (and guard) on the backside with a nose cap protecting the bar end. Even though it prevents plunge cutting, the overall safety and straighter cutting is a bigger win.
The saw is well-built, with metal parts everywhere we hoped to find them. The major body components are magnesium, keeping the weight down to 18 pounds (minus the bar and chain) without sacrificing strength.
Power Plant
Unsurprisingly, Skilsaw uses their 15-amp Dual Field worm drive motor to power the new saw. Dual Field technology is Skilsaw's design that promotes better cooling, helping the motor avoid overheating and thus extending its life.
Full House
The Skilsaw Carpentry Chainsaw features a 16″ bar and full house chain with a 14-1/4″ cutting depth. Clearly, that goes way beyond even the Super Sawsquatch's ability and even other dedicated carpentry chainsaws.
The nice thing is that the full house chain leaves a finer finish than the rough cut of a standard chain. Every link has its own cutter instead of every other one, so it's a similar concept to adding additional teeth to a circular saw blade. It's not sandpaper smooth, but it'll put you well ahead of repurposing your Stihl.

Dust Collection
Any chainsaw creates a lot of sawdust and chips, making efficient dust collection a challenge. Skilsaw helps keep things manageable with a dust port on the top. In practice, we used it mainly as a directional chip ejector since all of our work was outside.
Anti-Splinter Guard
When you're making cuts in material that you need the best finish on, flip the anti-splinter guard against the bar. It sits on the edge of your cut and keeps the splintering to a minimum.
Auxiliary Handle
Even though you have standard worm drive handles, Skilsaw also includes an auxiliary handle. It stores in an upright position on the right side of the saw when you're not using it or installs on the left when you want it.
Case Study
The Skilsaw Carpentry Chainsaw comes with a base that lets you set it at an angle for storage and transportation. Clips on either side lock it down with the handle nearly centered at the top. It's interesting that they chose to go with this design over a full blow-molded case.
The only concern I have is transporting the saw in the back of a truck in its upright position. It's pretty stable, but still has some risk of tipping over. You may want to keep a bungee cord handy to strap it against the side of your truck bed.
Using the Skilsaw Carpentry Chainsaw
Cutting Options
Before making your first cut, realize you have a couple of options. When making a cut that doesn't require the full depth, you can adjust the angle of attack back a few degrees and make your entry easier. I highly recommend using it when you can.
You can also bevel up to 60º, which is really handy if you're making angled cuts into 6×6 or 8×8 that even the Super Sawsquatch can't get close to on one pass.
Getting to Work
On our horse farm, there's no end to the amount of cutting jobs we have. We're cutting fence posts, fence boards, and even raw lumber from felled trees on occasion for various projects.
For the fence posts, I usually use my 10-1/4″ Sawsquatch to cut them with one pass. But one thing I really wanted to try was gang cutting fence boards to size. We stacked them 10 high and clamped them down to a set of sawhorses. Sure enough, one pass got me 10 boards ready to go.
I also decided to shape up a cedar to start drying out for a table I plan to build with it later. Here, the saw's chainsaw heritage really showed up as it confidently cut through the bark, outer rings, and heartwood.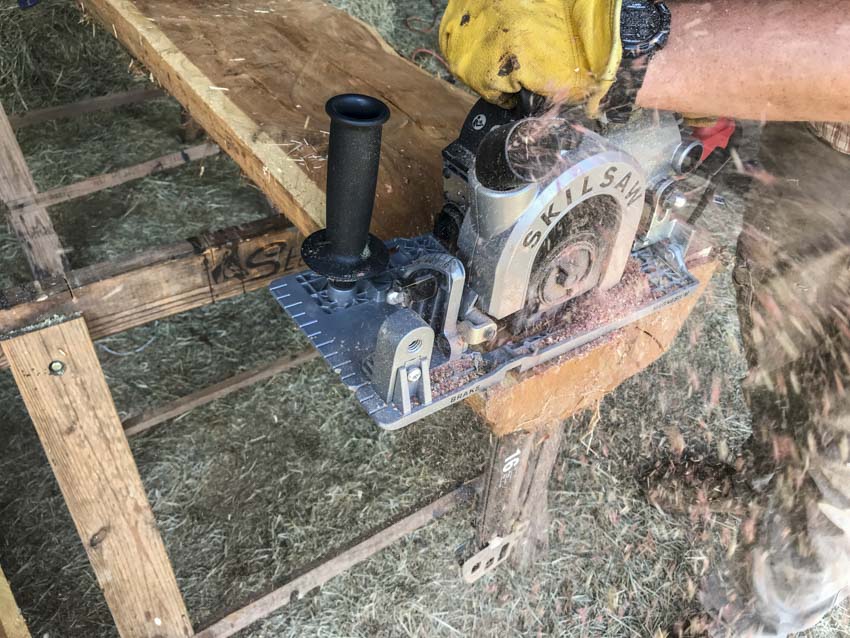 What really impressed me, though, was the quality of the finish. Even with a full house chain, I didn't expect it to cut as cleanly as it did. There's still work to do, of course, but I would never have guessed a chainsaw made the cut if I wasn't there to see it myself.
There's a long list of applications you could use a saw like this for, and I'd love to see what you think if you leave a comment for us. One of the things I realized is that it's an easier saw to use for jobs that you might use the Super Sawsquatch on. It's lighter and easier to maneuver, though you end up with a rougher cut than the circular saw blade leaves.
Price
Expect the Skilsaw Carpentry Chainsaw to retail for around $699. There are several retailers accepting preorders now with estimated shipping dates in early December.
Skilsaw doesn't have much competition in this category. Its closest is the Prazi attachment to convert a standard circular saw into a 12″ depth of cut saw (~$150). There's also an 18″ model, but it's for foam and softwoods. There are definitely some trade-offs there considering you're putting an attachment on a saw that was never designed to run a chainsaw chain, but it's an option.
On a smaller scale, Festool has a 7.9″ Sword Saw that you won't find it for sale in the US.
The Bottom Line
When you're working with thick material or gang cutting smaller boards, the Skilsaw Carpentry Chainsaw leaves the rest of your options in the dust. It has the power to make tough cuts with a design that more cutting capacity than pretty much any other handheld saw available.
I like the latest Sawsquatch for large timber framing and gang cuts on material like fence boards, deck boards, and engineered joists. That's just a few that I use regularly and there are plenty of others out there. Just keep in mind that its full house chain cut finish is going to be a bit rougher than large diameter circular saws, even though it's better than a standard chainsaw.
Skilsaw Carpentry Chainsaw Specifications
Model: Skilsaw SPT55-11
Motor: 15-amp worm drive
Bar Length: 16 inches
No-Load Speed: 6300 RPM
Max Cutting Depth at 90 Degrees: 14-1/4 inches
Max Cutting Depth at 45 Degrees: 8-3/4″ inches
Included Chain: 56-tooth full house chain
Dry Weight: 18 pounds without bar, chain, stand, oil, or cord
Price: $679.00
Warranty: 1 year with 6-month no questions asked return guarantee
Shop Amazon
Check out more on Skilsaw's website.