It's not every day that I get to take a fresh look at a newer knife company and one of their offerings. I accidentally stumbled upon Steel Will Knives on Instagram and was quickly hooked! Right away, I liked how their knife lines were conservative looking, functional and full of features. No fantasy fighters here. From what I was seeing, they looked like well-designed tools made for hard working guys. When the opportunity came up to take a look at at the Steel Will Druid 290 folding knife, I jumped on it.
There are times when the packaging gives a glimpse as to the quality of what's in the box. Think of that new Apple iPhone. The packaging for the Steel Will Knives Druid 290 is no different. The presentation box is of decent size and when you slide off the metallic camo slipcover, you'll find the knife is secure with Velcro straps holding it to the inner carton. Underneath this is a leather belt sheath, a welcome card to the world of Steel Will Knives and an international warranty card. While I did get some basic specifications of the knife before it came in, I was a little taken back at its size and handle design when I got it in my hand.
So what jumps out when you first grasp the Druid 290?
Steel Will Druid 290 Nylon and Fiberglass Handle
It's the handle because it is quite unlike anything else I have in my collection or have held from another company. There may be other, similar offerings but I feel like this design and material selection is excellent. The handle has a familiar feeling that I couldn't quite place at first. If you are a fan of Hogue Grips for your firearms like I am, then you'll find the fiberglass reinforced nylon is a nearly identical feel. Just like the handle on my AR-15 and a .38 special, this knife gives such grip confidence that it will not matter if you have gloves on, wet hands, or zombie blood, it will not slip.
We've seen a similar handle pattern – albeit on an all metal handle – with the CRKT Cobia. The ridges are deeper with the Druid 690 and really allow water to channel away from the surface.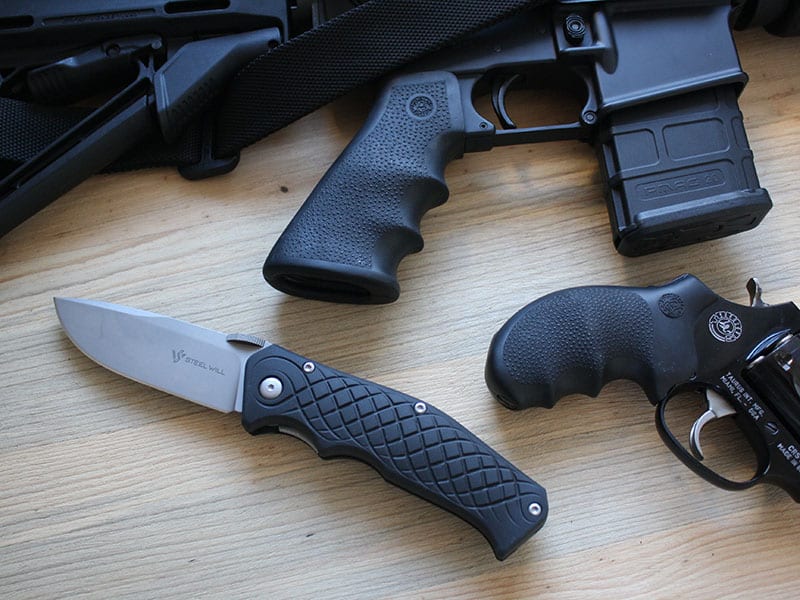 Steel Will Druid 290 C690Co Blade
The next obvious point of interest is the blade. While most are familiar with 154CM and VG10 – which are both decent steels in their own right – this blade is made of a similar Austrian equivalent called N690Co. Its properties are very similar to VG10. The Druid 290 comes with a reasonably sharp edge from the factory. After some moderate use of butchering cardboard boxes, it still keeps a decent edge. Honing a new edge is quick enough with a 900 grit diamond stone. At the end of the day, you're a step up from a mid-grade steel like 8Cr13MoV and have a nice blend of edge potential, edge retention, and sharpening ease.
The blade shape is one of my favorites – a drop point with a large belly. This gives the knife excellent slicing characteristics. While the tip isn't the best for piercing, it will still get the job done and isn't as delicate as clip or spear point tip.
On the back of the blade, there's roughly 3/4-inch of jimping for your thumb and the thumb plate. The overall design at this location is one of the most effective I've used.
Deployment
With its large size and deep groves all around the edge of the thumb plate, there's plenty of traction when flicking out the blade. The blade action is butter smooth – downright slick, really. With just a little thumb pressure and a flick of your wrist, the blade sails out quickly and locks up smoothly. There is no spring assist and with this bearing system, you don't need one.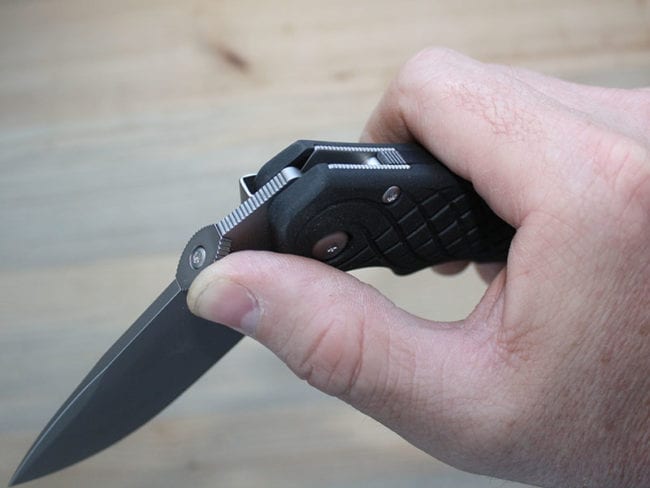 Once you deploy the blade and it locks in place with the liner lock. I find no side to side play and it locks open securely until you release it. While no secondary lock is present, in all my use, it's given me no reason to doubt the strength or security of the locking mechanism, nor has it failed on me.
The Clip
So there is just one little pet peeve that I found with this knife and depending on your use, it might be a moot point. The pocket clip is more of a suggestion that you can carry this knife in the pocket your favorite pair of Carharts with reasonable concealment. It looks like it is a deep carry clip, but doesn't physically give enough space to fully seat the clip with the pocket seam. If the clip had a tad more space, this knife would carry very deeply in your pocket.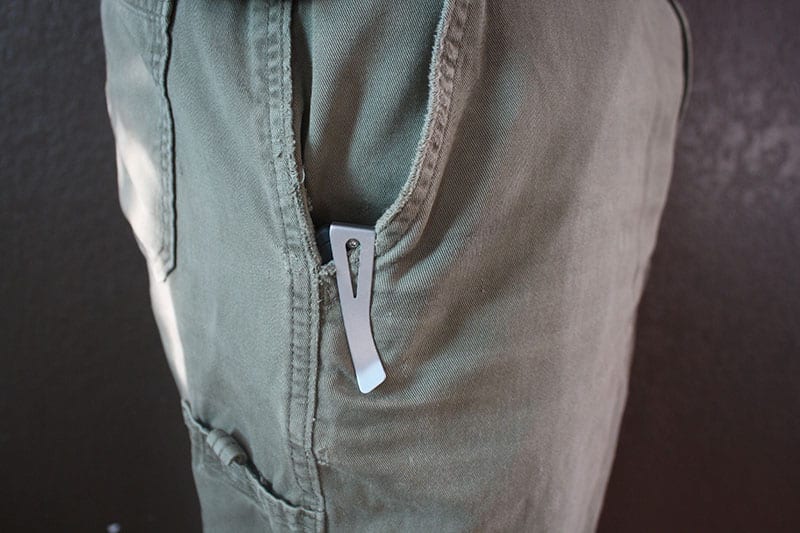 For those of you that like options, you need to know that you only have one clip position – tip down on the right.
Where The Steel Will Druid 290 Does Its Best Work
The rubbery grip texture of the handle makes it nearly impossible to whip the Druid 290 out of your pocket. This is one of the reasons there is a full grain black leather belt sheath that comes with it. The sheath is a very nice design and is the way that I ultimately end up carrying it most of the time.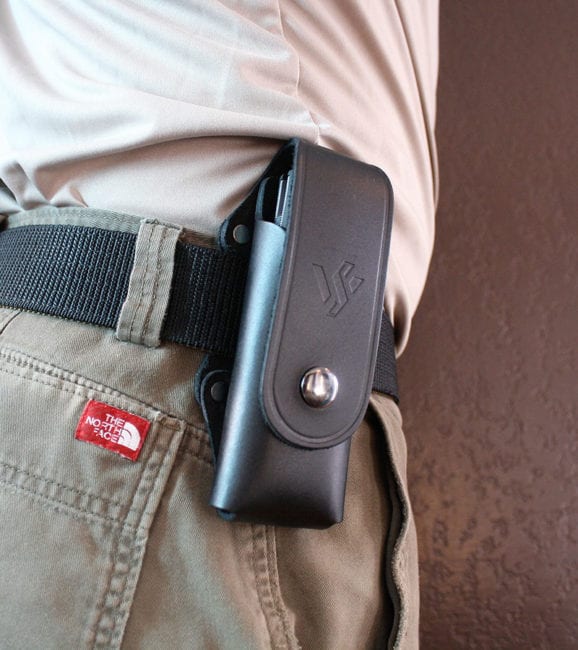 Given the overall larger size of this knife at nearly 9 inches long when open, it's all weather grip handles, and pocket clip design, I don't really use it as an EDC knife on a daily basis. It's much better for outdoor use where a larger open carry knife is the expectation. The same characteristics that make it great for the outdoors also offer plenty of reasons to carry it defensively.
The Bottom Line
I have to say that I am impressed with the presentation of the Italian made Steel Will Knives Druid 290. A quality steel blade along with a great handle design and materials make it well suited to be in your bug out bag, hiking equipment, or with your hunting gear. This knife really shines as an all-weather backwoods tool for sure. However, its size and friction in your pocket keep it from being an EDC in most settings.
Steel Will Druid 290 Specifications
Blade Steel: N690Co
Hardness: 58-60 HRC
Blade Thickness: 0.14"
Blade Style: Drop Point
Finish: Satin
Handle Material: Nylon & Fiberglass
Lock Type: Liner Lock
Pocket Clip: Tip-Down, Right Carry
Folded Length: 5.2″
Full Length: 8.94″
Blade Length: 3.74″
Weight: 6.28oz
Sheath Material: Leather
Made in Italy
MSRP: $120.00 $101.99 on Amazon
Shop Amazon