Late in 2017 at STAFDA, we got our first look at the Snapback Chalk Line from CE Tools. In a sector that sees incremental changes from time to time, inventor Dan Lemcke took a holistic look at chalk lines and decided he could make a better one. Did he succeed?
Let's spend some time answering that question one claim at a time.
Noteworthy Features
Fat Body, Ergonomic Design
The Snapback Chalk Line's body is fatter than most. One of the big benefits here is that your hand stays out of the way of the reel handle.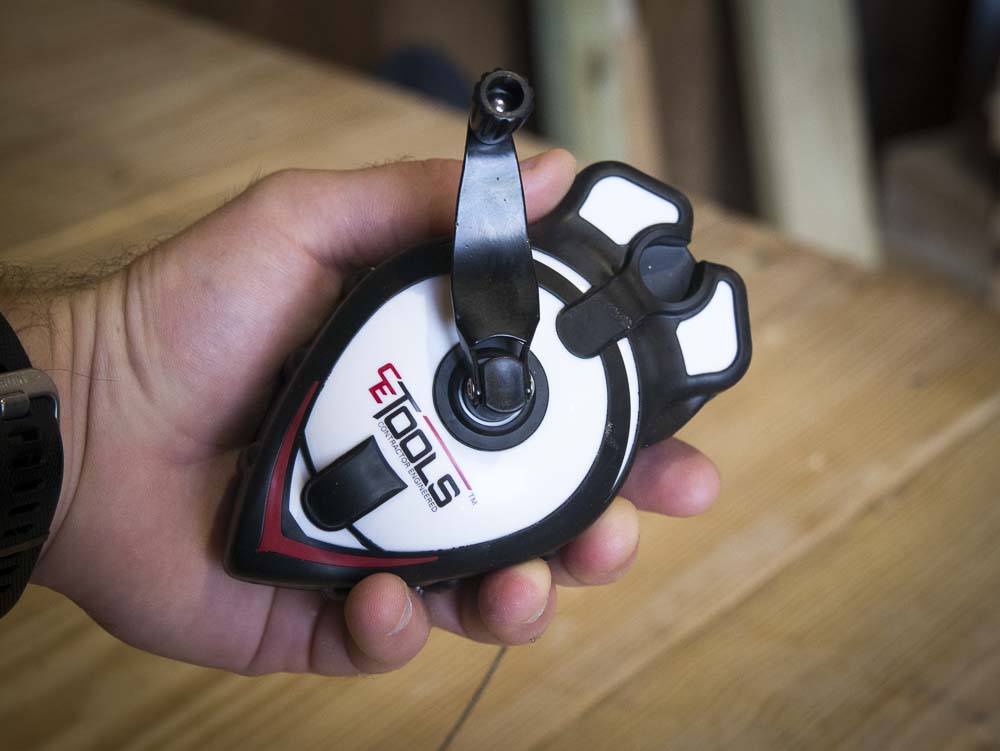 I don't have many complaints about the ergonomics of my other chalk reels, but CE Tools does create a design that fits in your hand better than most. Rubber overmold helps give you a secure, comfortable grip with ridges to guide your grip. It's not perfect, but it's an upgrade.
Easy to Open "Pinch-to-Refill" Door
The chalk door recesses into the side housing in a way that protects it in the case of a drop and the pinch design keeps it from accidentally popping open. "Easy to open" is relative – if you don't chew your fingernails, you're good to go. If you're like the 20% of us that do, it's a challenge.
If you're not careful, the tabs have at least some risk of breaking off, though normal use shouldn't hurt them.
Easy to Read Plumb Bob
The teardrop design lends itself to use as a plumb bob. There's a slight forward lean that puts the front tip of the red arrow on the overmold directly below the line. It's obviously bulkier than a standard plumb bob. However, it's a nice secondary feature in a pinch.
Polyester Woven Cord
The line itself is a durable nylon weave. This isn't unique to the Snapback Chalk Line, though it's more durable than older lines and still delivers chalk well.
4:4:1 Planetary Gearing
Planetary gearing takes the reeling pressure and spreads it out over a larger number of gears than cheaper models. It's something we see in Milwaukee's chalk reel, among others.
While the 4:4:1 ratio is acceptably fast reeling, it's not the fastest chalk line in my lineup.
High-Impact Resistant Casing
The SnapBack Chalk Line features an impact-resistant housing. However, it's still plastic and I a soft spot for my metal housing chalk reels. In order to help it out, the overmold coating has the most vulnerable parts well-covered.
SnapBack Tip
The namesake feature is the SnapBack tip. This spring-loaded claw grabs hold of a material edge like most hooks. When you're ready to retrieve it, give the line a little slack, pull back on the line, and let it snap back. The spring mechanism throws the hook away from the material so you can retrieve it.
When I spoke with Dan Lemcke about the design, he told me that it's to solve the issue of a hook that grabs well but has trouble releasing. That's not a big deal when you're 8′ away on the other side of a sheet of plywood. It's applications like chalking a long line on a roof that he says saves Pros the most time.
But does it work or is it just a gimmick?
It really does work. Like most hooks, you'll need to keep tension on the line as you get ready to snap it – perhaps a little more tension with this model. Where a regular hook just has to grab, the SnapBack tip needs to grab and push the red plastic piece up. In most materials, all you need to do is give the line a little tension and the plastic piece will push the hook off. If you really bite into or under a shingle or something else, that's when giving a little slack and letting it snap back will set you free.
Additional Field Notes
The Snapback tip secures pretty easily on the back of the housing. Like other chalk lines, you can push the handle in to override the gearing so you can store the handle at the 12:00 position.
There's also a handy steel belt clip on the back. It's stout enough that you'll have a tough time bending it out yet with enough give that you can get the chalk line on and off your belt without much trouble. If you manage to bend it out, you just need a Torx wrench to remove it and bend it back.
Price and Value
At $25, the SnapBack Chalk Line is the most expensive model we own and more than twice the price of many lines you find at your local store. So does it offer enough advantages to justify the extra expense?
Maybe.
The reality is that we're talking about a tool that many people still consider a consumable item. If you're buying your own chalk lines and you see that the features on this one cover some real frustrations you have with your current chalk line or it just intrigues you, give it a shot.
If it's just the SnapBack hook feature that gets your attention, you can get it for $10 and just tie it on to your favorite line.
The Bottom Line
The SnapBack Chalk Line makes a real effort to be the best at everything a chalk line can be. If we were to bring a bunch in and test them head to head, there's a good chance it will win. The question that every Pro will have to answer is whether a $25 chalk line is in the budget for a tool that you might only be paying $10 or less for currently.
SnapBack Chalk Line Key Features
The Snap Back chalk line is designed with a fat body, ergonomically crafted to fit your hand.
Easy to open "Pinch-to-refill" door design that won't accidentally open when you don't want it to
Steel Belt clip that attaches to your work belt for ease of access
Easy to read and accurate "Plumb Bob" on the bottom
Replaced the traditional chalk line string for a Durable Polyester Nylon Woven "Cord".
4.4:1 Planetary Gear Ratio for fast reeling Durable, High-Impact RESISTANT casing that won't break when dropped
Snap Back tip locks flush into the back of chalk line.
SnapBack Chalk Line Specifications