There are a few select products that define entire market segments such as what Skillsaw is to circular saws, Xerox is to copiers and what the Milwaukee Sawzall is to reciprocating saws. Milwaukee 6519-31 Sawzall Reciprocating Saw Kit stays true its original roots, yet boasts more power, longer stroke length, less vibration, and a bargain value price point.
There are many things to like about the new Milwaukee 6519-31 Sawzall Reciprocating Saw. The first was that our test saw arrived in a heavy duty blow molded carry case. Having a real carry case makes it easy to store and transport the saw and, given how many manufacturers' lower priced tools don't come with any cases, we really applaud Milwaukee on this point. The next thing we liked was the specs of this saw. With a 12A motor, up to 3000 strokes per minute and a long 1-1/8" cutting stroke, demolition projects should be a breeze! To protect the motor, there is a gear-protecting clutch that is supposed to extend the motor life by adsorbing high impact shock that can be caused by blade lock-ups. To further make the end user's life better, the engineers at Milwaukee managed to squeeze in a counter weight mechanism inside the gear housing to help reduce vibration and provide smoother operation. Thankfully, all these great upgrades over the previous model did not make the saw any heavier or bulkier.
Milwaukee 6519-31 Sawzall Reciprocating Saw Kit Features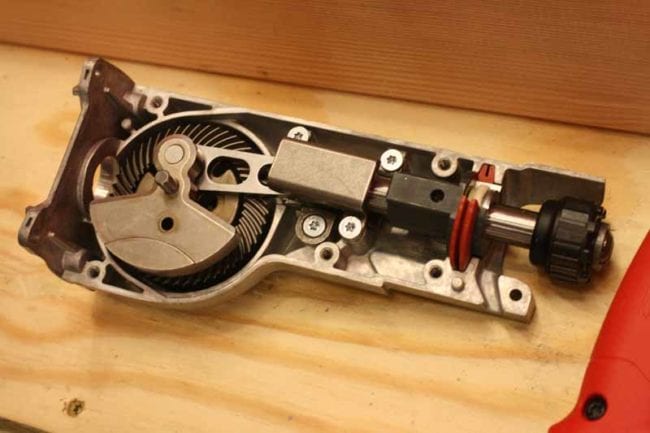 With the Milwaukee 6519-31 Sawzall Reciprocating Saw Kit in my hands it felt like a well-balanced machine. The D-handle rear grip is contoured for an easy grasp. The motor is engaged by a trigger switch which you control with your index finger. While the motor does not have a speed setting wheel type switch, the trigger provides all the variable speed control that you will need. The front portion of the saw is completely covered in black rubber that provides plenty of grip and also plenty of protection should the tool suddenly jump or get caught. The blade changes are a breeze with the QUIK-LOK blade clamp. Simply give the rotating top of the blade clamp a slight turn and the blade is released. One slight bummer is that the shoe is not adjustable for depth of cut, but is fixed in place. The shoe does pivot, however.
Testing and Use
A reciprocating saw is one of those tools that just about any contractor, handyman or serious do-it-yourself type person can not live without. For cutting pipe, doing demolition, rough framing and a million other things; the reciprocating saw can not be easily replaced by another tool. Testing the Milwaukee 6519-31 Sawzall Reciprocating Saw Kit was a simple task. As is our custom, we simply showed up on a job site and passed it around. In this particular instance, the contractor was in the middle of doing an office renovation where they were doing a combination of demolition and new construction. On the demolition side, the saw was used with a heavy-duty demolition blade for removing old walls that were built with 2×4's and drywall. They also used the saw with a metal blade to cut old metal and plastic electrical conduits and some old anchor bolts. On the new construction phase, the saw was used to cut in the window and door openings in the OSB wall sheeting and also to cut the bottom plates out of the bottom of the door openings. Nearly every single guy that used the new Sawzall remarked on how much less vibration they noticed in the saw compared to similar tools.
Back in our testing facility, we figured it would be good to try some of our scientific tests on the saw. According to our digital tachometer, we found that our test saw actually gave a little better then the claimed 3000 strokes per minute, with an average reading of 3045. (We know that our digital tachometer is designed to measure rotational speed, but we discovered that it can accurately read strokes per minute, as long as there is enough stroke length available to get a solid reading). As far as noise level, the Sawzall measured an average of 93 dB SPL taken from our standard distance of three feet away. What most users will find is that when out in the field, the noise level will very greatly depending on what is being cut and what blades are being used. All in all, we found the Milwaukee 6519-31 Sawzall Reciprocating Saw to be a dependable and solid performer. As with any power tool, make sure you use proper ear, eye, and body protection while using the tool.
Conclusion
The Milwaukee 6519-31 Sawzall Reciprocating Saw is a fantastic example of performance, features and value. Even though this saw is the basic level offering from Milwaukee, many folks will find that it will fit the bill for what they need it for. Should you need to do a little finer cutting, they also offer the exact same saw except with a 3/4 inch stroke length. We opted for the 1-1/8" stroke length because we were looking for a quick demolition type saw. For our Performance rating, we gave the saw an 8/10 since it offers fantastic vibration lowering technology yet did not bulk up the saw but wish it came with an adjustable shoe. For our Value rating, we gave the saw a 9/10 since it really offers many benefits and features, yet it comes in at a very accommodating price point.
About Milwaukee Electric Tool Corporation
Milwaukee Electric Tool Corporation, a Brookfield, Wisconsin-based subsidiary of Techtronic Industries Co. Ltd. (TTI) (HKEx stock code: 669, ADR symbol: TTNDY) is an industry leading manufacturer and marketer of professional, heavy duty power tools and accessories. Products include the legendary SawZall reciprocating saws, M12, M18 & M28 LITHIUM-ION cordless tools, HOLE-HAWG drills, portable band saws, circular saws, driver drills, hammer drills, rotary hammers, grinders, sanders and a line of Test & Measurement and Hand Tools. Accessories include SAWZALL blades, SWITCHBLADE self-feed bits, BIG HAWG hole cutters, THUNDERBOLT drill bits and SHOCKWAVE Impact Duty. For more information on the full line of Milwaukee power tools and accessories, please call 1-800-SAWDUST or visit www.milwaukeetool.com.