All tradesman see the value of cordless tools. For electricians, plumbers, and HVAC guys in particular, the ability to walk on to a job site and just get to work eliminates a lot of stress and saves time. As a guy who does a lot of rough-in work, going cordless means I don't have to mess around with finding level ground to set the generator on, running long cords around the job site, and I save a small fortune not having to buy gas. When I'm working with tools like the 60V Max DeWalt FlexVolt Stud and Joist Drill, I can simply walk onto a housing project, do my rough-ins, clean up my mess, and leave. When my time is money, this sort of simplicity becomes a huge blessing.
Points Of Interest
User Controls
The DeWalt FlexVolt Stud and Joist Drill features a high and a low setting. I'm not the biggest fan of the switch here, as it sort of feels like it might break when I change the settings, though there are no issues so far.
It also has forward and reverse controls that I can easily operate with the flick of my thumb. Moving the rocker switch to the center position will lock the tool. DeWalt uses this same design on their impact and hammer drills as well, and I feel it adds the brand's generally great ergonomics.
E-Clutch
One of the first things I noticed is how well the E-Clutch system works. The E-Clutch, one of the brand's "Perform and Protect" features, detects reactionary torque caused by a bind-up or stall, and it reduces the speed to a manageable level. This feature is predictable, purposeful, and most importantly, I don't feel like I risk having my arm ripped off. If the tool runs into something that it can't chew through, the E-Clutch will stop the tool.
Adjustable Handle & Build Quality
The DeWalt FlexVolt Stud and Joist Drill also includes an adjustable bail handle, which is an interesting feature. You can reverse the handle so that your support hand rests directly over the chuck. I find it comfortable, though the handle adds to the tool's height. Since it sometimes keeps me from getting into a narrow stud space on horizontal holes, I have to remove it from time to time.
The DeWalt FlexVolt Stud and Joist Drill features metal gear housing as well. While this increases the tool's durability, you might need to pick up an extension as it can get in the way when you're drilling deeper holes.
Can I Leave My Corded Tools At the Shop?
The DeWalt FlexVolt Stud and Joist Drill boasts a brushless motor that DeWalt tells us will reach 1250 RPM – 300 RPM faster than the Milwaukee M18 Fuel Super Hawg. I'll be honest here though – when I pulled this tool out of the box and fired it up on the high setting, it didn't feel like this drill has the same kind of muscle.
But a no-load first impression isn't the same as putting bit to stud and I can say that the power this thing generates only feels light. I'm able to drill 6″ holes in joists and plywood with ease. I can say, definitively, I really like the power this thing turns out. As an added bonus, the noise it generates won't break my eardrums.
The question that always comes up for those of us who need to drill big honking holes is whether or not cordless can really replace corded tools. I need a tool that generates a lot of speed and torque, and I need a full day's worth of power. Can I really afford to leave the cords at the shop?
To be frank, at least as far as the DeWalt FlexVolt Stud and Joist Drill goes, I would say yes, you absolutely can. This tool powers through holes up to 6-1/4″, it runs all day on 60V Max, 6.0 Ah batteries, and weighs in at 11 lbs with a battery attached. In short, this right angle drill does exactly what I need it to without requiring the hassle of cords.
Run Time
Cordless tools always seem to have a big question mark surrounding them when it comes to run time. Like I said earlier, I've been using this drill every day for the last week, and I have yet to have a battery die on me in the middle of a rough-in. Even if it does, the kit (DCD460T2) comes with two 6.0 Ah batteries and a fast charger. Realistically, I will probably never run out of juice on the job.
Included In Kit
DCD460 Drill
(2) DCB606 FlexVolt 60V 6.0Ah Lithium-Ion Batteries
Fast Charger
Chuck And Key Holder
2-Position Side Handle
Adjustable Bail Handle
Kit Bag
Things That Could Use Some Work
As great as the DeWalt FlexVolt Stud and Joist Drill actually is, I do have a couple bones to pick with it. For one, come on, DeWalt, have we not moved past traditional chucks yet? Quick disconnect technology exists and it works fabulously!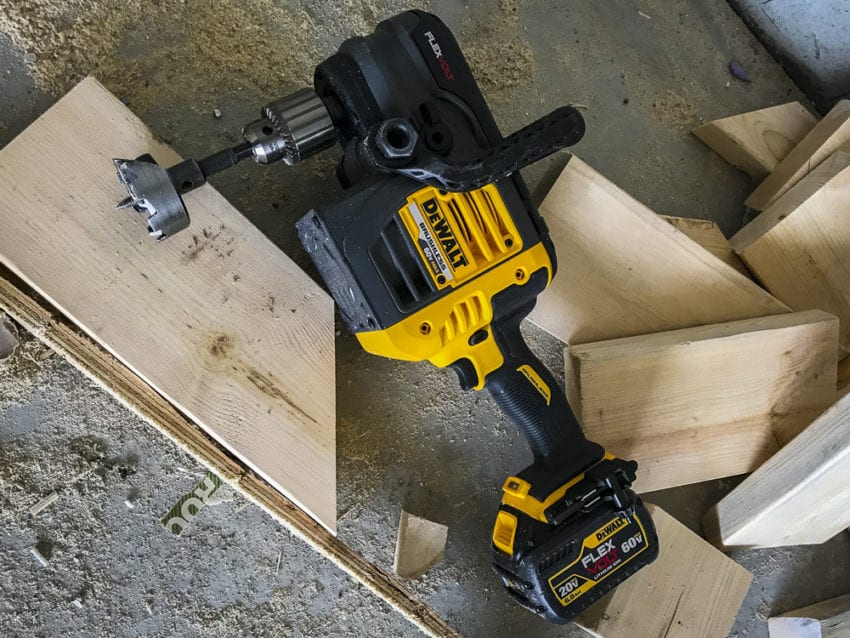 The other thing I would like to see with this tool revolves around the fantastic Tool Connect System that DeWalt, for whatever reason, didn't include here. For the price that this kit costs, it would be nice if I could use that app to track the tool and customize my settings. Granted, this model came out pre-Tool Connect, but at the least having the option would be nice.
Price and Value
As a kit with a pair of 6.0 Ah FlexVolt batteries, the kit will set you back $443.00. That's more than $100 less than the M18 Fuel Super Hawg with 5.0 Ah batteries. Since I don't feel like I'm losing out on the performance side, that's a win.
Final Thoughts
While the DCD460 isn't perfect, there isn't any particular area that I feel it's weak. From performance to features, this is a Pro-level corded tool replacement. If you do a lot of rough-ins, and especially if you're already running on the DeWalt FlexVolt platform, I have one thing to say – buy the DeWalt FlexVolt Stud and Joist Drill. This tool is incredibly powerful, it has more than enough runtime for the whole day, and it will pay for itself just by the time it saves.
DeWalt FlexVolt Stud And Joist Drill Features
60V Max Brushless Motor for increase power and runtime
Power of a cord with cordless freedom
Adjustable bail handle and 2-position side handle for leverage and control
2 variable speed ranges (0-300 / 0-1250 rpm) to match appropriate speed to the application
E-Clutch is a Perform and Protect feature that detects reactionary torque caused by a bind-up or stall and reduces speed to a manageable level until control is regained.
Metal-gear housing for job site durability and increased reliability
The DeWalt Perform and Protect line of power tools is designed to provide a high level of one or more of the following: control, dust containment, or low vibration, without sacrificing performance.
DeWalt FlexVolt Stud And Joist Drill Specs
Model Number: DeWalt DCD460T2 (Kit)
System: 60V Max
Height: 6.83″
Length: 16″
Chuck Size: 1/2″
Chuck Type: Keyed
Clutch: Yes
Clutch Type: Bind-Up Control
No Load Speed: 0-300/0-1250 RPM
Speed Settings: 2
Hole Saw Capacity (Steel): 5″
Twist Bit Capacity (Steel): 1/2″
Auger Bit Capacity (Wood): 1-1/2″
Self-Feed Bit Capacity (Wood): 4-5/8″
Hole Saw Capacity (Wood): 6-1/4″
Spade Bit Capacity (Wood): 1-1/2″
Warranty: 3-Year Limited, 1-Year Free Service, 90-Day Money Back Guarantee
Price: $443.00
Shop Amazon