The Metabo HPT MultiVolt Cordless Grinder is a muscular workhorse powered by either the MultiVolt 36-volt pack or an AC adapter. It boasts enough compelling features to make both you and your current grinder jealous. Let's take a closer look.
Pros
Dual power options of 36V battery or AC adapter
Auto speed mode that adjusts between 5,500 and 9,500 RPM
Soft start, electric brake, zero-voltage restart, and anti-kickback safety features
Convenient paddle switch
Cons
A bit heavy at 7.1 pounds with the battery
Recommendation
This Metabo HPT grinder is impressive. You get a lot of power from its 36V battery. You also have the option to use its AC adapter with a 20-foot cord. I really like the paddle switch and automatic speed mode that adjusts to the load. Safety features abound, including soft start, electric brake, zero-voltage restart, and anti-kickback. Smaller details like the angled auxiliary handle and large, conveniently-placed spindle lock button make the grinder really enjoyable to use. Pros who use a grinder all day or who work in a fairly small area may understandably balk at its size and weight. For the rest of us, it's a great fit for periodic work.
How Does it Compare to Corded?
I've heard good things about Metabo HPT's MultiVolt table saw and impact wrench. This Metabo HPT MultiVolt cordless grinder is the first opportunity I've personally had to use any tool in the new line. I've got no shortage of rebar to cut, mortar to remove, and brick & block to grind down. Let's just say that practical testing began immediately. You'll see repaired a column at a strip mall in the photos.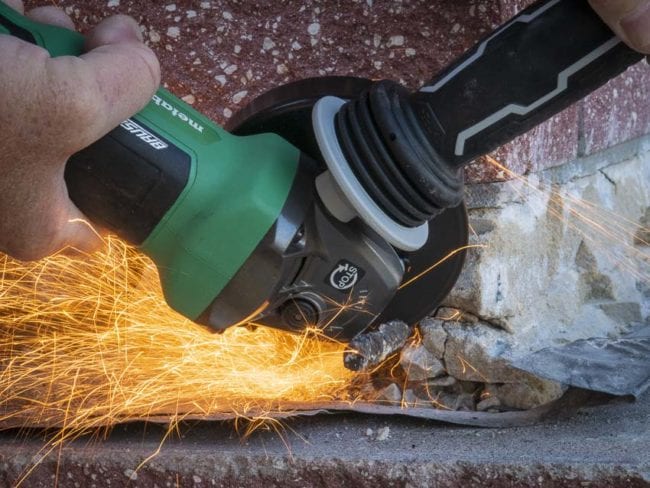 Out of the gate, the Metabo HPT MultiVolt grinder made quick work of some rebar sticking out of the damaged column. It's impressively powerful for a cordless tool driven by a 36-volt battery. In fact, it feels more powerful than some corded 4.5-inch angle grinders I've used.
I also like the thickness and shape of the grip and side handles. You get lots of rubber overmold that helps dampen some of the vibrations.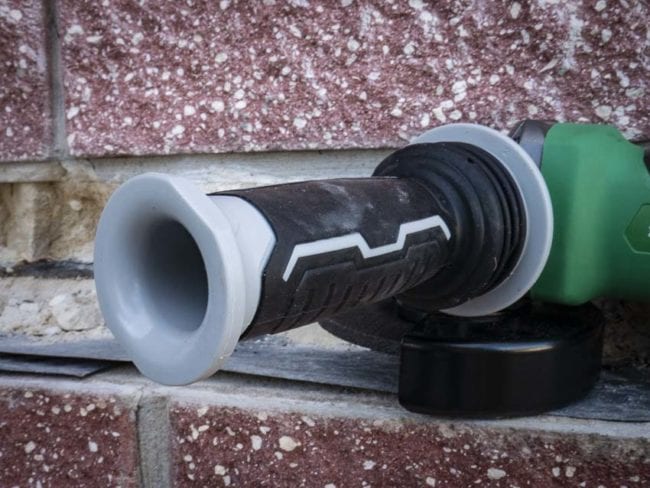 Weight and Length vs Corded
There's just one size of MultiVolt battery pack (4Ah) at present. Combined with the tool, you get about 7.1 pounds of weight. That may be around a pound or so heavier than a comparable corded 4-1/2″ grinder.
You get a lot of power for the size, but Pros who want to use it for hours a day may understandably prefer dropping some weight. Case in point, when a tile Pro friend of mine tried it out, he opted to stay with his smaller, corded tool. He often works in tight spaces and doesn't need all power the Metabo HPT MultiVolt cordless grinder offers.
For length, the tool measures just 14-1/2 inches with the battery. That compares well to a corded grinder—but the rear of the tool carries a battery rather than tapering off to a cord.
Metabo HPT 36V Grinder on Speed Dial
We really like the Auto Speed Mode which varies the RPM between 5,500 and 9,500 depending on the load. The MultiVolt Grinder also has five dial-selectable speeds from 3,000 to 9,500 RPM.
The Multivolt Grinder's paddle switch works well. Our crew actually prefers this design. Releasing the paddle stops the brushless motor and engages the electric brake. The wheel stops in just under three seconds—not the fastest, but it's a great safety feature.
Additional safety features include anti-kickback and a soft start. It protects the user from bound or pinched wheels, although we didn't experience this while using it.
Do You Need a Corded or Cordless Grinder – How About Both?
Among all the Metabo HPT 36V grinder's great features, the dual power option is arguably the most impressive. No other grinder offers the ability to function as a cordless and corded tool. You can literally decide when you need full portability or when you need the extra run-time. Carry the adapter with its 20-foot cord, and you can just plug it into an AC outlet as-needed.
The AC adapter features a battery-like plug that slides right into the MultiVolt battery port. A transformer sits midway along the cord. It seems a little bulky, but when you consider its versatility it's not much of a concern. A zero-voltage restart safety features prevents damage and injury should you lose power while grinding.
Control and Convenience
Metabo HPT did a nice job tweaking features to maximize control and convenience. The side handle is thick and slightly angled toward MultiVolt Grinder's head, giving you a bit of leverage during the grind.
You've probably had a grinder whose wheel lock button is small, hard to press, or just inconveniently located. Well, good news: the Metabo HPT MultiVolt grinder makes it easy to access. The wheel guard also uses a tool-free adjustment. These things are icing on the cake for this well-balanced tool.
What's the Price?
It's not easy to find grinders comparable to the Metabo HPT 36V cordless grinder. Competitors are either 18V, larger than 6-inches, or are simply older tools. But here's a look at a few alternatives we did find:
Makita XAG12PT1 (7-inch, 18VX2 = 36V): $386.99
Metabo HPT MultiVolt Cordless Grinder with Battery (but not AC Adapter): $318 (Add $169 for AC Adapter)
DeWalt DC415KL (4-1/2-inch, 36V, several years old):  $449.99
Hilti AG 600-A36 (6-inch, 36V): $393.68
Shop Amazon
The Bottom Line
The impressive and powerful Metabo HPT MultiVolt cordless grinder is the first of its kind to run off a 36V battery or an AC power adapter. That might be enough of a selling point, but Metabo HPT's attention to control and safety details really makes an even more compelling case. This 36V grinder might be a little too heavy for some Pros who grind for extended periods or work in tight spaces. Some of us, however, can't pass up on the innovation and flexibility.
Metabo HPT MultiVolt Cordless Grinder Specifications
Model Number: G3612DBQ6 (bare tool)
36V MultiVolt AC adapter compatible (not included)
Wheel diameter: 4-1/2 inches
Wheel capacities: 4, 4-1/2, and 5 inches
Switch type: Paddle (Non-locking)
Variable speed: Dial (1-5, Auto)
No-load speeds 1-5:  3,000 – 9,500 RPM
No-Load speed (Auto): 5,500 – 9,500 RPM
Soft start
Electric brake
Anti-kickback protection
Overload protection
Zero voltage restart
Spindle lock
Tool-less wheel guard adjustment
Grip circumference: 5-3/4-in
Length: 14-19/32 inches
Weight (with battery): 7.1 pounds
Warranty (tool body): 1-year
Price: G3612DBQ6 (bare tool) $199; MultiVolt battery (372121M) $119; AC Adapter (ET36AM) $169