The Metabo HPT 36V cordless impact wrench is a cordless beast that packs a big punch and lets you ditch the air hose and compressor. It's probably heavier than your pneumatic impact but you'll barely notice with your newfound hose-less freedom. We tested the Metabo HPT WR36DBQ4 in the shop to see how it performed against our air tools.
Pros
Powerful 36V battery lets you work without a hose
Brushless motor and IP56 compliance
4 speeds and a variable trigger gives you lots of control
MultiVolt battery pack has a gauge which was missing from some older Hitachi packs
Helpful rafter hook
Cons
Heavier than many newer pneumatics
Recommendation
This Metabo HPT impact wrench has all sorts of power with the great benefit of being air hose and compressor-free. Although it might be heavier than your current pneumatic, you'll barely notice as you move around your equipment without worrying about dragging, snagging, or tripping on a hose. You'll get a lot of work done with the 36-volt battery but, in case you forget to charge it, you can use the 15-foot corded adapter. Its four speeds and variable speed trigger give you all the control you need to do your work. Great touches like a big rafter hook, work light, and battery gauge make it easy to recommend this tool.
Metabo HPT 36V Cordless Impact Wrench Performance
Let the Air Out
Pneumatics will always have a place in the shop. However, if there's a tool that could send them packin', it's probably the Metabo HPT 36V cordless impact wrench. It's part of the new Metabo HPT Multi-Volt lineup, using all 36 volts of the 18/36 volt packs.
That also means it can flex a lot of muscle. You get up to 775 foot-pounds of tightening torque and 1,218 foot-pounds of the nut-busting variety. Of course, you avoid the need for a compressor and don't have to yank an air hose around your cart, lift…or a pile of old parts your co-worker left on the floor. I like that a lot.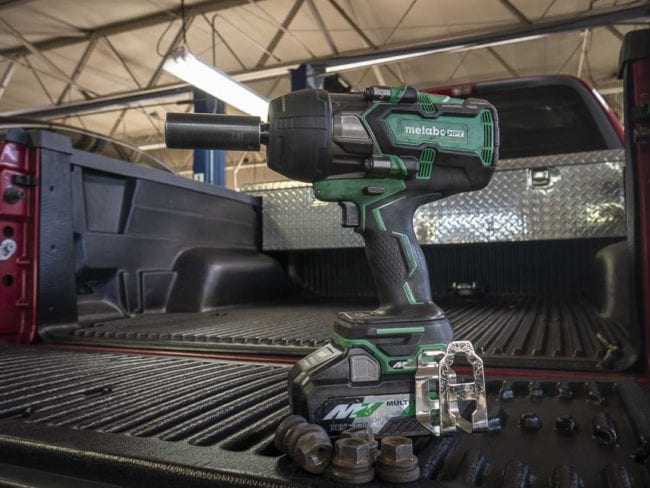 Keep On Movin'
You gain more than just workspace mobility with the Metabo HPT cordless impact wrench, too. I brought it to the other side of the garage to assist a coworker (who now wants his own). During this review, I used it on every type of fastener that was appropriate, even employing reducers when necessary. Whether lugs or suspension bolts, it pulled them all off quickly. It's a really stout tool.
I even used it inside a vehicle on a seatbelt buckle. There's no dirty air hose that can smudge the interior. I found that opening up opportunities left and right.
Mobile mechanics and roadside assistance guys will have a hard time passing up the Metabo HPT Impact. There are also big benefits for industrial applications. Incidentally, that must be who the rafter hook is for. I didn't like it at first but started to find it useful. Caveat: the tool is a little too heavy to hang on your belt unless you cinch it up real tight!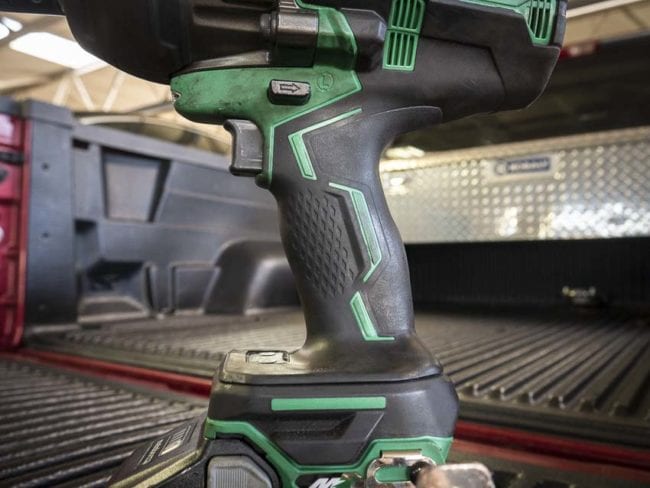 Weight a Minute
Speaking of the weight: the Metabo HPT 36V Cordless Impact Wrench is 8.8 pounds with the battery. That's a bit heavy, and if you rotate a set of tires with it, you'll probably start to feel it. But to my mind, the power and "hoselessness" outweigh the weight you gain over a pneumatic.
The tool is so darn convenient to just pick up and use.
I love that Metabo HPT has added a four-bar battery gauge to the packs. The battery pack gauge omission on some legacy Hitachi tools seemed like a big oversight. Expect to do a lot of work between MultiVolt battery charges. After several weeks of regular use, I've only charged the pack once and still have 3 bars left.
And if you absolutely need it: the MultiVolt line has an optional AC adapter if a 15-foot cord. That gives you the option of plugging the wrench in if you really need to. Of course, this defeats the purpose of the tool, so that adapter is much better left to miter saws and table saws.
Making an Impact Wrench
My favorite feature of the Metabo HPT 36V cordless impact wrench is the 4-stage speed selection with variable trigger. It gives you lots of control over your work and huge variability in speed and power. You can choose from 5 speeds between 600 RPM up to 1,500 RPM. Those correspond to impacts from 1,200 BPM up to 2,800 BPM. That's a long way from the forward/reverse-only option on some of my pneumatics!
Metabo HPT WR36DBQ4 Price
The Metabo HPT 36V cordless impact wrench will set you back $289 for the bare tool. Making direct comparisons is difficult because there aren't many other 36-volt impacts. But here's a look at the field (this represents bare tool pricing):
Ridgid Octane R86011B: $149
DeWalt DCF894B: $139.88
Milwaukee 2767-20: $249
Metabo HPT WR36DBQ4: $289 
The Bottom Line
The Metabo HPT Metabo HPT WR36DBQ4 36V impact wrench has all the power and control you need to get the job done correctly—without an air hose and compressor. I have plenty of lighter pneumatics but found myself opting for the mobility of the Metabo HPT. It's especially useful if you have a large work area, perform industrial work, or are a mobile mechanic. Unsurprisingly, it's more expensive than its 18V competitors but, if you want to liberate yourself from the air hose, it's hard to go wrong with it.
Metabo HPT 36V Impact Wrench Specifications
Model: WR36DBQ4 (bare tool)
36V MultiVolt AC adapter compatible
Drive: 1/2-in square (w/friction ring)
Max tightening torque: 775 ft-lbs
Max loosening torque: 1,218 ft-lbs
Speed (Low 1/Low 2/Medium/High): 0-600/900/1,200/1,500 RPM
Impact rate (Low 1/Low 2/Medium/High): 0-1,200/1,800/2,300/2,800 BPM
IP56 compliant dust/water resistant
Capacity: Bolt 15/32 to 1-3/16 in.
Capacity: High strength bolt 3/8 to 15/16 in.
LED light
Belt (rafter) hook
Protective bumper
Length: 8.7 in.
Weight (with battery): 8.8 lbs
Warranty: Tool body lifetime
Price: $289 (bare tool)