Dickies is already well-known around the industry for creating affordable workwear that stands up to tough jobsite conditions. But now that Cordura is showing up in the latest Dickies Pro line, it's getting a bit tougher. As the end of summer give way to fall and we start to consider options for cooler weather, the Dickies Pro Cordura line might fit the bill for you.
Why Cordura?
Cordura has been around for a long time – they're celebrating 50 years in 2017. It's not a specific blend of material, but it a brand that makes material for things like luggage, boots, and workwear.
Probably their most famous claim to fame is the line of tactical military gear. After all, if it's good enough for our service men and women, it must be good enough for the jobsite as well.
It's toughness that the Dickies Pro Cordura line is going after. But tough doesn't always mean comfortable, so there's a balance to find there. You'll notice the difference in price between the this line and your normal Dickies workwear – another characteristic of the tougher material.
Dickies Pro Cordura Military Grade Fiber Collection
The Field Coat ($114.99) is built with multiple pockets including tech-friendly components and square quilted Thinsulate DWR (durable water repellent) insulation
The Bomber Jacket ($114.99) features military-inspired interior camouflage print, a removable insulated hood, a headphone stabilizer bungee, adjustable tab cuffs, and reflective accents.
The Ripstop Pant ($62.99) is designed to withstand gale-force winds with reinforced stress points for added durability, FLEX fabric (2 percent spandex) for exceptional mobility, cargo pockets designed for specific tools and double knees to accommodate knee pads.
I've been spending some time getting to know the Ripstop Pant and Field Coat, so let's take a closer look at each.
Dickies Pro Cordura Ripstop Pant
Comfort
The first thing you'll notice about most any Cordura product is that it's a little stiffer than other fabrics at first. It does soften some over time, but probably not as much as your favorite jeans. The waistband has elastic in it, so as you move on the jobsite or just experience some weight gain around the holidays, there's some stretch to it. The ability to move freely is solid. However, there's not as much stretch in the fabric as my Truewerk pants that have become my personal benchmark for comfort.
Fit
With the elastic waistband, there's room for some error in sizing. You also have belt loops, so you can go a little large and still be fine. I found the waist to be pretty much dead on. The length is just a hair short, but it's actually perfect for workwear. I like my dress pants and jeans to run roughly 1/2″ from the bottom of my heel. These give me about an inch of clearance, keeping the hem out of the mud and dirt on the jobsite.
Function
The function of work pants boils down to pockets and you've got a bunch to work with on the Dickies Pro Cordura Ripstop Pant. You have your standard front and rear pockets on the right and left. The rear pockets secure with hook and loop closures. The right front pocket is where you typically find a coin pocket on men's jeans, but the additional storage space is quite a bit more substantial on these pants. It's large enough to hold your smartphone if you like.
The left side features a hammer loop and a couple of narrow width pockets, great for holding a flashlight or hand tools.
Moving around to the right leg, you have a big pocket with two hook and loop closure points. there's also a side entry pocket on the front of it with a hook and loop strap for security. That side entry pocket doesn't have the greatest holding strength to keep it closed and it doesn't have a flap for full protection, so use your judgment on what you'd like to keep there.
The majority of the pant features extra reinforcement with multiple layers of stitching. The entire garment has ripstop stitching across it to give it much greater resistance to tearing from a puncture.
Style
It's hard to go wrong with black pants for workwear since it hides most stains well. These are clearly cargo pants, so function definitely trumps form here, especially with the reflective material on the rear pockets. On the jobsite, they look great. The same goes for casual wear if you like the cargo style. However, you shouldn't plan on doubling these up for dress pants at the traditional service of your local Presbyterian church.
Dickies Pro Cordura Field Jacket
Comfort
The Dickes Pro Cordura Field Jacket features Thinsulate platinum for insulation and is made from 100% polyester fibers. The moderately stiff Cordura outer gives way to a soft interior lining, so it's still comfortable against your skin during the break-in period.
The amount of insulation and wind resistance of the material should keep you pretty comfortable down near freezing. Once you start getting near that, you'll want an additional layer, especially in the wind.
Speaking of wind, the material is pretty much wind-resistant. The front zips up and gets additional protection from a flap that has an upper and lower snap along with hook and loop closures. Even with those, I did have a little air come up through the bottom of the jacket in the front. A cinch cord around the base might resolve that for Pros that don't fill it out as much.
Fit
In normal clothing, I tend to fit between a medium and large for shirts. I'm tall, so I need the length, but I'm fairly thin, so I don't want to be swallowed. I went with a large on the Field Jacket and it has a construction Pro's build. What I mean is that it's got some room around the middle and it fits a little big on me. It's not enough to move down to a medium, though. So all things considered, go with your normal sizing.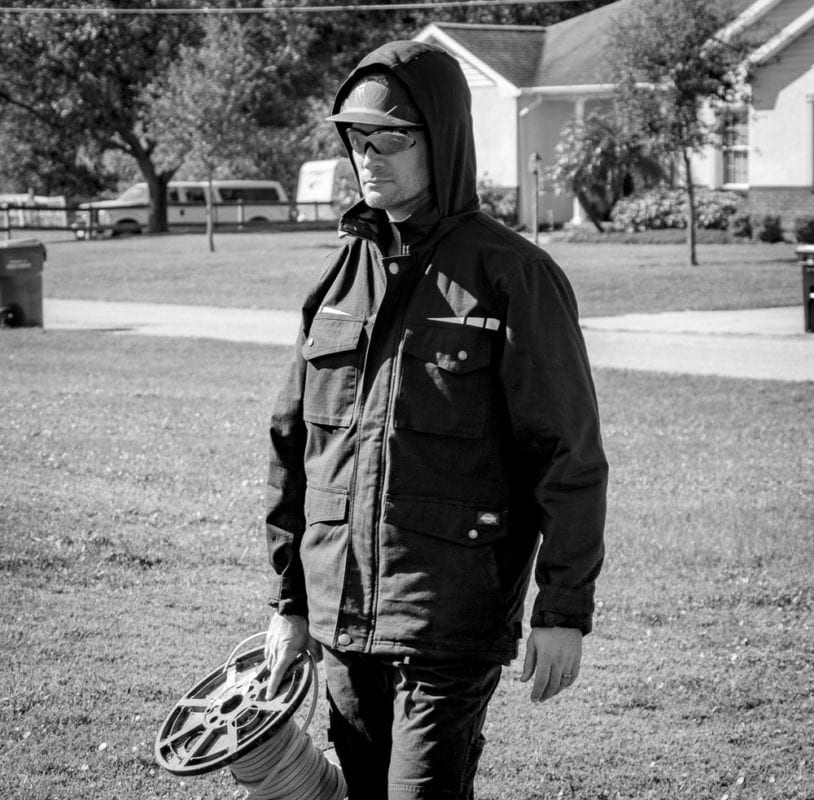 Function
The Dickies Pro Cordura Field Jacket has Thinsulate's DWR water-resistant coating, so you have some legitimate weather protection here. It also hides a hood inside the collar zipper. It's a little bit of a stretch, but you can fit it over some hard hats. Even if it pulls the jacket up a little higher, there's enough length to still keep you well-covered.
Dickies gives you six exterior pockets to work with. Two kangaroo pockets have upper entry pocket over the top of them that snap closed. You also get two snap closure chest pockets. Each of the exterior pockets has quite a bit of room to hold a variety of gear.
On the left interior, there's a set of overlapping pockets. The outside one has an open top while the inner has a hook and loop closure on its flap. There's a cord exit on the flap, presumably to let you run a set of earbuds out while the jacket protects your phone. Moving up to your chest, you'll find an elastic loop to use as a clip point or cord management.
The right interior pocket is a large, open top design. It's a great place to store a pair of gloves or stocking cap for easy reach.
Ripstop stitching works with a combination of single, double, and triple layers of stitching reinforce durability where it needs additional support.
Style
As a jobsite jacket, the style is more boxy than athletic. Like the Ripstop Pant, it's also black with some reflective material – this time on the front chest. The jacket is also most at home on the jobsite where function is more important than style. It will fit right in for work but grab something a little more stylish for date night with your wife.
The Bottom Line
When it comes to workwear, style takes a backseat to toughness, fit, comfort, and function. The Dickies Pro Cordura line keeps those concepts in proper perspective while still offering a good look for the jobsite.
The only real negative for users that tend toward the trim side on body style is that the jacket is made for a guy that's going to fill it out pretty well. But that seems to be an issue for a relatively small percentage of us.
See the entire collection at Dickies.