For all of the oppressive summer (and sometimes fall) heat in Central Florida, the Pros here rarely have to worry about bundling up to get the job done. But there are times when we need workwear appropriate for chilly temperatures. You know, for the few days that dip below 60 degrees! Late winter and early spring can see actual cold snaps that would make even northerners reach for a jacket. That's why this time of year is fitting to review the Walls Workwear Jack-Shirt with Kevlar, the perhaps double entendre name of a hybrid jacket and shirt from the Williamson-Dickie-owned work and hunting wear manufacturer.
First Impressions
A bulletproof vest is likely the first image that comes to mind when you hear the word Kevlar, but the high tensile strength synthetic fiber has many applications. The 10-ounce brushed duck fiber blend of the Walls Workwear Jack-Shirt is 5% Kevlar with DWR, 20% polyester, and 75% cotton. It certainly gives the impression of being rugged while appearing stylish enough to pass for something other than workwear. You could wear this around town without giving away that you just came from the jobsite!
The Jack-Shirt features double needle diamond-quilt construction, large silver snaps, an adjustable cuff, an interior media loop, and a Realtree AP lining that will be unmistakable to outdoorsmen.
All great elements, to be sure, but two others really stand out – the 2 pockets with dual entry and the bi-swing back. Dual entry pockets mean that there's a large pouch design that opens at the top as well as a traditional pocket entry for your hands in the same area. The pockets don't connect, of course, but it gives you ample room for storage as well as a place to warm your hands.
Greater still is the bi-swing back, whose design is readily apparent just below the yoke. It's meant to give the wearer a large range of mobility and comfort. On a chilly morning, I put on the Jack-Shirt and got to work.
Is This Thing Bulletproof?
Comfort and Movement
My company, Quality Maintenance & Building Services (QMBS), has many projects in process from cleaning ponds to landscaping to building homes. I'm constantly on the move performing the work, supervising the work, or jumping in and out of the truck to do some of both. I even did a little mechanic work during the review.
Any apparel that restrains movement or isn't constructed well just won't last long. But right from the start, I found the Walls Workwear Jack-Shirt with Kevlar extremely comfortable. I could stretch my arms without the slightest restriction, thanks to the bi-swing back and polyester in the blend.
The Jack-Shirt is warm but not overly so. In fact, I worked in it from the mid-50's to just about 80 degrees as the mornings warmed. I found it to provide enough comfort while allowing a little airflow since it's not tight-fitting. I might run a little colder than the other guys, but I found just opening the front kept me comfortable as temps rose.
From a movement standpoint, I could even wear my tool belt and move around freely wearing the Jack-Shirt zipped up. The design didn't interfere with the tools and if I unzipped it, I could easily reach my tools. Overall, the Walls were more roomy and comfortable than my other work jackets from those big name manufacturers. I think that's because Walls doesn't taper the Jack-Shirt down to the waist while others do.
Pockets
The dual-entry pockets are perfectly placed and easy to reach, as were both pockets on the inside. It might seem like a small thing, but having pockets that make you raise your elbow too high or reach too far inside when you're working can really be cumbersome. The pockets are also quite large. I kept portions of the building plans, permits, and my phone in the inside pockets, which was really convenient.
Construction
I really like the material. It's soft but very tough thanks to the stitching and Kevlar blend. The seams appear to be very strong. I even pulled at all the joints and the threads held fast. I scraped the jacket against a lot of abrasive stuff while I worked – rusty trailer, nails, concrete – and there's not a mark on it! Quite often I have to get in the cabinet under a kitchen sink to inspect or plumb, so I did just that. Once again, the Jack-Shirt didn't restrict my movement in the confined space.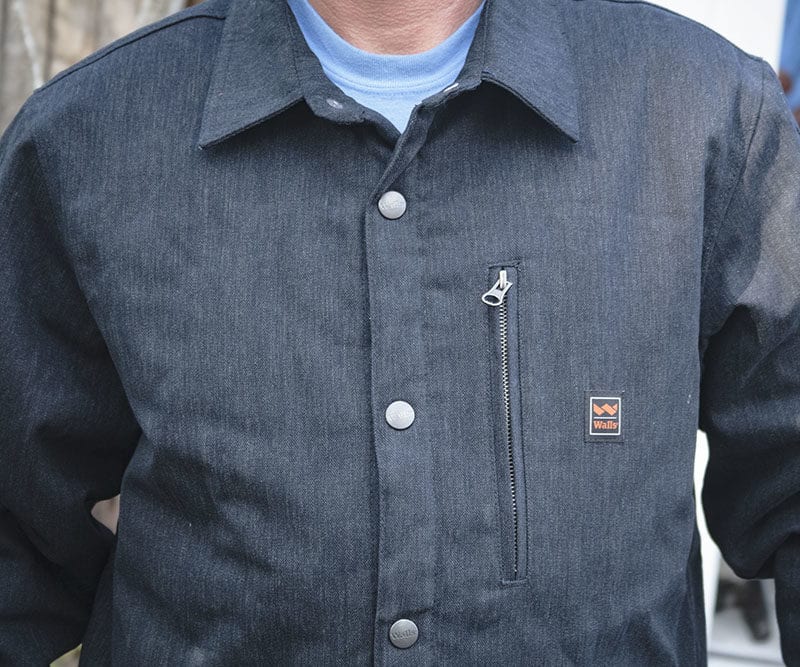 Walls doesn't bill the Jack-Shirt as waterproof, but the Kevlar's DWR coating repels water. You can see it clearly working as water beads up on the fabric. I wouldn't use it as a raincoat, of course, but it's nice to know that in temperatures that require a jacket, you won't have to suffer through being wet, too.
Another Perspective
Just to be sure I wasn't missing anything, I lent the Jack-Shirt to one of my carpenters while he erected some walls. He also found it to be exceedingly comfortable in 60-65 degree weather, offering a full range of movement without restriction. He too, wore his full tool belt while using a nail gun and was able to easily hang and access the gun from under the jacket. I had to ask for the Jack-Shirt back a couple of times – that's how much he liked it!
The Bottom Line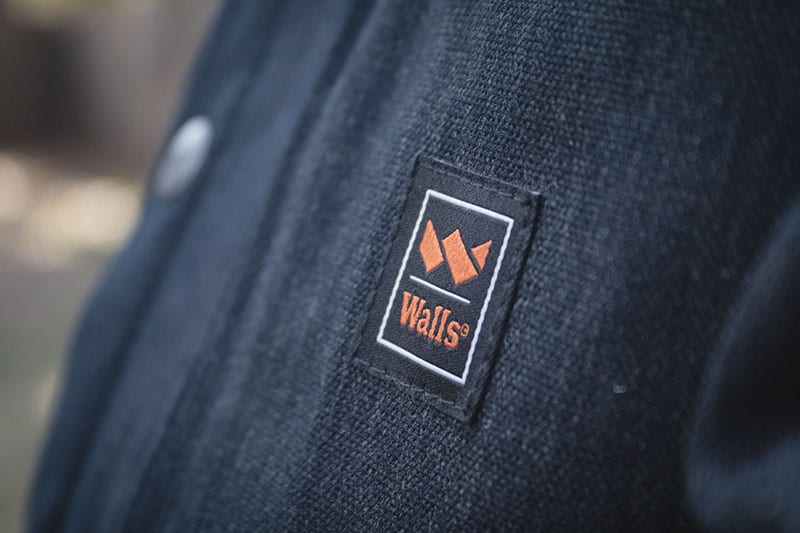 The Walls Workwear Jack-Shirt with Kevlar is a remarkably comfortable hybrid of a jacket and long-sleeve shirt that is attractive enough to pass as a regular piece of apparel rather than work wear. Its 10-ounce brushed duck blend of 75% cotton, 20% polyester, and 5% Kevlar with DWR coating makes it as durable a work shirt as I've ever used. Carpentry, landscaping, mechanical, and even some plumbing tasks tested the water resistance and durability, yet there's not a mark on it!
But more than durability and comfort, the full range of mobility allowed by the bi-swing back and polyester in the blend made the Jack-Shirt stand, well, head and shoulders above other work jackets I've owned by major manufacturers. There's not really any taper in the body so you can easily wear a full tool belt underneath without a problem. This may give slim guys the look of wearing an oversize shirt, but it's pretty functional.
Two large pockets on the inside, as well as two extremely helpful dual-entry pockets on the outside, enjoy excellent placement and storage capacity.
At $101.99, the Walls Workwear Jack-Shirt is a win, particularly with online prices dipping lower. Even in more mild climates, the Jack-Shirt is a solid alternative to a traditional light jacket.
Walls Workwear Jack-Shirt with Kevlar Features
Double needle diamond-quilt
Realtree AP lining with 6 oz. insulation
Adjustable cuff with sleeve placket
2 dual-entry multi-functional handwarmer pockets
Interior media loop
Bi-Swing back
Walls Workwear Jack-Shirt with Kevlar Specifications
10-ounce brushed duck
75% Cotton
20% Polyester
5% Kevlar fiber with DWR
Item number: Walls YJ337
MSRP: $101.99
Online Pricing: $31.99 – $104.99 depending on size (Amazon)