No One Like Cleaning Paddock Manure, So Make It Easy With Tow And Collect
The idea of living with horses sounds great… sipping on coffee as you watch them frolicking across the pasture on a cool morning from the comfort of your back deck. How about we talk we reality? They're a lot of work! Our family boards and trains horses. Like so many other businesses, finding quality labor has been a challenge, so my father-in-law, Ed Dabney, brought in Tow and Collect manure collectors for the daily cleanup in the paddocks.
How a Tow and Collect Manure Collector Works
No matter which model you choose, the basic principle is the same: rotating brushes scoop manure and sling it into the collection bin. Depending on which model you get, the brushes rotate based on momentum from the wheels or using a gas engine.
The height of the brushes is important and there's a height adjustment on the side to get it set correctly. If you leave the brushes too low, they tend to smear manure and fold the bristles back. Too high, and it doesn't effectively pick up everything. Before you get started, lower them so the bristles are just above the ground.
Pick your battles when it comes to the conditions to collect manure. Ideally, you want it to be dry for the most effective collection, so try to be ahead of any rain that's moving in. Wet manure tends to smear, though the bristles do spread it better than dragging a chain harrow.
When it's time to dump what you've collected, even the smallest model holds an impressive amount, so gas struts make operating the emptying lever easier.
Why Choose Tow and Collect Manure Collector?
Before deciding on investing in Tow and Collect for his operations, Ed looked carefully at the options he had available to him. Some were less expensive, but the deciding factor for him was the higher build quality Tow and Collect offers. More components are metal and the steel is heavier gauge. With durability high on his priority list, spending a bit more to get longer service life was worth it.
Prior to having a manure collector, one of the farm hands had the unlucky job of manually doing the job with a manure pick and wheelbarrow. Hitting all of the paddocks and pastures was a two-day job just to start over and do it again.
With the Tow and Collect attached to a UTV, we can cover the same area in a few hours. Even walking the fence lines to pull manure into the reach of the collector, it's a 1/2-day job. Whether it's labor shortage or labor cost that you're wrestling with, you're only looking at 3 – 6 months before the machine pays for itself.
Tow and Collect Manure Collector Models
Tow and Collect Mini 700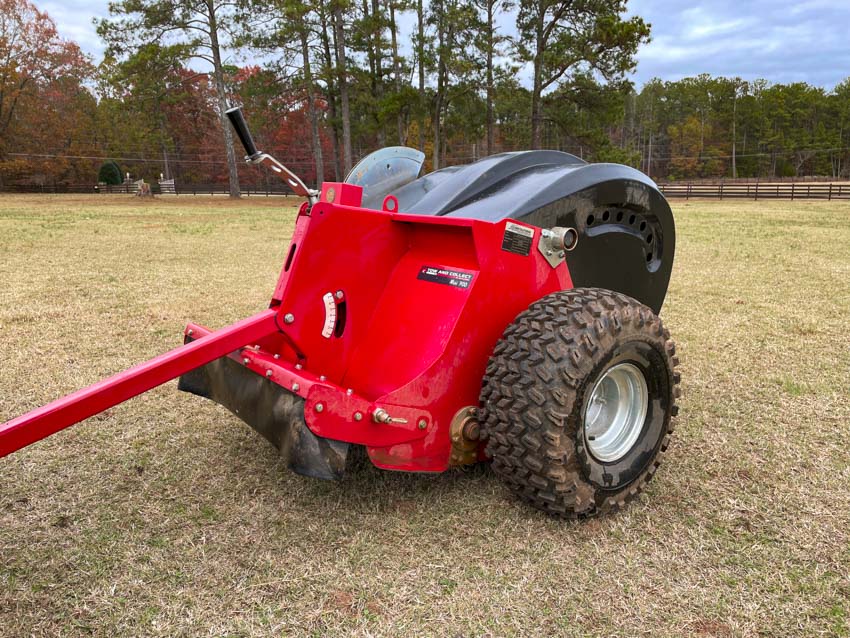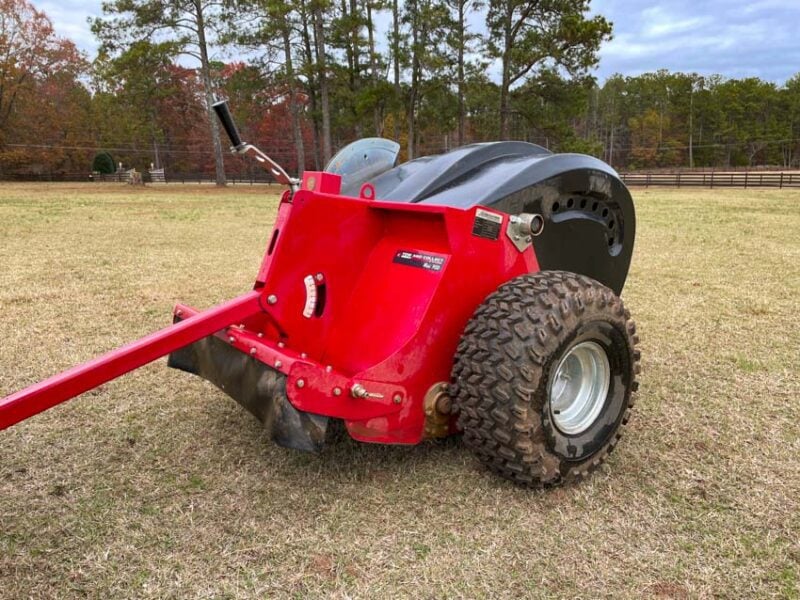 The smallest of the line, the Mini 700 uses the rotation of its wheels to turn the brushes. With a 28-inch collection width and 80-gallon capacity, it's best on smaller properties with 3 – 5 horses.
28-inch collection width
80-gallon capacity
Momentum-driven collection
Chain drive brushes
310 pounds
50mm tow coupling
Designed for properties with 3 – 5 horses
Price: $4495.50
Tow and Collect 1220
Upgrading in both collection width (48 inches) and capacity (130 gallons), the 1220 is the choice for medium-size properties with 6 – 12 horses. Like the Mini 700, it uses wheel rotation to turn its brushes, and it's the largest engine-free model in the line.
48-inch collection width
130-gallon capacity
Momentum-driven collection
Chain drive brushes
365 pounds
50mm tow coupling
Designed for properties with 6 – 12 horses
Price: $6205.50
Tow and Collect 1500 Pro
Stepping up to the 1500 Pro, this is the only engine-driven system in the line. With 540-pound dry weight, momentum alone isn't enough to drive the 60-inch brushes, so Kohler's CH270 7HP electric start engine takes care of the hard work.
60-inch collection width
160-gallon capacity
Kohler CH270 engine-driven collection (electric start)
Chain drive brushes with 2:1 reduction gearbox and clutch
540 pounds
50mm tow coupling
Designed for large properties
Price: $7915.50
The Bottom Line
These manure collectors are well-built and well-designed for the task of collecting manure. If you're looking to save time and labor costs while keeping your pastures and paddocks cleaned up, Tow and Collect Pasture Groomers should be high on your list.
Ready to buy? Purchase direct at Tow and Collect's website. When you check out, use the coupon code ED DABNEY to save $50 and to let them know his experience brought you to their site.