People who need compact torque are going to have something to talk about when they see the Ingersoll Rand IQ V20 Series 3/8-inch impact wrench. The Ingersoll Rand W5132 3/8-inch impact wrench claims top-of-class performance among cordless impact wrenches. It boasts 550 foot pounds of breakaway torque and 340 foot pounds of fastening torque. Ingersoll Rand claims this is the highest power 3/8-inch cordless impact wrench on the market. Mechanics have typically been hesitant to jump into cordless technology for impact wrenches. This is partly because of the gap in power between cordless and pneumatic wrenches. We've seen that all but disappear, but weight and compactness are also an issue.
With the more recent brushless impact wrenches coming to market, like the Ingersoll Rand IQ V20 Series 3/8-inch impact wrench, the kind of torque mechanics need is finally available in a competitive form factor. You also get the obvious benefits of losing the hose and compressor.
Anyone from an automotive technician to a factory worker wants to get his or her work done as efficiently and quickly as possible. Cutting the cord not only gives you incredible convenience, the advanced torque controls of brushless technology mean you can work faster and smarter. A versatile tool like the IQV20 W5132 allows these workers to apply the right amount of power for a number of applications. You'll get your work done quickly and without having to switch to other tools. The new Ingersoll Rand W5132 impactool is designed to make life easier for the people who traditionally have used pneumatic impact tools.
Ingersoll Rand IQ V20 Series 3/8-inch Impact Wrench Features
Aiding in the versatility of the Ingersoll Rand IQ V20 Series 3/8-inch impact wrench are four working modes. Two non-traditional modes help in applications where you'd normally reach for a hand tool. Wrench tight works up to 24 foot pounds of torque. Hand tightening can be accomplished using up to 9 foot pounds of torque and the tool automatically shuts down at the impact point to avoid damage to the fasteners. One of the features Pros will appreciate most is that each mode runs with full reverse power. There's no need to switch between settings to get that bolt off.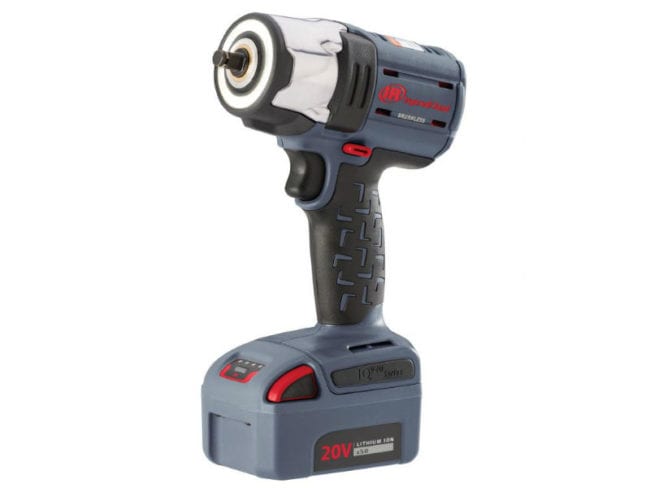 Ingersoll Rand IQ V20 Series 3/8-inch Impact Wrench Operation Modes
Full Power: 340 foot pounds
Mid Power: 240 foot pounds
Wrench Tight: 10 – 24 foot pounds
Hand Tight: 2 – 9 foot pounds (auto shut off at impact point)
Like you'd expect from a tool in this performance class, Ingersoll Rand utilizes a brushless motor. The composite housing is built for the mechanic's shop featuring the same durability and chemical resistance as the other impact wrenches in the line. Providing light in darker work spaces, a 90 lumen LED light operates at low, medium, or high, and also includes an off mode when you don't need it.
The Ingersoll Rand IQV20 W5132 3/8-Inch Impactool is definitely going to raise some eyebrows around the shop. We're going to be hanging out with Ingersoll Rand later this week and get to know the tool better along with digging up some more details. Be sure to check out Facebook, Twitter, and Instagram to see the latest from Pro Tool Reviews. While you're waiting, learn more about the 20V Impactool here.
Ingersoll Rand IQ V20 Series 3/8-inch Impact Wrench Specifications
Power Source: Ingersoll Rand 20V lithium-ion battery
Weight: 5.1 pounds
Max Reverse Torque: 365 foot pounds
Max Nut Busting Torque: 550 foot pounds
Operation Modes: High, Mid, Wrench Tight, Hand Tight
Available Batteries: 2.5 amp hour, 5 amp hour
We've got a review of the new Ingersoll Rand IQ V20 Series 3/8-inch impact wrench underway and will report back shortly with our findings.
Get your Ingersoll Rand tools from Acme Tools!