Klein Tools recently introduced two new voltage testers that use standard replaceable test leads for Electrical Pros. First, the Klein ET60 Voltage Tester needs no batteries as it measures AC/DC voltage up to 600V. Second, the ET250 voltage and continuity tester features an LCD display, measures AC/DC voltage up to 600V, and can test GFCI-protected circuits. Both voltage testers have a tough meter design and are rated CAT IV 600V for safety.
"We know that many electricians personally own dedicated voltage testers and our research found that more than half of these customers express a preference for digital LCD displays on their testers. Knowing this, we decided to enhance our voltage tester line by delivering these new durable, easy-to-read voltage testers that use standard replaceable multimeter test leads instead of the more commonly used dedicated fixed cord sets."

Sean O'Flaherty, Director of Product Management at Klein Tools
Our Take
There are a lot of things to like about Klein Tools, not the least of which is the company's ability to hear and respond to its customer's needs and provide great products to meet those needs. Brand new from Klein are two new voltage testers – the Klein ET60 and the Klein ET250. Both measure up to 600V, have Cat IV ratings, and both have Klein's Tough Meter attributes that seem to be quite popular with Pros. The Tough Meter design means the tool can take a lickin' and keep on tickin', in a manner of speaking. Please don't actually lick your meters!
We really like the large digital display of the ET250 but we also like the simplicity of the ET60. Both designs are a step up from the handy and smaller non-contact voltage testers (NCTVs), which simply tell you if there is current flowing through the circuit but can't tell you how much. Of course, before any electrical work can commence, an electrician must know what state a circuit is in, and the voltage meter is the tool to use. The ET60 doesn't need batteries as it uses the circuit's power for its power, and so consequently, you don't have to wonder if you're not receiving a reading from the circuit because the meter's batteries are dead. That's pretty cool. It's like a safety feature inside a safety tool, which is the meter itself.
Both meters use standard test leads which makes replacement easy and the integrated lead holders on the back both stow and position the leads for circuit testing. Couple those features with the solid-state design and low impedance, and we think Klein fans will have a new tool to pick up.
Klein ET60 Voltage Tester Features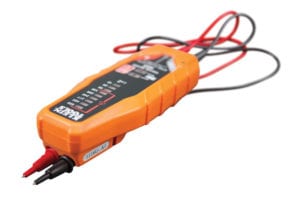 Measures AC/DC voltages up to 600V
No battery required, the device is powered by the applied voltage
Uses standard replaceable test leads for added convenience
Integrated test-lead holders on back position test leads appropriately for insertion into U.S. electrical outlets
Tough meter design is water and dust resistant, and can withstand drops up to 9.8 ft. (3m)
Rated CAT IV 600V for safety
Modern solid-state, low-impedance design
Klein ET60 Voltage Tester Specifications
Item Number: Klein ET60
Batteries: Not Required
CAT Rating: CAT IV 600V
Depth:1-7/16" (36.5 mm)
Drop Protection:9-3/4 ft. (3 m)
Frequency Range:45Hz to 66Hz
Included Accessories: Test Leads
Ingress Protection: IP54
Overall Length: 5-43/64" (144.1 mm)
Pollution Degree: 2
Weight: 3.2 oz. (92 g)
Width: 2-11/32" (59.5 mm)
Shop Amazon
Klein ET250 Voltage Tester Features
Measures AC/DC voltages up to 600V
Tests GFCI protected circuits with dedicated test mode
Uses standard replaceable test leads for added convenience
Features backlit LCD display for precise readings
Integrated test-lead holders on back position test-leads appropriately for insertion into U.S. electrical outlets
Integrated flashlight and backlit display for dim areas
Automatically powers on and selects the correct measurement mode when a voltage/continuity measurement is attempted
Tough meter design is water and dust resistant and can withstand drops up to 9.8 ft. (3m)
Rated CAT IV 600V for safety
Modern solid-state design
Klein ET250 Voltage Tester Specifications
Item Number: Klein ET250
AC Voltage: 600V
Audible Alert: Yes
Backlit: Yes
Batteries: 3 x AAA
CAT Rating: CAT IV 600V
Case Included: No
Control Type: Digital
DC Polarity Indicator: Yes
DC Voltage: 600V
Depth:1-41/64" (41.7 mm)
Digital / Analog: Digital
Drop Protection:9-27/32 ft (3m)
Dual Voltage Indication: Yes
GFCI: Yes
Included Accessories: Test Leads, Batteries
Ingress Protection: IP53 (except test lead jacks)
Integral Lead Storage: Yes
Interchangeable Leads: Yes
Length:6-1/16" (154.0 mm)
Low Battery Indicator: Yes
Material: Thermoplastic; Electronics
Overall Length:6-1/16" (154.0 mm)
Pollution Degree: 2
RMS: Yes
Safety Rating: CAT IV 600V
Tests Continuity: Yes
Weight: 6 ounces (170 grams)
Width: 2-5/16-inches (58.7 mm)
Shop Amazon