It's a long story, but…termites. That's what got me interested in reviewing the Werner D6216-3 16 ft fiberglass extension ladder. It's not that termites are any particular cause for going out and buying a nice ladder, but an infestation leads—in the South at least—to tenting your building. And when you're tenting a 6,500 square foot facility that's been standing around since the 1940's you need some ladders. But more importantly, a ladder that provides 16′ of extension while only taking up 6′ 4″ of space when closed is a life-saver.
I needed this ladder to remove the lightning rods from the bell tower located on the southwest corner of a community center. Getting to the rods involved climbing all the way up to the tower, and that involved ascending several different levels—each of which presented limited maneuverability. Remember, this place was built before ADA standards…perhaps even before common sense was invented.
Werner D6216-3 16 ft Fiberglass Extension Ladder Features
Because the Werner D6216-3 16 ft fiberglass extension ladder collapses down to just 6′ 4″, it was an absolute breeze to move through cramped doorways—vertically, no less. Try that with a standard 16′ extension, which closes down to around 8′ in length. It was also lightweight enough to take with us as we ascended each level, finally accessing the high walls of the bell tower (which actually does have a bell…albeit an electronic one).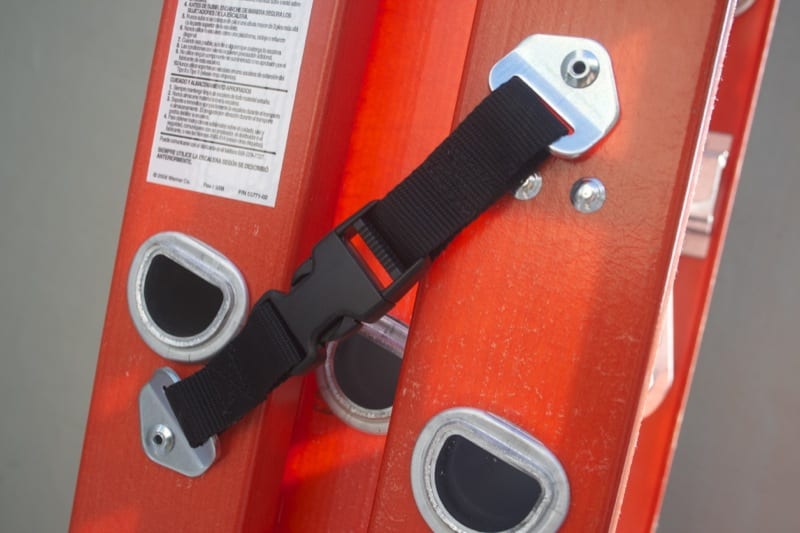 Extended, the Werner D6216-3 is the same size as a two-section extension ladder—just over 13′. So you gain portability and lose almost nothing. The Werner is also really well-built, with a strong fiberglass frame and what looked to be billet aluminum extension locks (there are four). To help secure the three piece ladder during movement and storage, Werner added a nylon storage strap that ties the top and bottom sections and keeps them from moving. We liked the D-rungs Werner used on this ladder as well, and our feet tended to keep a nice grip during ascent and descent.
Overall, this is just a really nice ladder. Werner makes it in both aluminum and fiberglass and I really think the three-section design is something that pros will find extremely useful in many situations (I shudder to think of the damage I've seen caused by some of my guys who haven't had the luxury of being able to carry ladders vertically through doorways). In a culture that seems to scream "bigger is better" it's nice to chalk one up to the little guy…er, ladder.