Last Updated on June 17, 2020
As the adage goes, an ounce of prevention is worth a pound of cure—and so it is with electrical service. Monitoring and assessing function are essential for performance, safety, and preventing costly damage down the road. The Southwire Smart Clamp Meter (MaintenancePRO Smart 1000A) is loaded with features for doing just that.
I took the opportunity to see how this new smart clamp meter measured up on a big commercial installation I've been working on. In the scope of such complicated work plenty of places need checking (and re-checking) with a meter. Read on to see how it went!
Southwire Smart Clamp Meter First Impressions
The Southwire Clamp Meter looks a lot like the rest of the company's line of hand tools but a keen eye will pick out the little Bluetooth symbol absent from the rest of its clamp meters. While the Southwire MaintenancePRO multimeter has this capability, as does their compact Bluetooth multimeter, the Southwire MaintenancePRO Smart 1000A is the company's only smart clamp meter. I was especially excited about this feature because it allows remote control of the meter with the SouthWire MApp mobile app. Needless to say, I downloaded it right away.
Features and Favorites
Other features of the Southwire smart clamp meter impress, even if they remain more common. This Category IV meter boasts 11 measurement functions. These include a special inrush function, a non-contact voltage indicator, and a bright LED work light. The Southwire smart clamp meter also delivers True RMS readings. In technical terms, that means it takes Root Mean Square (RMS) of the sine waves of devices that give distorted readings. This includes fluorescent lights, dimmable lights, computers, motor-driven things, and more. It then pieces together a much more accurate picture of alternating current and AC voltage. The meter kit has a tough, double-molded tool body and includes test probes, Type K temperature probe with banana plug adapter, carrying case, and a 9V battery which powers it.
Clamping Up
Measuring current is like a doctor checking his patient's heartbeat. Routine checks are essential to be sure it's optimum. As I mentioned, I've been working a large commercial installation of an 800-amp meter bank. This job takes place in a building that had been long abandoned and now is being completely refurbished. The good news is the patient's heart is brand new, but the challenge is the complicated nature of starting from scratch. Consequently, the Southwire MaintenancePRO Smart 1000A Clamp Meter is an essential tool for testing (and sometimes retesting) each part of the electrical service in this old building.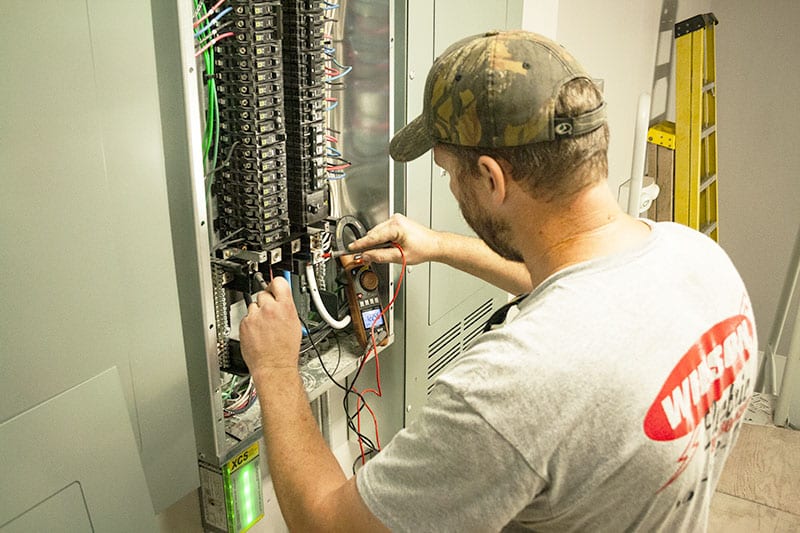 Take Me to Function Town
Right from the start, I found the Southwire Smart clamp meter easy to use. The format certainly isn't unfamiliar to anyone familiar with clamp meters or multimeters. The design also has many convenience features. The nubs of the dial extend just over the tool body, so users can switch functions with their fingers while holding the tool. The probes fit neatly in the back until they're called upon. I used the meter extensively on this install, and I was impressed. I'm actually quite loyal to a different brand of meter, but found myself considerably impressed with the Southwire.
Certainly one of the handiest functions is the non-contact voltage tester. You don't need to be a Pro electrician with knowledge of capacitance and voltage to understand its value. It simply tells you if a line is live or not. This is the first and most common safety check to make. The big, backlit display is clear and easy to read. For those times when you need to cut the power but continue to work, the LED work light is a pretty slick option.
Bluetooth Remote Control
And now for the most impressive part: Southwire's MApp mobile app communicates with the clamp meter via Bluetooth. While you can certainly mimic the meter's display at a distance, the app really offers much more. It doesn't just communicate through your phone, it greatly expands the functionality of the meter.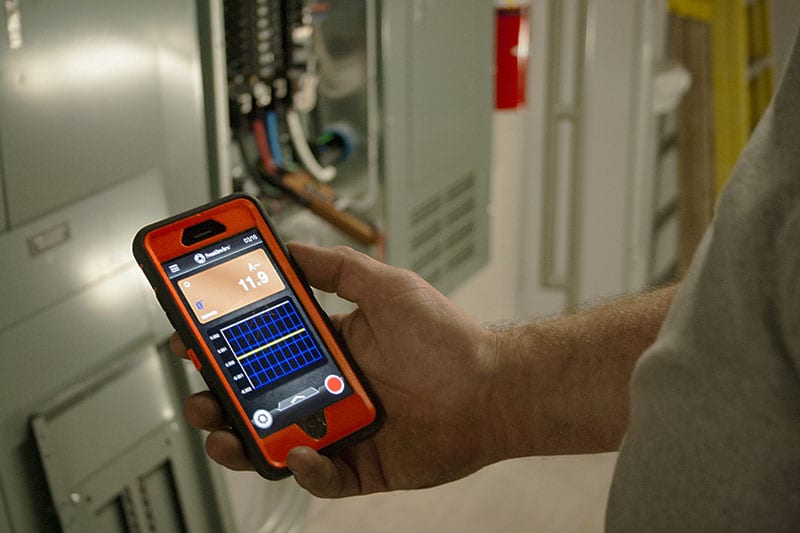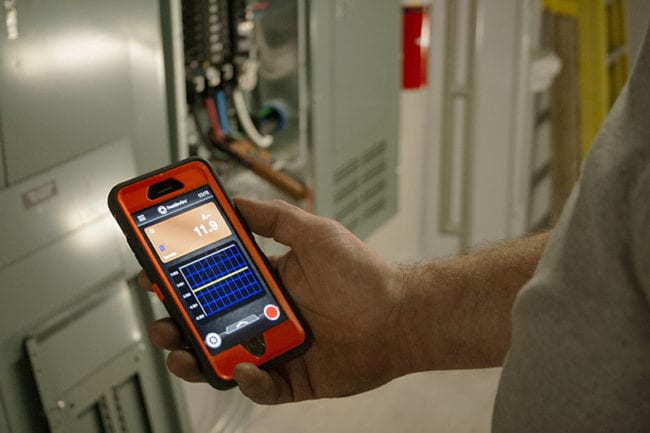 For example, when I had to troubleshoot spiking problems, I could be nearly 60 feet away and monitor the circuit's behavior. For lighting problems, especially parking lot lights, I found that I could put the meter on the pole, hit the contactor, and diagnose the problem by looking at the app's trend chart. It obviates walking back and forth several times, wasting time, and turning a simple job into a tedious one. Another good example: I worked on a sign that would only trip now and then. I had to turn it on and off multiple times to see what the inrush was doing. From my phone, I detected the problem and could correct it more quickly than before.
But wait, there's more! The Southwire MApp mobile app allows you to record the trend chart. This helps you find problems you might not catch while looking elsewhere, save them for later use, or send them via email to another device. You can even take text and photo notes, so you can remember the order of steps taken during your diagnosis.
I never experienced a delay with the app connecting to the meter. It all adds up to a robust tool that allows you more efficient, thorough, and safer work experience. It's really remarkable.
The Bottom Line
The Southwire Smart clamp meter (MaintenancePRO Smart 1000A) is an 11-function, True RMS meter with great features. The MApp mobile app and meter can be separated by about 60 feet and still monitor, record, and send reports on electrical service status. The meter itself is tough and includes everything you need to get up and running.
Not only did the meter function particularly well as a traditional clamp meter, the MApp Bluetooth functionality opens up a whole world of extended usefulness. Beyond just monitoring the meter from a distance on a mobile device, it saves time when you don't have to walk back and forth between a light pole and a contactor. It keeps you out of dangerous areas when the power comes back on. Also, it allows you to record and send the trend chart to others for documentation. The inrush function became an instant favorite for helping identify initial power problems.
The Southwire Smart Clamp Meter is challenging my brand loyalties. It worked so well on its own, and seamlessly with the app, that I can easily recommend it to any Pro at $299. Download the app and walk away!
Southwire MaintenancePRO Smart 1000A Clamp Meter Features
Bluetooth interface for viewing, saving and sharing on Southwire's MApp mobile app
Inrush Function captures motor start-up current
Precision TrueRMS meter
Hi-Res 50,000 count backlit display
Rugged meter with CAT IV 600V / CAT III 1000V
2 year warranty
Southwire MaintenancePRO Smart 1000A Clamp Meter Specifications
Model number: Southwire 23090T
Safety rating: CAT IV 600V/Cat lll 1000V
AC Response: True RMS
Clamp Size: 1.5-inch (38mm)
Operation: Autoranging
Auto Power Off: 30 minutes (approximately)
Display: 50,000 count backlit LCD
Operating temperature: 41° to 104°F (5° to 40°C)
Storage temperature: -4° to 140°F (-20° to 60°C)
Battery: One 9V Battery
Dimensions: 10.3" x 3.3" x 1.7"(262 x 84 x 43mm)
Weight: 0.69lb (315g)
AC Current (50 to 60Hz): 500.00A 10mA ± (2.5% + 5 digits)
AC Current (50 to 60Hz): 1000.0A 0.1A ± (2.5% + 5 digits)
DC Current: 1000.0A  0.1A ± (2.5% + 5 digits)
AC Voltage (50 to 1000Hz) 1000.0V 0.1V ± (3.0% + 8 digits)
NCV (NON-CONTACT AC VOLTAGE DETECTOR) 110 to 1000V AC
DC Voltage 1000.0V 0.1V ± (1.5% + 3 digits)
Resistance 50.000MΩ 1kΩ ± (3.0% + 10 digits)
CONTINUITY Audible beeper < 35W
DIODE TEST Typical test current and open circuit voltage: 0.3mA/< 2V DC
Capacitance 5.000mF 1µF ± (5.0% + 10 digits)
Frequency 10.000MHz 1kHZ ± (0.3% + 2 digits)
Duty Cycle 5.0% to 95.0% 0.10% ± (1.0% + 2 digits)
Temperature -148.0 to 1832.0°F 0.1° ± (1% + 4.5°F)
Temperature -100.0° to 1000.0°C 0.1°C ± (1% + 2.5°C)
Price: $171.99
Shop Amazon