I remember trimming hedges at my Mom's house. While I love my Mama, there was definitely some mental preparation that had to be done ahead of Koehler Family Work Day. Dragging the extension cords all around the house and yard where it seemed like every possible foot of perimeter had something to trimmed was not my favorite task. The azaleas and jasmine weren't that big of a deal, but the Ligustrum… ugh.
Our little 14″ electric hedge trimmer would handle most of it okay. To get it shaped nicely, I always had to go back and hand prune the larger branches with various degrees of success. The result was always the same – the work got done at the cost of being hot, sweaty, dehydrated, and really grumpy. We already saw how Husqvarna changed the game with their 36V Chainsaw and I'm really hoping that the Husqvarna 36V Hedge Trimmer will be in the same league.
First Impressions
As soon as you pull the Husqvarna 36V Hedge Trimmer out of the box, you'll be impressed as a pro or prosumer. This is an instant man card upgrade that looks nothing like what you'll find in the consumer class of tools. It is absolutely what you expect a pro level hedge trimmer to look like. It's the blade that gives it away. A nearly 24″ knife with a full 1″ gap between teeth may make most hedges trim themselves out of fear.
The orange blade guard allows for branches up to 3/4″ to enter the cutting blades. This is smaller than actual tooth gap itself. This ensures that the Husqvarna 36V Hedge Trimmer has room to build momentum and cut any branch that makes it through, preventing bind up. The blade guard is also angled at the tips to help guide branches into the cutting zone. One note of caution, the blade guard is plenty wide enough for a finger to fit between, so be cautious if you need to clear something from the cutting zone.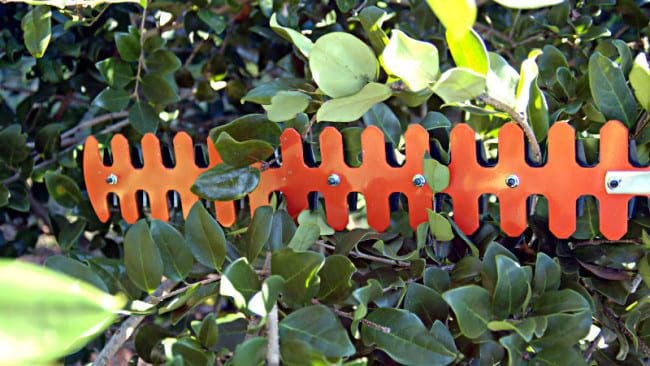 Most of the housing is plastic construction, but it doesn't look like that is going to be a durability issue unless you're really abusive with the way you treat it. The underside of the motor where it comes out to meet the blade is made from cast metal. This offers some substantial protection to those moving parts in an area that would have been potentially vulnerable if it had been encased in plastic.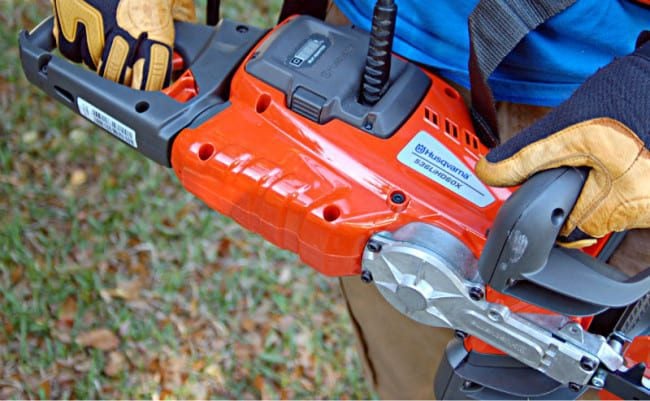 One of the more ingenious design features is the rotating handle. The Husqvarna 36V Hedge Trimmer will lock into 5 positions: 90 degrees to the blade, 45 degrees left/right, and 0 degrees left/right. This happens with the pull of a release that is easily reached and operated with a single finger on the inside of the handle. This should allow users to maintain a comfortable grip while working vertically, horizontally, or angled along a hedge.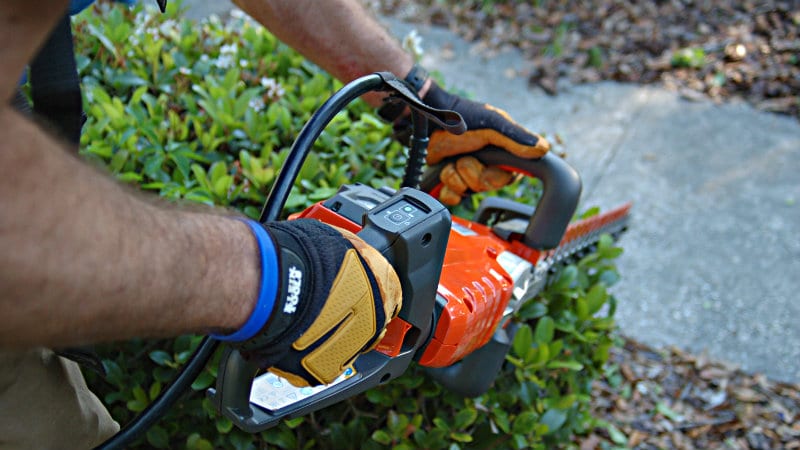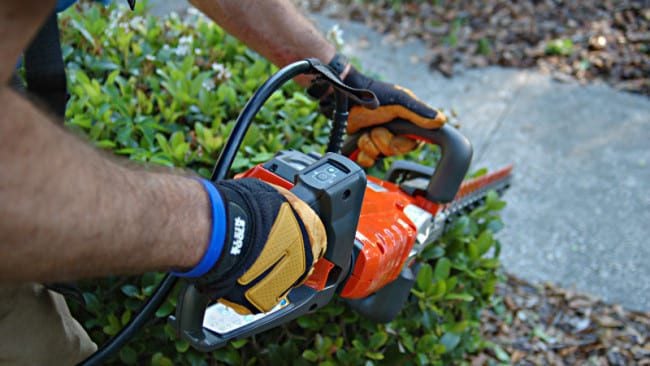 The SavE feature to maximize battery life is also found on this unit. For less stressful cutting situations, it reduces the speed from 4000 strokes per minute to 3500 SPM to save energy.
Husqvarna 36V Hedge Trimmer Specifications
Model: Husqvarna 536LiHD60X
Knife Length: 23.62 inches (600 mm)
Weight (without battery): 8.38 pounds
No Load Speed: 4000 SPM (3500 SPM with SavE enabled)
Sound Power Level (at tool): 95 dB(a)
Price: $469.95
Using the Husqvarna 36V Hedge Trimmer
We took the Husqvarna to task against my mortal enemy – Ligustrum. This particular set had been allowed to grow into small trees about 15 feet high. They were now encroaching over the roof and it was time to tame them once again. The goal was to continue allowing them to grow up, but get them away from the gutters they were responsible for clogging.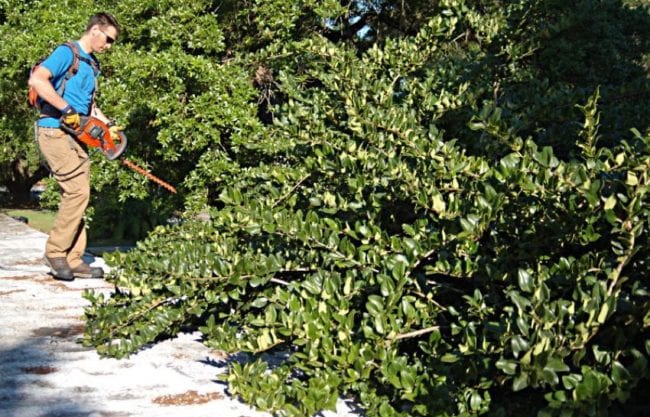 Unlike some of the cheap electric hedge trimmers out there, the Husqvarna 36V Hedge Trimmer makes use of a pair of reciprocating blades that are set about 1/4″ off from the blade guard. This design style leads to results that cut cleaner and don't leave that "shredded" look to the branches.
As this is appropriate for commercial level work, the trimmer is heavy. This is thanks in large part to the size of the knife. That makes for a fairly dangerous situation for those tempted to try some one handed cutting. You can forget it with this model though. You've got to have one hand on the trigger and another on the guard to press the lock out switch off while in use. The lockout switch goes all the way around the top of the guide bar. This makes it possible to continue operating the hedge trimmer even if you move your guide hand after rotating the handle to a more comfortable position.
Cutting the Ligustrum was a fairly easy task for the Husqvarna 36V Hedge Trimmer. If I could get the branch through the blade guard, it was cut with no questions asked. Working from the rooftop, I did find that the weight started to become an issue as I reached out to make some cuts. I'm no Hercules by any stretch of the imagination. However, if your work forces you to reach out over the top of landscaping instead of keeping your elbows in close, you may experience some arm and shoulder fatigue.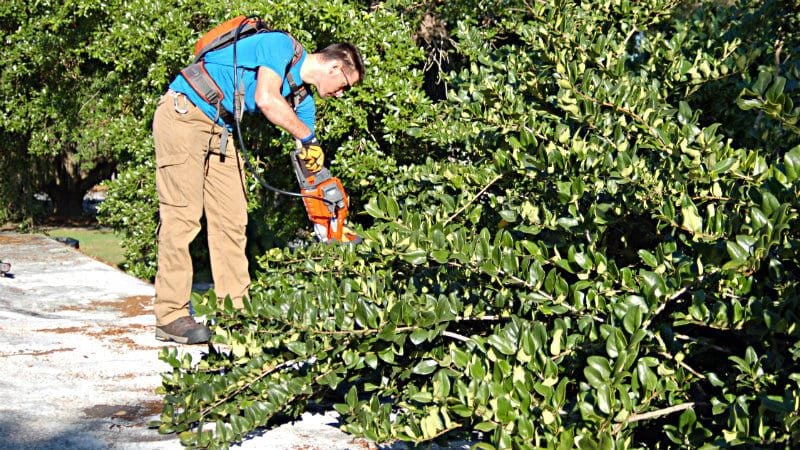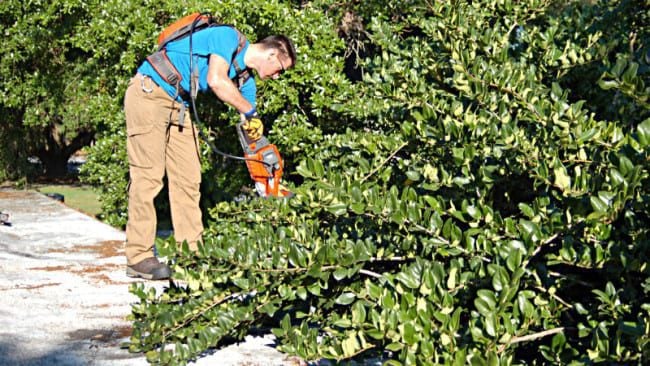 Once we wrapped up with Ligustrum, I went around to some smaller plants to get them shaped up before calling it a day. The trimmer did a great job along the sides and top of the plants, but I did run into an issue that wasn't all that unexpected. I wanted to undercut the plants to provide some rounder overall shaping, which gets into some stringier branches and the occasional root. The trimmer had a bit of trouble getting around for that kind of cutting with its size. This is where you need to look for that smaller hedge trimmer with a gap more appropriate to precision shaping.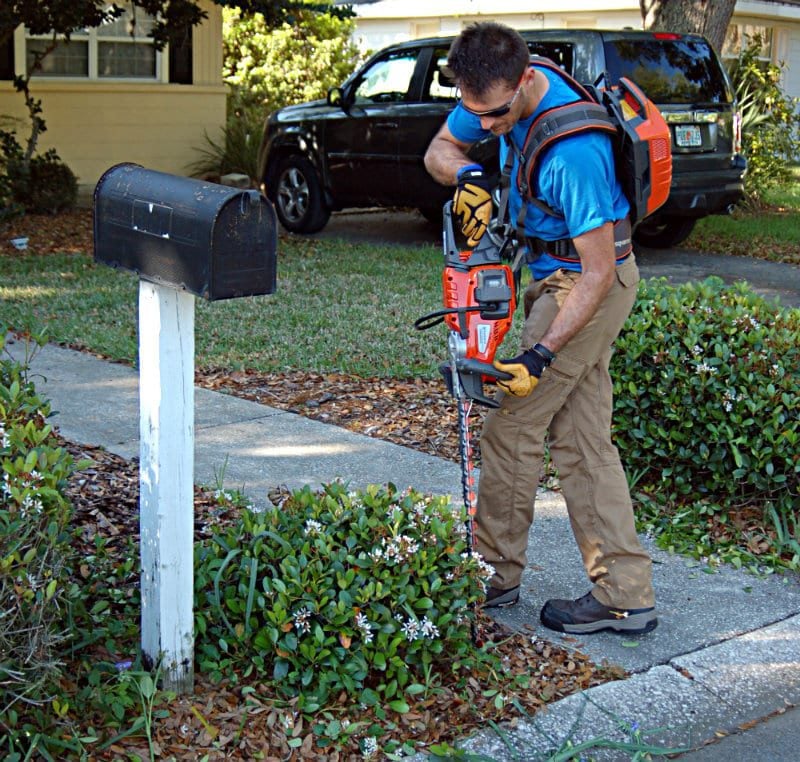 Final Thoughts
The Husqvarna 36V Hedge Trimmer is truly a professional level commercial product. Like the 36V Chainsaw, making use of the BLi940X Battery Pack will give you run time to last the day. Also like we saw in the chainsaw, the 36V designation is a little deceiving. This hedge trimmer simply feels more powerful than you would expect a 36V tool to perform. Husqvarna has really converted the power into a system that defies that voltage number.
This is without question a professional level hedge trimmer. Prosumers with larger hedges to maintain will also really love this tool. The one limitation that I find with it is that users with precision shaping to do will likely want to also keep a small hedge trimmer in the arsenal. Tackle the major cutting and shaping with the Husqvarna 36V and then come behind it for your precision cutting.
We've found Husqvarna's 36V Battery Series to exceed our expectations. Be sure to check out the entire lineup!