It didn't take long after replacing my first sink faucet to realize I needed a basin wrench. After that, it was a matter of finding which ones I liked best. Having used several basic models over the years, one thing I really like about the Ridgid telescoping basin wrench is its built-in LED light and variable length design. After all, you really don't know what kind of position you'll be in (or obstructions you'll have to face) when you're replacing a faucet. Ridgid's design is exceptional, and it should prove to be a great product for occasional users as well as seasoned Pros.
Most plumbers will already have several basic basin wrenches in their possession, so this review is simply an effort to expose you to a new more feature-rich product that can deliver a bit more than the hinged steel models—but at a price. The real question will be whether these additional features (like an LED light and removable T-handle) will be worth the additional cost or bulk associated with a model that isn't just a bare-bones solution. With any review, or tool for that matter, the question is: Does it help you get the job done quickly and efficiently?
Ridgid Telescoping Basin Wrench Features
What makes the Ridgid telescoping basin wrench innovative are two key features. For one, the wrench has a telescoping design, going from a compact 12″ to 17″ in length. That's going to let you position yourself more comfortably, even with taller pedestal sinks or difficult-to-access under-cabinet sinks.
The second design that makes working with faucet fittings and retaining nuts easier than ever is the integrated LED light. It's powered by two CR button cell-style batteries.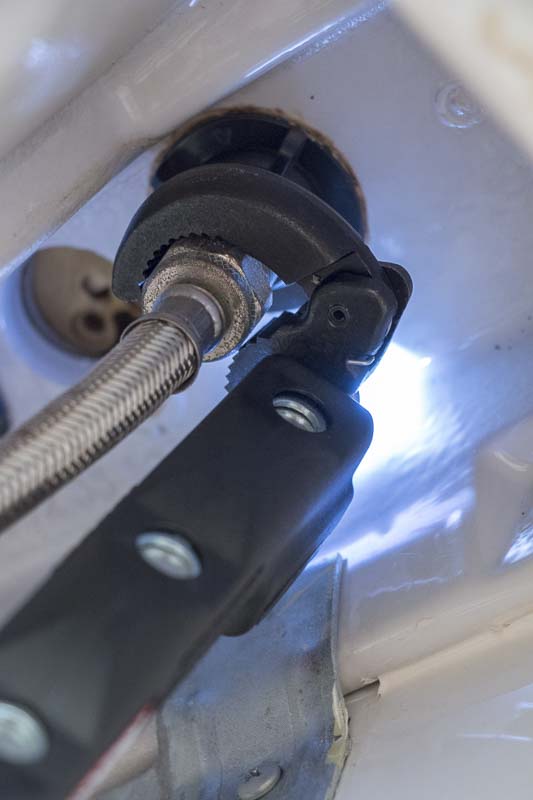 And while the integrated T-handle is adequate for most work I found myself engaging in, you can actually pull it off and replace it with any number of Ridgid handles or even a 3/8″ ratchet. This is a great design—flexible and customizable—that gives you additional options for when you run into those situations that need a little extra attention (like a stuck fitting).
In the Field
I found it a quite simple task to use the Ridgid telescoping basin wrench. For starters, it has a nice textured handle, so it's easy to grip—even when you're upside down and backwards. There is some additional bulk afforded by the telescoping nature of the wrench and the outer handle, but I have yet to encounter a space where it won't be able to sufficiently access a faucet fitting or retaining nut.
The jaws of the Ridgid telescoping basin wrench have a nice firm grip, and it was as intuitive as any basin wrench I've ever used. It locked onto the faucet nut easily, and with little effort. Extending the handle is simple—you just press the bearings on the handle and slide it out to any of the four positions.
Ridgid Telescoping Basin Wrench Summary
Spring jaw design
LED light w/ automatic shut off
Removable 180 degree pivoting T-handle w/3/8″ socket adapter
Overmold with contoured grip
Replaceable batteries
12″ – 17″ telescoping handle
Specifications
Capacity 1/2″ – 1 1/4″ (12mm-32mm)
Weight 2.5lbs
Length 12″ – 17″ Fully Extended