A new wood floor brings remarkable beauty to a room but the installation can be literally back-breaking. It's tough on the knees, too. Traditional flooring fastening tools don't have a reputation for making the job easy. Most flooring nailers and staplers tether the installer to a hose and operate with a mallet and bumper. Other pneumatic designs omit the mallet-swinging but can still be cumbersome. Wouldn't it be nice if you could cut the hose, increase installation speed (decrease the time stooped over), and get on to the next job? Well, DeWalt might just have a solution in the new DeWalt 20V Max Cordless Flooring Stapler.
With battery and tool technology rapidly improving, we see a lot of world's firsts. DeWalt's new stapler looks like one of them as the first battery-powered flooring stapler. The tool is part of the company's new offering including the 20V Max 15-Gauge Cordless Angled Finish Nailer and 20V Max 18-Gauge Cordless Brad Nailer. It's not just the cordlessness that's so interesting; it's also the trigger design that we're eager to see in action. If it works as advertised, we might have a new way to install wood floors! Let's take a closer look.
Note: You'll notice blue painter's tape on the stapler's head in some of the photos. This tape protected the tool from the adhesive we used in conjunction with the staples.
Key Features
Motor and Battery
DeWalt's 20V Max line now boasts over 100 tools. Its FlexVolt system is backward compatible with 20V Max tools, so you could slide a FlexVolt battery into the DeWalt 20V Max Cordless Flooring Stapler for more runtime. If its battery technology gives it the chops to do the job, it will be liberating to leave behind those gas cartridges, compressors, and hoses.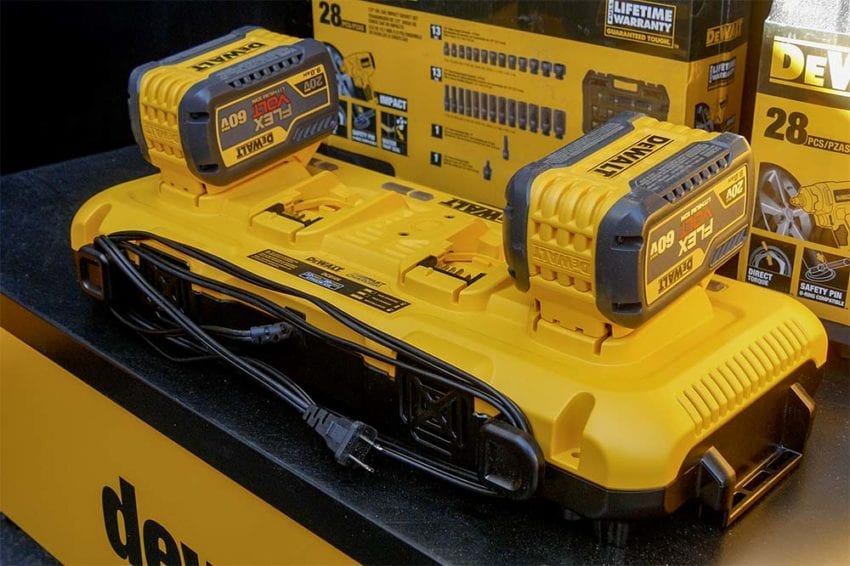 Regular readers will know that we like brushless motors for their longevity compared to brushed motors. They require less maintenance and allow for "smart" electronics – like protection from thermal damage. This DeWalt stapler might not be churning out the heat like a recip saw, but it's still good to know the motor will outlast the older design.
Magazine and Fasteners
The DeWalt 20V Max Cordless Flooring Stapler fires 18-gauge, 1/4-inch narrow crown staples from 1/2″ to 1-1/2″ long. Its bottom-load magazine allows the user to refill the magazine without removing the tool from its firing position.
A tool-free depth adjustment quickly accommodates flooring thickness from 3/8- to 5/8-inch. In fact, DeWalt has emphasized the tool-free nature of the stapler, as you'll see soon. Suffice it to say for now that you won't need any extra tools to dial it in.
Paddle Trigger and Base
Perhaps the most promising feature besides the cordlessness is the tool-free selectable paddle trigger with sequential or rapid sequential modes. It's has a long design that looks like it can be operated with more versatility than a traditional tool trigger, allowing the hand to be in more positions than just the pistol grip.
The stapler's engagement with the wood's tongue is easy to see with a high-visibility arrow.  In conjunction with the contact arm that's optimized for flooring, that should make the firing position foolproof. There are also no-mar pads because scratching the floor as you install it defeats the whole purpose! The adjustable base is also tool-free.
Other Notable Features
Two LED work lights shine down on the fastening area from DeWalt's base. This might be confusing if the tool is standing on its base until you realize its correct orientation! There's also a tool-free stall release to quickly reset the driver blade in case the tool stalls. More on how the drive works in a moment. The whole package weighs in at 6.2 pounds.
Performance
That Was Fast
The tool feels rugged, with the tough tool plastic body in signature yellow with lots of rubber bumpers for added security. I admit I had some trepidation about the extra weight that comes as a trade-off for DeWalt 20V Max Cordless Flooring Stapler's hoseless-ness. But being free to roam about the job untethered by a hose and without the need for an air compressor is certainly worth a shot!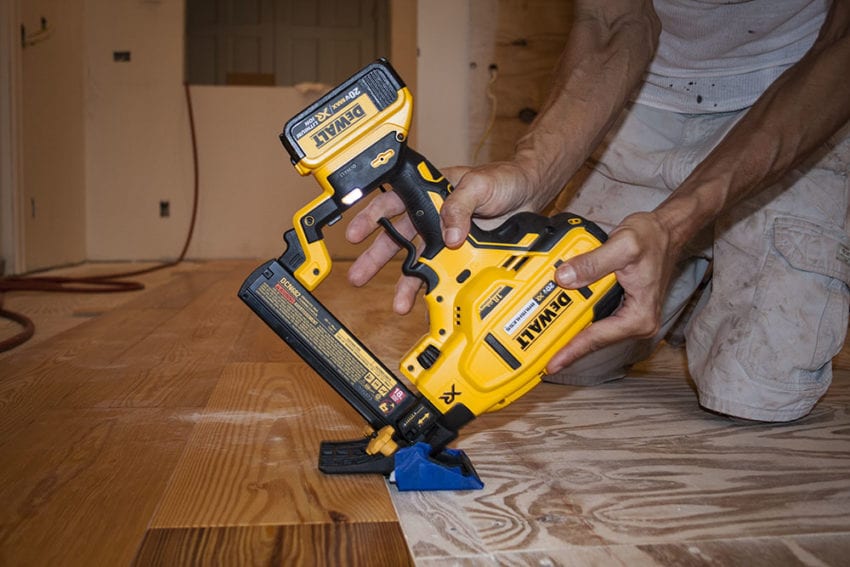 Well, any fear I had was quickly dispatched as I glided the stapler smoothly along the flooring. I opted for continuous fire mode (there's also single actuation). By holding the conveniently long paddle trigger down, the stapler works as quickly as I can move. It was great. Because I wasn't lifting the tool so much as sliding it, the heftiness was somewhat neutralized. I never had a misfire during the review.
Note: in single actuation mode, you'll need to pull the nailer away from the board and reset it to fire the next staple.
There tends to be a firing delay in many cordless nailers on the market. While the motor does need to spin up at first, this stapler keeps up with nice, crisp shots rather than the sluggish delay you get with every trigger pull on some models.
Up Productivity Creek –
With

a Paddle (Trigger)

Every flooring Pro has experienced the pain-in-the-neck situation of tongue blowout. That's not when you make a funny face at someone. It's what I call the damage that a fastener often inflicts a board's tongue. (Hopefully) it's needless to say that the groove of the next board and tongue of the last must fit smoothly and snugly. Well when you get a tongue blowout, the smooth, snug fit can't happen. You have to spend precious time removing the splintered material for proper installation. What's worse – that staple or fastener won't actually hold down the board to the subfloor!
I'm happy to report that the DeWalt 20V Max Cordless Flooring Stapler seems to eliminate this problem. It didn't happen once – that is a huge improvement in productivity. So the tool is really has a productivity trifecta: cordless/hoseless, continuous fire, and elimination of blowout. At first, I thought the tool would be great for punch list stuff like a lot of cordless tools. But now I really think it's capable of doing a better job than a traditional stapler at any time.
The battery life for the with the 4Ah battery was solid, too. It only took one recharge during several smaller jobs and one good-sized job.
The Bottom Line
I am really impressed with the DeWalt 20V Max Cordless Flooring Stapler. It has simple yet durable adjustments on the head, a precise depth gauge, and a good overall feel despite being heavier than a pneumatic stapler. The lights and actuation modes – single or continuous fire – are welcome extras that add a lot of usefulness to an already great tool. Continuous fire mode makes the job go much faster than pneumatic staplers. In full disclosure, I use several DeWalt tools, but that's because I think they typically perform well. This is another quality product in the line!
DeWalt 20V Max Cordless Flooring Stapler Features
World's first battery-powered flooring stapler
Tool-free adjustable base accommodates flooring thicknesses from 3/8 to 5/8 inches
Paddle trigger provides easy use in multiple orientations
100% battery powered. Eliminates the hassle of using gas, compressor, and hose
Brushless motor maximizes runtime and durability
High visibility tongue engagement for fast installation and non-marring profile tips to prevent floor scratches
Multi-functional lights help to provide both workspace illumination and tool diagnostics
Tool-free selectable trigger for sequential or rapid sequential actuation modes
Integrated tool-free stall release lever to quickly reset the driver blade in the event of a stall
Bottom Load magazine for easy loading and removal of jammed fasteners
Compatible with all DeWalt 20V Max batteries
DeWalt 20V Max Cordless Flooring Stapler Specifications
Item Numbers:

DeWalt DCN682B (Bare)
DeWalt DCN682M1 (Kit)

Base Adjustment: Tool-Free
Depth Adjustment: Tool-Free
Fastener Length: 

1/2 to 1-1/2 inches

Fastener Type/Gauge: 

18 Gauge, 1-4 inch Narrow Crown Staples

Firing/Actuation Mode: Tool Free Selectable Trigger
Jam Clearance: Tool-Free
Height: 

12.2 inches

Length: 

11.7 inches

Width: 3.7 inches
Weight: 6.2 pounds
Trigger Type: Paddle Trigger
Prices: