When the folks at Wolverine asked me if I'd like the opportunity to take a look at their new Cabor work boots featuring EPX technology, I jumped at the chance. As a triathlete, it's not unusual for me to put 100 – 120 miles of biking and running on my feet in a week in addition to the normal workday, so I consider myself fairly qualified to determine whether or not a work boot is actually comfortable. I came in with several questions that I wanted to answer about the Wolverine EPX Cabor Work Boots and my opinion is that the answers show them to be a winner!
Editor's Note: Check out our best work boots review article for our favorite products for all applications.
Wolverine EPX Technology
What exactly is this Wolverine EPX Technology?
Wolverine EPX  is an innovative new cushioning system designed to make your boots more comfortable and even use return energy to reduce fatigue. Wolverine EPX features a dual-layer, four-part foam system that starts with a dense base, evenly distributing the wearer's weight across the sole. With each step, the honeycomb pattern found in the heel expands to absorb impact. As weight is transferred to the forefoot, a ribbed spine flexes to maintain cushioning. To wrap it all up, a compression-molded EVA top layer provides cushioning from heel to toe. The entire system works together to return energy back into the walking motion and reduce fatigue.
The Wolverine Cabor Lineup
The Wolverine EPX Technology is currently available in the Cabor line. This family consists of 5 members. The Cabor EPX Waterproof Chukka  ($160), Waterproof Composite Toe EH 6″ Boot ($170), PC Dry Waterproof 6″ Boot ($162), Waterproof Composite Toe EH 8″ Work Boot ($182), and PC Dry Waterproof 8″ Boot ($172). I'm told to expect a Wellington-style boot in the near future as well. All five are available in half sizes from 7 to 12, size 13 and 14 with medium or extra wide widths.
If popularity is to be judged by which one has the most sizes sold out, the Waterproof Composite Toe EH 6″ is selling the fastest.
Features of the Wolverine EPX Line
In addition to the EPX technology that I spoke of above, several other features are available to help you decide which model is right for you. The entire family is waterproof and features slip-resistant rubber lug outsoles. Each Wolverine EPX boot is EH rated for professionals that require electrical hazard considerations on the job site. The 6″ and 8″ boots also have an available composite toe that is rated ASTM F2413-11 M I/75 C/75 EH.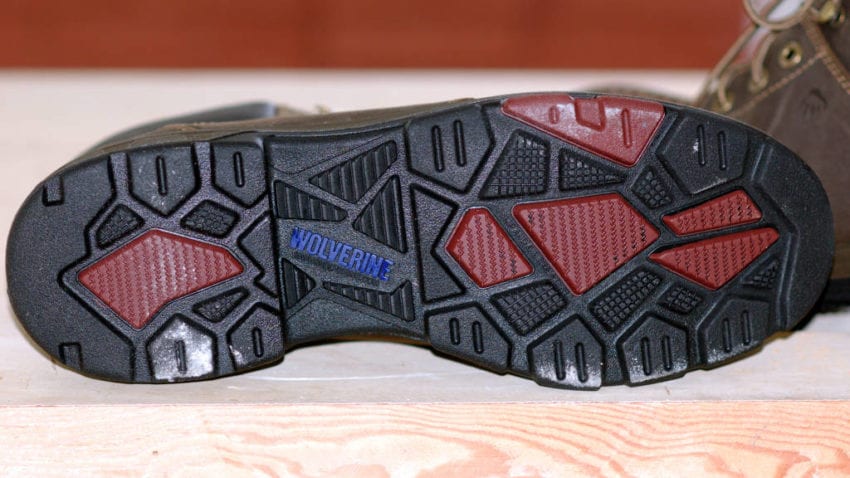 Answering Tough Questions
I chose to test out the Chukka-style Wolverine EPX Cabor Boots to find out if the EPX technology is all that it's cracked up to be. I also wanted to know about the sizing and style of these premium work boots.
How do they fit?
Rule number 1 of any kind of footwear: You can't make a determination of any kind if the shoe doesn't fit well. I'm a size 13 medium, but some with some companies I have to wear a 12.5 if it's available. I found the sizing to be spot on in both length and width, so I can confidently recommend ordering your normal size there. My legs are fairly lean as a runner/cyclist, and while the fit was excellent, I found that I wished I could get them just a little tighter around the top.
Are they comfortable?
Again, like all footwear, it takes time to break in a new shoe and get used to the subtleties of the fit.  The first thing I noticed when walking around in the Wolverine EPX Cabors is that they are a very solid feel in terms of stability – obviously something that is a must in a work boot. To put them to the endurance test, I wore them from the 7:30 am start to my day and until my day ended sometime after 11 pm. I honestly didn't think much of it until after I took the boots off and realized that my feet weren't sore at all. I had no ankle or lower leg soreness from trying to compensate for being on my feet for that much of the day.

Okay, the EPX, does it really work?
There's a passage in John 9:25 when a previously blind man was being questioned and responds with "One thing that I do know, that though I once was blind, now I see." I've looked at how Wolverine EPX  technology is described and watched the video on it several times over to make sure I really understand it. I can't feel the EPX at work; there's no magic sensation telling you that it's working. The sensation I wasn't feeling though was soreness after a 16 hour day. One thing I do know. With other boots, my feet and legs were sore on the longest days. With these, I felt pain-free.
Are they really waterproof?
Okay, first, let's look at what is meant by "waterproof" boots. The term doesn't mean that your feet won't ever get wet when the boot is submerged. It means that the boots should remain comfortable when wet and the materials can handle consistent moisture without damage. Still, some boots are better than others at keeping water out, so I had a little fun with these to see how they would do.
To test this out, I started by simply taking a garden hose to them and splashing water on them. It seems a little petty to start with something like that, but I've actually had "waterproof" boots get soaked in with that test. After ensuring that they could handle some splashing, I filled a bucket with water so that they would be fully submerged, but not so much that it would spill over the top. There was some leaking into the boot, but it took over 5 minutes of being submerged to feel the first moisture hit my foot. So while these aren't going to replace your wading boots for fly fishing, the vast majority of water you're likely to come across on the job site shouldn't be an issue.
In terms of what we expect from a waterproof boot, they did great. They were still comfortable and secure when walking around after the test. I haven't had them long enough to test the durability after repeated encounters with water, but I have high expectations that they will do fine.
What about style?
I'll admit that I'm concerned about my appearance. Let's face it, after a hard day of work, it's great to have a drink or two with the guys or maybe meet your lady for dinner. I can offer some advice when it comes to style in your footwear, but there's no better (or more honest) opinion than that of the ladies you come in contact with. So I asked the baristas at Mitchell's Coffee House in downtown Lakeland what they thought. I got comments ranging from "those look really nice" to "wow, those look really comfortable." The best conversation came from my date for the evening and it went something like this. "They're a little clunky, but the overall style is really nice." I told her the larger sole is due to the fact that they are work boots to which she responded, "Those are WORK boots???"
They're likely to lose some of their stylistic appeal as you wear these boots for a long time before needing to replace them. Still, it's nice to know that you can be a little more confident if you go out for lunch or grab a beer at the end of the day.
Conclusion
In my opinion, the Wolverine EPX Cabor is a winner. With the combination of fit, style, and comfort, this is a boot you can wear every day, no matter how long that day gets. One thing that I'd love to test, but we don't have the opportunity here in Central Florida is how these boots perform in snowy conditions. If you've had the chance to try them out in that kind of weather, we'd love to hear your feedback! Time will tell the whole story, of course, but I hope to see Wolverine expand the EPX technology into other lines of work boots.
For the latest reviews, previews, and news, check back often or follow us on Facebook and Twitter!