Let the Aiper Robotic Pool Vaccuum Handle Your Cleaning Tasks
We've tested our share of both robotic lawn mowers and robotic vacuum cleaners. It seemed serendipitous when the latest Hardware Huddle gave us a chance to take a look at the Aiper Seagull 1500 robotic pool vacuum. While it doesn't use Lidar or fancy cameras to navigate your pool, it does vacuum using a systematic and intelligent path to ensure the bottom—and sides—of your swimming pool stay clean. Our question centered around whether it could truly eliminate the manual cleaning process altogether.
Aiper Seagull 1500 Pool Vacuum Performance
After charging the Aiper Seagull 1500 pool vacuum (it took around 8 hours) we switched it on and dropped it gently into the pool. Before letting it go, we ensured it had expended all of the air from the unit so that it would sink.
Letting go of the Aiper Seagull 1500, the pool vacuum sank slowly to the bottom. It drifted out a bit towards the center, but after a few seconds backed up against the wall and began cleaning.
The vacuum went across the pool and then eventually remapped itself to the center. It then began a series of diagonal passes, climbing the walls periodically to clean a majority of the pool.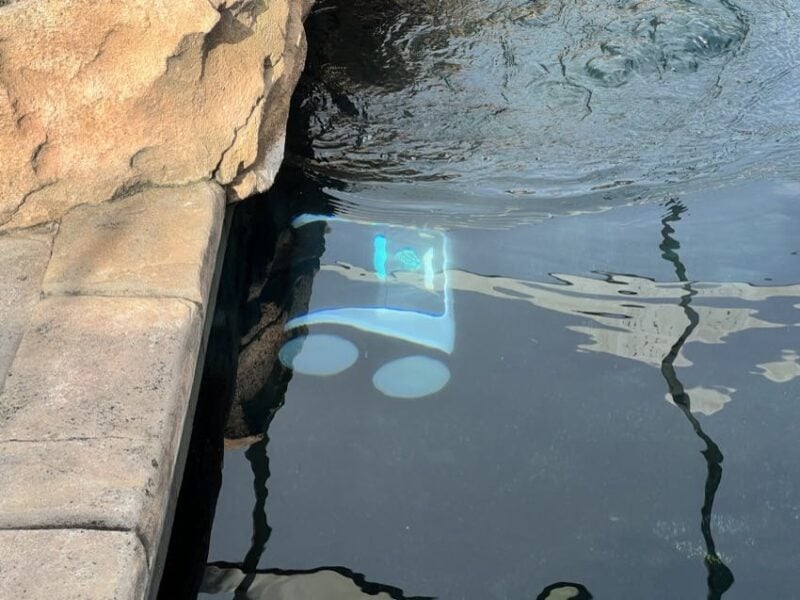 It can climb walls due to well-designed PVC rollers and lots of suction. Front rollers keep it from scraping as it encounters the initial slope of the side wall. After that, the unit climbs vertically until it reaches the surface.
The Aiper robotic pool vacuum ran for about an hour and a half. After that, it rolled up against the pool wall, and I was able to lift it out using the included plastic retrieving hook.
Once out, I removed the filter basket and cleaned it with a garden hose. In less than a few minutes I had the vacuum ready for charging.
As our pool features a nice screened enclosure, we don't need to vacuum daily—so I had a week or so before I needed to pull out the Aiper for round 2.
Aiper Seagull 1500 Pool Vacuum Design Notes
Some things I found noteworthy about the Aiper robotic pool vacuum included the protected charging port. To prevent oxidation, Aiper provides a nice gasket that covers the charging pins so they don't corrode.
The rubberized gasket also locks into the on/off switch to keep it in place and secure the rubber from falling out during the vacuuming process.
Next, the LEDs do a great job of giving you the status of the robot pool vac:
Blue solid – unit is on
Blue flashing – unit operating normally
Yellow flashing – low battery (vacuum moves to the edge of the pool wall)
Yellow solid – unit stopped beside pool wall
Red – motor failure
Purple – overcurrent (unit possibly stuck or working out of water)
Finally, the PVC flap wheels that drive the cleaning process are massive. We love the design of these. It's no wonder the Aiper Seagull 1500 pool vacuum can tackle anything from fine dirt to large leaves and debris.
Additional Features
External DC charger
Two floating blocks included in case vacuum needs more bouyancy
Available kit for raised pool drains
Aiper Seagull 1500 Pool Vacuum Price
You can pick up the Aiper Seagull 1500 robotic pool vacuum via Aiper or Amazon for around $769.99. It includes a 2-year warranty.
The Bottom Line
When you own a pool, vacuuming and maintenance come as a package deal. Until recently, your options included manual cleaning, tethered low-pressure vacuums, and tethered high-pressure vacuums. At least with low-pressure vacs, getting the correct balance of flow rate and suction can prove difficult. And it moves all of that dirt into your filters—which you still have to clean and/or bump.
With a completely cordless robotic vacuum, the Aiper Seagull 1500 offers autonomous cleaning and greatly simplifies a major task on my weekly list. I have yet to feel the need to manually vacuum our pool and it's been several weeks.
When time is money, the price of entry seems reasonable. I also like what I see so far of its durability and results. I can highly recommend this robotic pool vacuum for consumers looking to get back some time on their weekly pool maintenance.
Aiper Seagull 1500 Pool Vacuum Specifications
Model: Seagull 1500
Method: Cordless, autonomous
Max pool size: 1614 sq.ft (150 ㎡)
Cleans: Floor, wall, waterline
Motor: 65W Triple drive
Cleaning: Suction and PVC roller brush
Battery: 8600mAh rechargeable Li-ion
Runtime: 90 minutes (max)
Charing time: 7-8 hours
Speed: 36.1 ft/min (11 m/min)
Flow rate: 44 GPM(167 LPM)
Removable filter basket
Warranty: 2 years
To get more info, visit the Aiper website.