Replace Your 🤬 Garden Hose With One That Won't Leave You Cussing
Take a walk around your local home improvement retailer, hardware store, or even Walmart, and you'll see plenty of packaging for hoses that claim to be the best garden hose for your home. Two months later, and you're cussing up a storm because it kinks easily, gets brittle, and is a general pain in the rear to use. Not to worry—we've got your back! Our team pulled together the hoses we actually want to use, along with a helpful guide to help you understand what to look for when you're shopping.
Best Garden Hose Top Picks
Best Garden Hose Overall
Flexzilla Garden Hose with SwivelGrip
This heavy-duty, lightweight, and drinking water-safe hose tops our list for a variety of reasons. First, we love the durability of the design. It resists damage from abrasions, should you drag it across brick or other rough surfaces.
While we don't agree that it's kink-free, it doesn't tend to kink under once you have water pressure running the full length. If you wind it up irresponsibly—like most hoses—all bets are off.
This hose uses "SwivelGrip Connections" which encapsulate the aluminum connectors. It's a huge improvement from wrestling with standard hardware when fastening and unfastening the hose from other hoses, spigots, pressure washers, and other connections.
It's not the cheapest hose you'll buy and it doesn't have the pressure rating we associate with heavy-duty hoses, but it should last you many years. You can also find it in lengths from 3-feet (perfect as a short "connecting" hose) up to 100-feet.
Price: $49.99 (50-foot length)
Pros
Durable
Reasonably lightweight
Fantastic connect/disconnect grips
Excellent kink resistance once under pressure
Cons
Expensive compared to most hoses
Relatively low 150 PSI pressure rating (but fine for household water pressures)
Best Heavy-Duty Garden Hose
Swan Maximum Flex Premium Duty Hose
Swan bucks the trend among heavy-duty hoses with its hybrid co-polymer construction. The results are mostly positive—it's very durable, is noticeably more flexible than PVC hoses, and it's lighter than most of its competition. It even has a higher pressure rating (500 PSI) than many of the heavy-duty hoses that are closer to 400 PSI.
The downside is that it's expensive—nearly $100 for a 100-foot length. It's also only available in that length. While that's likely just fine for contractors and industrial settings, it's a bit more than most homeowners are looking for.
Price: $64.98 (50-foot length)
Pros
Excellent kink resistance under pressure
Hybrid polymer construction lays flat out of the package
Lighter than rubber or vinyl hoses
High 500 PSI pressure rating
Heavy-duty couplings
Made in the USA with global components
Cons
Best Garden Hose For Home Use
Flexzilla Garden Hose
We get it—you shouldn't be spending as much on the best garden hose for home use as contractors and industrial sites spend on theirs. Still, some of the same benefits are helpful. We want flexibility, durability, and as little kinking as possible. You're not going to find that for less than $20, so step up your budget a bit and take a look at Flexzilla's entry-level hose.
It has very similar benefits you get from the SwivelGrip model we recommend as the best overall, but without the SwivelGrips. For most homeowners, it's going to do a great job even though the price may be a little higher than than the $20 – $25 hoses you can find at many retailers.
Price: $39.99 (50-foot length)
Pros
Durable
Reasonably lightweight
Excellent kink resistance once under pressure
Cons
More expensive than some homeowners prefer to pay
Relatively low 150 PSI pressure rating (but fine for household water pressures)
Best Expandable (Flex) Garden Hose
Pocket Hose Original Silver Bullet Lightweight Water Hose
Sometimes, those "As Seen on TV" style products really are helpful, and the original Pocket Hose is a good example. As water pressure increases, so does the length of the hose. When you turn the water off, it shrinks down to an impossibly small size, making for easy storage. Plus, it's extremely lightweight, does an excellent job of resisting kinks, and it comes with a genuinely helpful nozzle.
Understand the limitations of a flexible or expandable hose before getting one, though. They aren't the most durable, and they rarely last long if left out in the sun, especially here in the south. While they can handle typical household water pressure, this model's 100 PSI pressure rating is lower than other construction types. If you don't intend to use it around sharp objects (like thornbushes), don't need to leave it laying outside in the heat, or use it on high-pressure connections, expanding hoses can really lighten the load compared to a traditional hose design.
This model comes in 25-, 50-, 75-, or 100-foot lengths.
Price: $29.98 (50-foot length)
Pros
Small storage requirements
Outstanding flexibility
Excellent kink resistance
Extremely lightweight
Includes a nozzle
Cons
Not as durable as standard hose materials
Prone to puncture leaks
Doesn't stand up to long-term sun exposure as well as other hose materials
Lower pressure rating than other hose materials
Best Kink-Free Garden Hose
Bionic Steel Pro Stainless Steel Garden Hose
If kinks make you cuss (that's most of us), then check out the Bionic Steel Pro garden hose. It features a 304 stainless steel jacket with interlocking pieces that leave it flexible, but virtually impossible to kink. It also has a high 500 PSI pressure rating. Going with the Pro model upgrades the hardware to brass and offers a built-in shut-off valve on the end.
There are some limitations to keep in mind, though. The actual inside diameter of the hose is less than 5/8-inch, and the water flow is noticeably lower than standard 5/8-inch hoses. As you can imagine, the metal jacket gets hot in direct sunlight, and it you can damage it if you run it over while it's across your driveway.
Price: $49.98 (50-foot length)
Pros
Stainless steel exterior casing prevents kinking
Lightweight construction
Flexible interlocking jacket design
High pressure rating (500 PSI)
Built-in shut-off valve
Cons
Gets hot in direct sunlight
Jacket can bend if it's run over
Lower flow than standard 5/8-inch hoses
Puncture leaks from pinching are a risk
Best Lightweight Garden Hose
Xhose Pro Dac-5 High-Performance Lightweight Expandable Garden Hose
If you're looking for the best lightweight hose, there's no doubt that an expanding hose is the way to go. If you'd like another option other than the Pocket Hose we recommended above, another excellent choice is the Xhose Pro Dac-5 High-Performance Lightweight Expandable Garden Hose.
The DAC-5 refers to the polyester fiber outer layer that gives a bit more protection than normal for an expanding hose. Considering how easy it can be to get holes in these designs, we'll take all the help we can get to improve the puncture resistance.
The integrated shut-off valve is a convenient feature we really like. If you're swapping between a foam cannon and standard nozzle, or a direct flushing connection and nozzle, not having to go back to the spigot for every shut off and swap is handy.
You can pick up the DAC-5 hoses in 25-, 50-, 75-, or 100-foot lengths.
Price: $29.99 (50-foot length)
Pros
Small storage requirements
Outstanding flexibility
Excellent kink resistance
Extremely lightweight
Built-in shut-off valve
Cons
Not as durable as standard hose materials
Prone to puncture leaks
Doesn't stand up to long-term sun exposure as well as other hose materials
Lower pressure rating than other hose materials
Best Flexible Garden Hose
Bionic Flex Pro Garden Hose
Flexibility comes down to materials choices and higher flexibility generally comes with lower durability. The point is that you need to expect trade-offs. Expandable hoses and interlocking steel-jacketed hoses tend to be the most flexible of the low-durability options and rubber or hybrid polymer hoses offer improvement among the more standard hose styles. If flexibility is your number one priority, an expandable hose is a great option, but going with a polyester weave jacketed model can give you nearly the flexibility with better durability.
Check out the Bionic Flex Pro. It has a much higher 500 PSI pressure rating that expandable hoses and includes brass hardware rather than aluminum, plus an adjustable nozzle. Even though it doesn't collapse and expand, it still folds/wraps up super-small when the water drains out. The downside is that it's still prone to puncture leaks, so it's not as durable as traditional hose styles.
Price: $44.99 (50-foot length)
Pros
Excellent flexibility
Excellent kink resistance
Lightweight
Small storage space requirements
High 500 PSI pressure rating
Cons
Not as durable as standard hose materials
Prone to puncture leaks
Best Retractable Garden Hose
Sunneday XG-30B Retractable Garden Hose Reel
When you're targeting the best retractable garden hoses, you're in for a more expensive investment, so it's important to know what you're getting. As we shopped around, we decided on the Sunneday XG-30B for a few key reasons.
First, you get a steel mounting system, not plastic like most of the others we considered. The system mounts easily to brick, stucco, or studs using the included bracket. Once you install the bracket, the hose reel simply fits overtop with keyhole-style mounts.
Second, even though most self-winding hose reels come with a permanent hose, you can replace the one in this system if you need to. Just be sure to use the same size that came with the unit you purchased.
We're also pretty excited about the slow retract feature. With most retractable hose reels, you need to walk the hose back to keep it under control. With this one, give it a tug, drop the hose, and it reels itself back in at a pace that won't smack everything it comes by with the nozzle.
Price: $222.97 (100-foot length)
Pros
Self-retracting reel
100-foot length is enough for most lawns
Slow retract rate
Replaceable hose
Metal bracket for mounting
Cons
More expensive than most of its competition
Best Rubber Garden Hose
Continental Commercial Grade Rubber Water Hose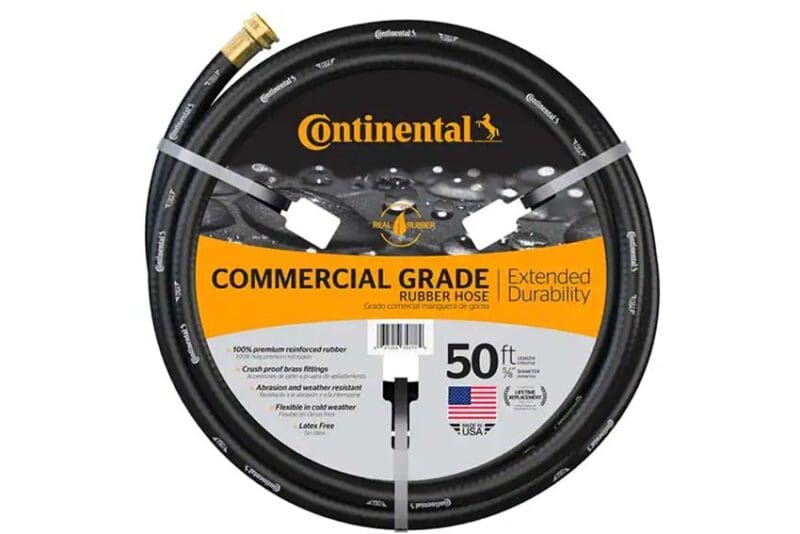 If it's a rubber hose you're after, the best one to grab is Continental's commercial-grade model. While it doesn't have a lot of bells and whistles, it's a durable garden hose that can stand up to the Texas sun and remain flexible in the Michigan winter.
The black color might not appeal to everyone, but it's something we can overlook thanks to the durability of the build, 400 PSI pressure rating, and reasonable kink resistance. One thing you might want to keep in mind is that it's heavier than some of its hybrid and polymer competitors. However, it is Made in the USA and it's widely available around the country if you prefer to shop brick and mortar stores.
Price: $49.98 (50-foot length)
Pros
Durable, heavy-duty construction
Made in the USA
Good kink resistance when pressurized
Retains flexibility in cold weather
Excellent presure rating (400 PSI)
Cons
Heavier than other options
On the expensive side for rubber hoses
Best Soaker Hose
Element Soaker Pro
With a flow rate of 0.5 to 1.0 gallons per hour per foot, Element's Soaker Pro soaker hose is exactly what you need to water more efficiently. Using up to 70% less water use than sprinklers, the tiny pores in the hose drip water onto the ground where the plants are instead of broadcasting it over a wider area.
Price: $19.99 (50-foot length)
Pros
Reduces water use compared to sprinklers or hand watering
Made from 65% recycled rubber
Lightweight
Cons
Plastic coupler isn't as durable as metal
Longer lengths can have lower water flow on the far end
Best Hose Reel
Liberty Garden 125-Foot Aluminum Hose Reel
When it comes to hose reels, we prefer metal construction and a wall mount over plastic and/or something that sits on the ground. While that makes for a more expensive hose reel that requires installation, the overall experience ends up being much smoother on a day-to-day basis.
We like what Liberty Garden has to offer. With a 125-foot hose capacity, the aluminum construction promises to hold up for a long time and resist corrosion. It's an attractive design that includes a top shelf that's perfect for storing nozzles or other accessories you like to keep close to the hose.
Price: $119.99
Pros
Wall mounting keeps the ground clear
Aluminum construction is durable and corrosion resistant
Hold up to 125 feet of 5/8-inch hose
Smoother operation than plastic hose reels
Attractive design
Cons
Mode expensive than plastic hose reels
Installation required
Best Garden Hose Nozzle
Martha Stewart 4-Inch Heavy Duty Brass Hose Nozzle (2-Pack)
Remember those old silver pistol-style nozzles your grandparents used to have? Or maybe they had those brass twist nozzles. Yeah, those are still the best built and most reliable garden hose nozzles available. Plus, they not very expensive. Having six or eight rotating settings is nice, but they require plastic construction that's prone leaking, cracking, and breaking. In our opinion, traditional metal nozzles with rubber gaskets are the way to go.
Of the two styles, we prefer the brass twist nozzle since you can set your spray pattern and work without having to hold the trigger. There are a lot of different brands around, and most of them will do a great job. For our money, there's a 2-pack of 4-inch heavy-duty brass twist nozzles under the Martha Stewart brand name that do a fine job and are under $15.
Price: $13.99
Pros
Inexpensive
Reliable construction
No trigger to hold
Cons
No specialized spray patterns
Can get hot in direct sunlight
More prone to corroding effects from water impurities than plastic if the finish wears off
Guide to Choosing the Best Garden Hose
Water Flow Rate (Diameter)
You may not have realized garden hoses come in different diameters. The diameter of your garden hose determines the water flow rate. While length also affects flow rate, diameter serves as a much more significant factor. For example, a basic 25-foot 1/2-inch hose serves up around 9.5 gallons per minute (GPM). That same 25-foot hose in a 3/4-inch diameter delivers 10 GPM.
But what about the length? Notice how the same rate of water flow comes from a 5/8-inch, 50-foot hose and a 1/2-inch, 25-foot hose. If you require a particular minimum flow rate, pay attention to both the hose diameter and the length to ensure you deliver what's needed.
Here's how length and diameter affect a garden hose water flow rate based on a 50 PSI spigot:
| Garden Hose Diameter | Hose Length | Waterflow Rate (GPM) |
| --- | --- | --- |
| 1/2 in. | 25 ft. | 9.5 |
| 1/2 in. | 50 ft. | 8.5 |
| 1/2 in. | 100 ft. | 7.5 |
| 5/8 in. | 25 ft. | 9.8 |
| 5/8 in. | 50 ft. | 9.5 |
| 5/8 in. | 100 ft. | 8.5 |
| 3/4 in. | 25 ft. | 10.0 |
| 3/4 in. | 50 ft. | 9.8 |
| 3/4 in. | 100 ft. | 9.0 |
Durability
The durability of a garden hose really matters when you intend to drag it around the yard or jobsite. Consequently, when a hose gets nicely stored within a reel and only comes straight out to water a small area of your landscaping, you can get away with a less-rugged design. The best garden hose for your home will be strong enough to hold up over years of use. You want a product that doesn't develop pinholes or have the fittings detach from the hose.
We talk about the various hose materials below. Over our years of testing and use, the manufacturer's choice of materials definitely affects the long-term durability of a hose.
A Note on Kink-free Hoses

Nearly ANY hose will kink. Kink-free designs are relative. Most of the time, the manufacturer is talking about kink resistance once the hose is under pressure. If you turn the spigot on with a kink in the line, many won't overcome it without some help.

On a regular hose—even one labeled "kink-free"—you can minimize kinking by always retracting hoses with at least some water still inside. Also, when wrapping hoses manually, be sure to use an "over-under" coiling method as opposed to looping the hose in the same direction (like a spring). Finally, don't let hose kinks stay—especially in the sun. Those kinks will easily develop a "memory" and come back every time you uncoil the hose for use.
Length
Because excessively long hoses can be unwieldy, make sure you don't overbuy. Calculate the length you need before you pick up a hose that weighs more than you need it to. Garden hoses typically come in four different sizes: 25-, 50-, 75-, and 100-feet. There are also shorter "lead-in" hoses, typically in the 3 to 10-foot range.
If you do need a longer hose, by all means, grab the size that fits the task at hand. However, if you only want the flexibility a longer hose provides, consider picking up two hoses and connecting the additional shorter hose to the first as needed. That often works out better, and shorter hoses cost less than longer ones. If one breaks, you have a much smaller bill than if you bought a single large hose.
Material
Manufacturers can make garden hoses from any combination of rubber, extruded polyurethane, and vinyl. Of these, rubber may be the most expensive material and you don't find 100% rubber hoses that often. Rubber hoses hold up well to being abused and take a lot of abrasions before you run into issues. If you want a hose to support drinking water from it, make sure it's rated as such. Hoses that support drinking water typically use NSF International-listed polymers as opposed to PVC or other plastics that can leach into the water as you drink.
Hardware
Believe it or not, the ends of the hose matter—at least they do to us. The couplings that form the ends of garden hoses are typically made of brass (though some use aluminum). Lately, however, manufacturers have been using plastic (and you may also see hybrid ends that use both metal and plastic). Regardless of which comes with your hose, you can replace them if the hose still works and only the end requires maintenance.
We've also come to appreciate a hose that has a threaded female end that is fully "graspable". That means that, instead of only turning the captured nut to attach the hose to the spigot, you can grasp an elongated section that spins freely. This lets you more easily connect and disconnect the hose from another hose or the faucet at a home or business.
If you do end up with a hose that only has a captured nut for threading onto a spigot, a hexagonal shape lets you use a wrench on a stubborn connection. Use a pair of water pump pliers on round connections, and you tend to slip or even crush down on it when you squeeze too hard.
Garden Hose Maintence & Care
Garden hose maintenance doesn't involve a lot of steps. You basically want to take care of this "tool" and it will work for many years.
Keep Out of Sunlight When Possible
Find a place in the shade to store your garden hose when not in use. Does that mean you absolutely can't store it in sunlight? No. However, any hose will eventually decay if left too long in direct sunlight. Outer material can dry rot, rubber can dry out and crack, and vinyl can get stiff.
Get Rid of Kinks
Remove any kinks before storing—and don't wrap a garden hose in a way that kinks it. Even the best garden hose will retain a permanent kink if stored for long (especially out in the sun) with a kink. Keep your hoses kink-free and smooth, and they'll give you hassle-free use for years.
Stay on Top of Leaks
If you do develop a leak, try and get it repaired quickly. A small hole can typically get patched with a tube or hose patch repair kit. Wait too long, though, and that small pin leak can break open into a full-on tear. At that point, you'd need to cut the hose at either side of the leak and rejoin it with new fittings.
Watch Out for Freezing Temps
Do you live in a freezing climate? If so, be sure to take your hoses indoors when the temperature drops below freezing. Excess water stored in a closed hose could expand and freeze, causing a rupture. You may think the hose is empty, but freezing occurs progressively, and a pinched-off area of a garden hose can quickly create a problem spot. If you use a hose reel, you may even need to fit the entire unit off the wall and bring it inside.
Swap Out Your Gaskets/Washers
Change out the washers that provide a seal between the hose and spigot and the hose and spray nozzles. These deteriorate over time. That leads to overtightening of the hose which can damage the threads over time. Your hose should attach easily and quickly to spigots and spray nozzles. If you have to crank down on the connection, you likely need a new washer.\
How We Make Our Choices
When we judged the best garden hoses we looked at a variety of metrics to help us decide on our top choices. Our final decisions are somewhat subjective, of course, but also the result of careful consideration of a variety of factors. Over the years, we've honed these into what we feel helps us deliver reliable choices when recommending tools or other products.
We've also all used garden hoses for decades, so we had a lot of personal experience to pull from when picking out the best garden hose choices. In the end, we feel you can really rely on and trust the picks found in this list.
Durability
No matter if you pick up a rubber hose, or one made out of a polyvinyl material, how a garden is made determines its useful life. Nothing hurts worse than getting a hose and finding it only lasts a single season. A garden hose should last for many years—particularly if you take care of it. Our recommendations look at the build quality of each hose to determine whether it should reasonably hold up over time. Having used hoses from a dozen or more brands over the years, our team recognizes good build quality vs cost-cutting measures designed to make a quick buck.
Options and Features
You don't often think of options when looking at the best garden hoses. When we say "options" we mean—can you get this hose in various lengths. Most of our picks come in 25-, 50-, 75-, and 100-foot hose lengths. Why is that important? Not everyone has the same needs. It does no good to supply the best garden hose choice that only comes in a 100-foot size if you only need 50 feet. (Of course, you can always buy two…but we digress).
We also like when hoses include helpful options like included shut-off valves and spray nozzles.
Value
Value matters. How much you need to invest in a good garden hose matters. We don't mind spending more, but it has to deliver. For that reason, we look for products that offer exceptional build quality or features.
Why You Can Trust Pro Tool Reviews
Ever check out a "review" site and you can't tell if they actually tested the tools or if they're just "recommending" the Amazon top sellers? That's not us. We won't recommend anything unless we'd actually use it ourselves and we don't really care who the primary retailer is. It's all about giving you a legitimate recommendation and our honest opinion of each product.
We've been in business since 2008 covering tools, writing reviews, and reporting on industry news in the construction, automotive, and lawn care industries. Our Pro reviewers work in the trades and have the skills and experience to know whether tools can perform well in the field.
Each year, we bring in and review more than 250 individual products. Our team will put our hands on hundreds of additional tools at media events and trade shows throughout the year.
We consult with innovators in the technology and design of tools to gain a broader grasp of where these products fit and how they work.
We work with more than two dozen professional contractors around the United States who review products for us on real job sites and consult with us on testing methods, categories, and weighting.
We'll provide more than 500 pieces of new content this year absolutely free for our readers—including objective evaluations of individual tools and products.
The end result is information you can trust because of the editorial, scientific, and real-world professional experience we collectively utilize each and every time we pick up and test a tool.