A pressure washer is a pressure washer, right? Hardly. There's a wide range of choices with different PSI ratings, motors, and more. Choosing the best pressure washer for your specific needs opens up a mind-numbing number of models. Our team of experts did the homework to help you sort through the options.
Our Top Picks
Best Gas Pressure Washer Overall
In our book, the best gas pressure washer isn't just one model—it's the Simpson SuperPro Roll-Cage series. We love the 4-wheel, heavy-duty roll cage frame design, and that they're made in the USA with global materials. Whether you're rolling it in and out of your shop or loading and unloading from a trailer, it's easier to move than traditional 2-wheel designs.
We prefer the Honda-powered models, and there are also Kohler and CRX engine options. Pressure ratings range from 3000 to 7000 PSI with flow ratings from 2.5 to 8.0 GPM. If you use pressure washers professionally, you're sure to find a PSI/GPM combination that works for you.
Price: $949.99 – $5299.99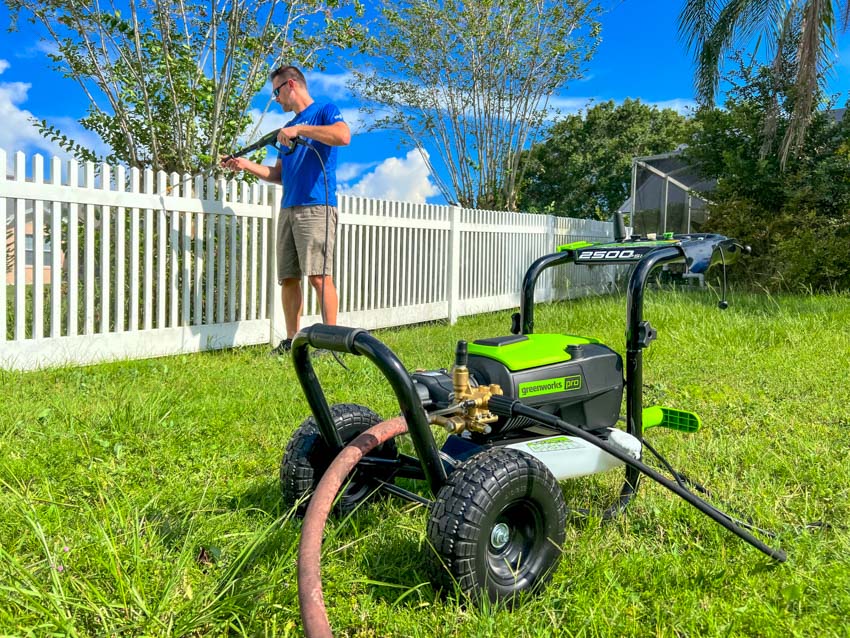 Greenworks stepped up its electric pressure washer game by moving into the professional category. Capable of 2500 PSI with 1.2 GPM or 2.1 GPM at 100 PSI, it reaches gas-level performance.
Bringing it into the commercial category, this model uses a 14-amp brushless motor and pairs it with a 1000-hour industrial-grade triplex pump to give it service life well beyond what we expect from residential models. As you consider the breadth of electric pressure washers, it's tough to find one better built than this.
Price: $769.99
Want something for residential use instead? Greenworks has a 3000 PSI electric pressure washer for $399.00.
Best Battery-Powered Pressure Washer
Ryobi 40V HP Brushless Whisper Series 2000 PSI Pressure Washer
We have finally reached a place where lithium-ion is powering a pressure washer. The second-generation Ryobi 40V HP Brushless model is the best battery-powered pressure washer in what currently remains a very narrow field of competition.
Packing 2000 PSI and 1.2 GPM of cleaning power in Boost Mode, it has a physical form nearly identical to the 1500 PISI version we recommended last year. With the upgrade in power, you need to use two batteries to power the unit.
One nice feature is that you don't need a pressurized water source. Drop the siphon hose in the pool or lake and clean to your heart's content. Since it's part of Ryobi's Whisper Series, it runs quiet enough to avoid disturbing your neighbors—just 57 decibels.
Price: $449.00 without batteries or charger
Best Heavy-Duty Commercial Pressure Washer
Simpson Mobile Trailer 4200 PSI
When you're ready to take your pressure washing business to the next level, a trailer-mounted model with a water tank lets you work whether there's a pressurized water source on-site or not. If that sounds like you need, check out Simpons's 95003 Mobile Trailer unit.
Powered by a Honda GX380 engine working with a CAT triples pump, it produces up to 4200 PSI and 4.0 GPM. In addition to the high level of performance, the engine also includes an electric start to make your life easier.
While the trailer is on the small side (4 1/2 x 5-foot platform), it holds the pressure washer, hose reel, and 150-gallon tank on a certified build.
Price: $5499.99
Best Pressure Washer for Home Use
Ryobi 3000 PSI Electric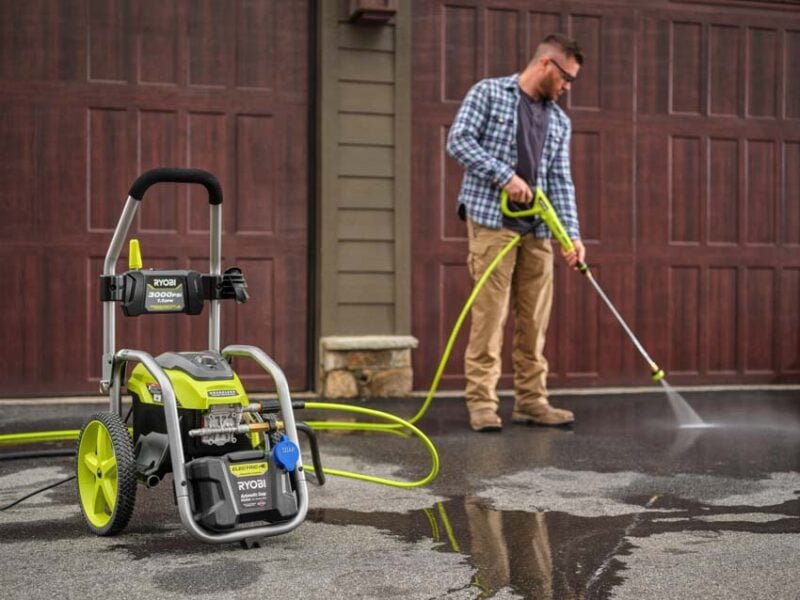 When you consider the best pressure washer for your personal home use, the debate is often between the easy ownership of electric and the higher power of gas. Ryobi gives you the best of both worlds with a brushless electric model that legitimately has the power level of gas. It maxes out at an impressive 3000 PSI and delivers 1.1 GPM at that pressure level. Like all Ryobi products, it's conveniently available at Home Depot.
Price: $449.00
Best Pressure Washer for Cars
Simpson PS3228 3300 PSI 2.5 GPM Gas
Our recommendation for the best pressure washer for cars comes with a major asterisk: *don't pressure wash your car! Most pressure washers have enough power to damage the finish and even dig into the paint. Use your pressure washer with a soap nozzle ONLY to apply soap and to rinse the vehicle. Stick to elbow grease and a soft cloth for the actual cleaning.
We prefer to pair a pressure washer with a foam cannon and we're partial to the Chemical Guys' Big Mouth Max Release Foam Cannon. While most foam cannons work with a wide range, we seem to get the best results with at least 3000 PSI and 2.0 GPM. 3500 PSI is about the top of the pressure range, putting a lot of the big commercial models out of the picture.
And just to reiterate a second time—don't pressure wash your car!
If you use a pressure washer professionally for car detailing, you need a model that can stand up to daily use. That's why we chose the Simpson PS3228 as our best pressure washer for cars. Its AAA triplex pump and Honda GX200 engine are in it for the long haul.
For performance, the 3300 PSI and 2.5 GPM numbers hit what we need to get the thickest foam from our cannons. It's also much less expensive than other professional options in the same performance range.
Price: $599.00
What About Electric Pressure Washers for Cars?
If all you want to do is apply soap without creating the thickest layer of foam, electric pressure washers work fine. However, even the most powerful fall short of the 2.0 GPM minimum we like to see for a foam cannon.
If you simply want to get the car soapy and wet and take off some dirt from the tires, cordless power cleaners provide a nice option and involve much less setup. This tool, along with some elbow grease, works for homeowners looking to wash their cars regularly.
Best Portable Pressure Washer
DeWalt raised our eyebrows with a brilliantly designed electric pressure washer that balances performance and portability better than others. On the performance side, you're looking at 2100 PSI and 1.2 GPM—better than most small-form pressure washers.
Everything packs into a suitcase-size form factor. The wand and nozzles store inside the housing and the hose tucks into the roll cage. DeWalt finishes it off with a telescoping handle and wheels to make it easily transportable even though it's larger than models we've recommended in the past.
Price: $299.00
Best Pressure Washer for Driveways and Concrete
The best pressure washer for concrete and driveways is partly about combining mid-to-high-level PSI with excellent flow rates. As a professional, if you can score one that's easy to roll on and off the trailer multiple times a day, you're in business!
Simpson accomplishes that with the SuperPro Roll Cage series. Our top choice is powered by a solid Honda GX200 engine and uses a AAA triplex pump to deliver 3600 PSI and 2.5 GPM. Paired with a surface cleaner, you can move through multiple concrete jobs in a day. It's also easier on your business' budget than some of the highest-performing models in the line.
Price: $1099.99
Best Pressure Washer for Stripping Paint
Simpson PowerShot 4400 PSI 4.0 GPM Gas Pressure Washer PS60843
When you turn to the best pressure washer for stripping paint, you're usually in the graffiti removal business. Pressure washers aren't smart: they can't tell the difference between the paint you want to remove and what you want to leave behind. For that reason, these machines are best for removing paint from bare concrete or metal where the finish behind isn't as critical. Of course, you can always come back and paint over it.
When it comes to removing paint, we want at least 4,000 PSI working for us. Since this job usually falls on professionals, we also prefer a commercial solution.
With 4400 PSI and 4.0 GPM coming from its Simpson 420cc engine and AAA triplex pump, the Simpson PowerShot PS60843 is our pick as the best pressure washer for stripping paint. It has a commercial-level build quality but at a surprisingly reachable price. At $899, it's also several hundred dollars less than a lot of its competition at the same performance level.
Price: $899.99 at Home Depot
Best Pressure Washer for the Money
Simpson Pressure Washers
In our opinion, no other brand offers the kind of value we see across the board from Simpson. They consistently deliver pressure washers with higher-quality parts for the price we're looking at. It's not uncommon to get a Honda engine at the same price or lower than other brands charge for an OEM engine. They also seem to have a solution for every application (one of the reasons why they appear so many times on our list).
Best Pressure Washer Surface Cleaner
Simpson 20-Inch Industrial Surface Cleaner
Want to make your neighbor jealous? Wait until they're pressure washing their driveway with a 25º nozzle. Give them a 30-minute head start and then hit yours with a surface cleaner. You'll be cracking open a beer with your feet on the coffee table way before they're done.
A surface cleaner takes the work from your pressure washer and directs it into a spinning nozzle that cleans a wide area. Each one has a PSI rating that you need to pay attention to and not overpower. For the easiest cleaning on larger models, look for one that has casters.
We like Simpson's larger 20-inch diameter and solid build to make quick work of large jobs. It works best with higher PSI pressure washers with the build quality to match. The downside? It's quite a bit more expensive than homeowner models, such as Simpson's $79.99 15-inch surface cleaner.
Price: $449.99
Best Pressure Washer Soap and Detergents
Even though most pressure washers inject soap and detergent after the pump, nearly all of them come with the same warning: never use bleach.
Instead, look for products that are specifically made for pressure washers. You'll extend the life of your accessories and connectors, and get your cleaning done faster than with water alone.
Best Vinyl Siding Cleaner for Pressure Washers
Simple Green Oxy Solve House and Siding Cleaner
When those siding-covered walls aren't looking as good as they should, the best vinyl siding cleaner for pressure washers is Simple Green's Oxy Solve House and Siding Cleaner.
It's pre-concentrated for pressure washers and is non-toxic and biodegradable. Using peroxide in the mix, it brings back colors without using bleach. We like the environmentally-friendly mix here, and it seems to work as well as other options that aren't.
Price: $19.99/gallon
We Also Recommend:
Rust-Oleum Krud Kutter House and Siding Pressure Washer Concentrate: $14.99/gallon on Amazon
Zep House and Siding Pressure Washer Concentrate: $39.99/4 gallons on Amazon
Best Concrete Cleaner for Pressure Washers
ZEP Driveway, Concrete, and Masonry Cleaner Concentrate
ZEP's Driveway, Concrete, and Masonry Cleaner is great for hitting your concrete surfaces, even if they're stained with oil, grease, and tire marks.
It's not as environmentally friendly as Simple Green, but it gives us an easier time getting tough concrete cleaning back up to par.
Price: $14.98/gallon
We Also Recommend:
Rust-Oleum Krud Kutter Concrete and Driveway Pressure Washer Concentrate: $15.98/gallon at Lowe's
Simple Green Concrete and Driveway Cleaner – Pressure Washer Concentrate: $23.99/gallon at Amazon
Best Car Soap for Pressure Washers
Chemical Guys Maxi Suds 2 High Foam Maintenance Shampoo and Gloss Booster
When it comes to car cleaning, we trust the Chemical Guys and recommend their Maxi Suds II High Foam formula as the best car soap for pressure washers. It foams up better than most to cut through the dirt and grease you collect. As it lifts them off of the surface, you can easily wipe them away without leaving scratches and swirls on your finish.
Price: $22.99/gallon
We Also Recommend:
Karcher Car Wash & Wax Soap for Pressure Washers: $10.98/quart on Amazon
Pressure Washer Buying Guide
Pressure Washer vs Power Washer: Aren't They the Same?
We find pressure washers and power washers to be very similar, and you'll see them with similar PSI/GPM ratings. There's one major difference, though—power washers have a heating element and pressure washers don't.
That makes power washers better for cleaning stuck-on messes such as oils and greases. They're also more expensive and require more maintenance, which is why many Pros and homeowners opt to use a pressure washer with a chemical detergent instead.
PSI vs GPM
Every pressure washer and power washer comes with two numbers: a PSI rating and a GPM rating. PSI, or pressure (pounds per square inch), is usually what gets the most attention, but they're both important.
PSI tells you the maximum force the water is going to hit your surface with. Higher pressure means more cleaning force. You'll get the most pressure from your 0º tip and it reduces (or disperses) as you move to your wider angle tips.
GPM (gallons per minute) is a measure of the maximum water flow. More water flow means more water is hitting the surface. This removes material more quickly. Some models have a flow control valve on the pump if you want to reduce water flow.
Calculating a Pressure Washer's Power
One way to compare one pressure washer's power to another is simply to multiply the two values together. Here's an example:
| | Pressure | Flow | Cleaning Power |
| --- | --- | --- | --- |
| Model A | 3000 PSI | 2.2 GPM | 6,600 |
| Model B | 3100 PSI | 2.1 GPM | 6,510 |
| Model C | 2800 PSI | 2.3 GPM | 6,440 |
PSI x GPM = Cleaning Power
Even though Model A didn't have the highest PSI or GPM rating, it actually has the most overall cleaning power.
How Much Pressure Washer Power Do You Need?
There are several general classes we consider when it comes to pressure washer power. What level you need is based on what you're hoping to do with it. Keep in mind, you can always use a wider nozzle to reduce the pressure and clean faster, but you can't make an underpowered pressure washer do more.
Under 500 PSI
Washing vehicles
Patio furniture (including wicker)
Screens
Under 2000 PSI
Shutters
Grills
Patio/lawn furniture
Screens
Lighter mildew/mold
Limited cleaning on concrete/asphalt
2000 – 3000 PSI
Decks
Fences
Pavement
Concrete (driveways and sidewalks)
Cleaning with smaller surface cleaner attachments
Siding
Stains
Lighter mildew/mold
3000 – 4000 PSI
Concrete (driveways and sidewalks)
Cleaning with larger surface cleaner attachments
Pavement
Siding
Fences
Decks
Deeper stains
Mildew/mold
Paint prep
Paint stripping/graffiti removal (at the top of the range)
4000+ PSI
Paint stripping/graffiti removal
Concrete (driveways and sidewalks)
Cleaning with the largest surface cleaner attachments
Pavement
Siding
Fences
Decks
Deeper stains
Mildew/mold
Paint prep
Gas, Electric, or Battery?
As you consider what kind of power plant you want on your pressure washer, there are some significant trade-offs.
Electric pressure washers are ideal for homeowners thanks to their low-maintenance designs. They also run quieter and with fewer emissions. The downside is that they're limited on power and water flow—the very things you need to get the job done quickly and efficiently.
If you're buying an electric pressure washer, consider one that has GFCI built-in. If you decide on one that doesn't have this feature, make sure you plug into an outlet that does.
Gas pressure washers are loud, require more maintenance, and have gas emissions. But electric motors don't have anything on the pressure and water flow you get from a gas engine. In fact, electric pressure washers pretty much tap out by the mid-2000 PSI range. Much more and you'll need a 240V plug.
Then there's battery power. Currently, Greenworks has the only battery-powered pressure washer on the market with legitimate pressure, though there are a few pressure washers in the 300–450 PSI range. The sacrifice here is primarily run time.
When you look at what the battery-powered industry is doing with gas engine replacements on ZTR's or Milwaukee's MX Fuel system, if electric options have a shot to compete with gas, it's going to be using a battery for power instead of a wall outlet.
Commercial or Residential?
While there are a few electric pressure washers that are labeled "commercial", they still fall well short of the pressure and water flow professionals need on a daily basis.
Instead, we're really talking about the difference between commercial and residential gas pressure washers. It boils down to two major components: the engine and the pump.
Commercial pressure washers use commercial-grade engines, such as the Honda GX series. Residential models use lighter-duty engines. The Honda GC series is a good example.
The other piece of the puzzle is the pump. The best pressure washer pump is a triplex pump on pressure washers for professional use and an axial cam pump on residential models. Many residential electric models use an integrated pump, but we prefer a separate axial cam design.
If you're on the commercial side, consider an engine with EFI—electronic fuel injection. It'll give you easier starting and better fuel economy.
Buyer Beware: PSI Max* (Buy a Certified Pressure Washer Instead)
There are pressure washers on the market, primarily from the Snow Joe brand, Sun Joe, that uses "PSI Max" in their boldest product packaging and product webpages. Unfortunately, it's completely misleading when you're trying to compare pressure washers in an apples-to-apples fashion.
Somewhere in smaller print, you'll find the "working pressure" or "rated pressure". And it's significantly less.
Take for example Sun Joe's 3000 PSI Max/1.30 GPM system. It's amazingly high power for an electric model, right? It sounds like it, but the actual working specs are 2300 PSI and 1.1 GPM. That "Max" pressure is more than 30% higher than its actual working pressure.
The rationale is that the pressure washer really does hit those numbers momentarily, and it's important for consumers to know to avoid damage or injury.
Things that make you go hmmm…
Avoid confusion by purchasing a pressure washer certified by either the PWMA or CETA. To learn more, check out our article on pressure washer PSI that's too good to be true.
Read more about the Better Business Bureau's NAD decision to allow PSI Max* advertising based on consumer relevancy here.
Pressure Washer Nozzles
Every pressure washer needs a set of nozzles, a hose, and a wand. Most use a standard quick connector, making a replacement pretty easy to acquire if you need it.
A lot of pressure washers come with 0º, 15º, 25º, 40º, and soap nozzles, though some may come with one or two less. That grouping covers the vast majority of applications you'll come across. They're color-coded and most models have a key on the frame you can reference. Even if it doesn't, the angle is marked on the nozzle itself.
Nozzles are pretty inexpensive if you need to replace them. However, they have a PSI rating. Make sure you don't buy one rated for less than what your pressure washer delivers. Most are a 1/4-inch QC (quick connect) and are compatible with the majority of pressure washer wand connections.
Pressure Washer Hoses
The hose that comes with your pressure washer is going to be paired intentionally by the manufacturer. Like the nozzles, they're rated for a particular PSI. When looking for a replacement, use that rating as a guide and get as close as you can to what your model has.
You don't want to put more pressure through a hose than it's rated for. On the other hand, getting a hose that's rated for a lot more pressure than your pressure washer produces can reduce your performance, especially if you move up in diameter.
When in doubt, check your manual to see what hose diameter and length are appropriate for your exact model.
Pressure Washer Wands
Pressure washer wands are probably the most vulnerable part of the entire system. Because they are tubes by nature and need to be light enough to effectively use, they're also prone to bending, pinching, or flat-out breaking off if they get stepped on.
The best way to avoid damage is to hang the wand off the ground when you're not using it and try to avoid leaning it against the wall or trailer.
Sooner or later, you're going to need a replacement, though. Like the other accessories we've been discussing, they have a PSI rating to them. Stick with the same diameter tube and quick connect nozzles (most are a 1/4-inch tube with 1/4-inch QC), and you should be good to go.
The last thing to look for is the connection to your spray gun—the threads need to match. Most are M22 connections and you can always double-check your manual to be sure.
On a Well for Your Water Supply?
Most pressure washers need a pressurized water supply, even though the pump and the engine take it to another level. Water coming from well pumps often doesn't have enough pressure and might not work with some pressure washers. Double-check the manual to be sure, and email the manufacturer if it's not clear.
Hey, you made it to the end of the article! Thanks for sticking with us—we know it's a long one. There are a lot of relevant topics and scenarios, including some we had to leave out for the sake of time and space. If you have any questions, comments, or want to give us a shout-out about your favorite pressure washer, feel free to leave them in the comments below!
Why You Can Trust Pro Tool Reviews
Ever check out a "review" site and you can't tell if they actually tested the tools or if they're just "recommending" the Amazon top sellers?
That's not us. We only recommend what we'd actually use, even if we don't earn a commission from it. It's all about giving you a legitimate recommendation and our honest opinion of each product.
We've been in business since 2008 covering tools, writing reviews, and reporting on industry news in the construction, automotive, and lawn care industries. Our Pro reviewers work in the trades and have the skills and experience to know whether tools can perform well in the field.
Each year, we bring in and review more than 250 individual products. Our team will put our hands on hundreds of additional tools at media events and trade shows throughout the year.
We consult with innovators in the technology and design of tools to gain a broader grasp of where these products fit and how they work.
We work with more than two dozen professional contractors around the United States who review products for us on real job sites and consult with us on testing methods, categories, and weighting.