Last Updated on July 11, 2023
Trying to recommend the best ladder is a lot like trying to choose the best car. Do you want something small or large? Is this ladder destined for the home or the job site? Have you considered the many available features present in ladders? You get the idea. To cover our bases, we lined up our best ladder choices based on reviews and hands-on with literally dozens of ladders in just as many applications.
Choosing the right ladder is more complicated than it looks on the surface. You may have the temptation to try and find a "one size fits all" product. You really can't, however, fit everything you need into a single best ladder. However, in some cases, you do see several features combined into one product. Let's start with four key ladder questions you should answer before going shopping.
Check out our top recommendations below. If you need some help deciding which type of ladder to get, scroll down to see some tips.
Best Step Ladder
Step ladders are the classic A-frame style that almost all of us saw in our Dad's garage. Readily available in both aluminum and fiberglass models, these represent the dominant choice for low and medium-height job site applications. Almost every pro has at least one step ladder in their arsenal due to the variety of spaces that it can work in and its ability to be free-standing.
We love the Werner Leansafe because it works so well for both everyday homeowner tasks and professionals. Werner designed the Leansafe—as you may imagine—to safely lean against walls, studs, poles, and even into corners. Of course, it also works as a standalone A-frame ladder.
You can order it in 4-12-foot heights, making it super-versatile. We also like the non-conductive fiberglass side rails and 300 lb load capacity. Depending upon which model you choose, the Werner Leansafe gives you anywhere from 8–16 feet of reach. The line starts at $189.99 and runs to $414.99.
A similar option is Little Giant's King Kombo 3-in-1 ladder.
Best Podium Ladder (Platform Ladder)
Podium ladders, also known as Platform ladders, are a specialized type of step ladder. Instead of consistent steps all the way to the top, these remove the last couple of rungs in favor of a larger standing area. Most extend the top of the ladder higher to surround you at hip height. The best podium ladders also often include trays to hold and organize tools. This keeps them within easy reach. To learn more, check out our article on why you should buy a podium ladder.
We chose the Werner PD6200 series as our best podium ladder for several reasons. We find the larger base more comfortable than smaller platforms and far more convenient than scaffolding. A LOCKTOP guard rail holds a variety of hand tools, hardware, or even a drill or impact driver. Plus, the Type 1A duty rating certifies it for 300 total pounds.
If you're looking at this category for a shop ladder or to glide around more easily on the jobsite, each version also has a "C" model. They have automatically engaging castors on all four feet! The price might be the only downside—they start around $175 and run top out over $500.
Best Extension Ladder
Go with an extension ladder when you need to reach high places. These products reach lengths of 60 feet or more and require a solid vertical object to lean against. OSHA also requires that the distance from what you are leaning against to the base be 1/4 the working height of the ladder. In other words, if you're leaning it against a roof that's 20-feet tall, the base needs to angle back 5 feet away. That proper angle keeps it stable while you work and helps ensure it doesn't slide out from under you.
Unlike our other categories, we have two great options for you—one that focuses on lighter weight and another that makes raising and lowering easier.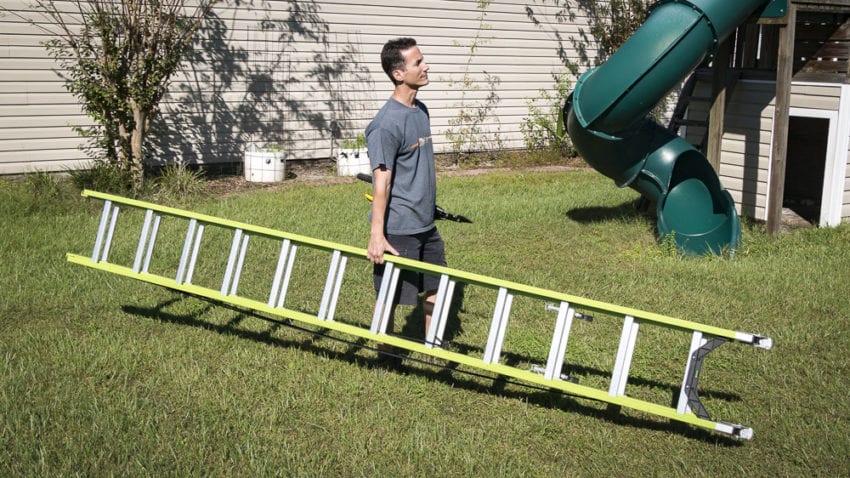 If your idea of the best extension ladder involves lighter weight and still hitting a 300-pound duty rating, the fiberglass Little Giant HyperLite is our current favorite. It's incredibly lightweight. In fact, our 24-foot model weighs just 42 pounds. The price adds about $100 to what you might pay for a standard 24-foot fiberglass model, but we think its convenience makes the additional cost well worth it. They start around $300 and run over $900 for the tallest, most feature-rich model.
Werner GlideSafe T6200-2GS Series
Werner's GlideSafe extension ladders have a Lift Assist design that they claim makes it up to 50% easier to extend compared to standard models. While that's tough for us to quantify, it really is much easier to raise. There's also an assist mechanism to help you lower the extension more smoothly and avoid getting your hands caught or burning your hand on the rope. If easier raising and lowering is your top priority, a Werner GlideSafe is the best extension ladder for you.
In addition to those features, the entire T6200-2GS line has non-conductive rails for working near electricity and a Type 1A 300-pound duty rating. They range from 20 to 40-foot lengths and run from $279.99 to $659.99.
Best Multi-Position Ladder
There are several types of multi-position ladders to choose from. The best multi-position ladder options share a similar design, though. Notice the pivot point at the top instead of a traditional A-Frame top. This allows the ladder to swing out completely and become an extension ladder.
In between, they can lock into a number of angles between the A-Frame and 180° extension stances. You can even kick out at 90 degrees to act as scaffolding using an open window frame or other solid structure to lean on. When it comes to stairs or other uneven surfaces, you can set up each side at a different height to make a stable A-frame.
The downside is the rungs are the narrower extension ladder style. They put more pressure on your feet than wider step ladder rungs. They can also be heavier than dedicated step ladders of the same size.
Little Giant Epic Series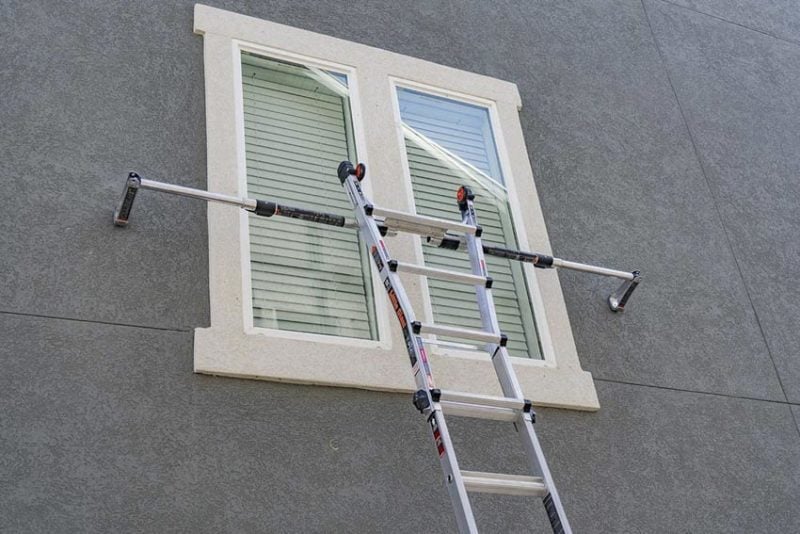 Little Giant's Epic series earns our top pick as the best multi-position ladder by combining the versatility we look for in this class with Ratchet Levelers. These feet extensions pull out to lock into different positions and even your ladder out on uneven ground. They also include Safety Rails—arms that reach out from the ladder to stabilize the top section against a wall or extend up to increase the usable height of the ladder.
The series is Type 1A rated for 300 pounds and has 17, 22, and 26-foot models ranging from $369.99 to $499.99.
Best Work Platform
Work platforms are like portable scaffolding without the assembly. They're easier to move around and don't take nearly the storage space. The best work platforms have independently adjustable heights on either side as well. What you don't get is the height potential of scaffolding. Instead, these offer plenty of foot space for jobs that you only need 2 – 3 feet of extra height for.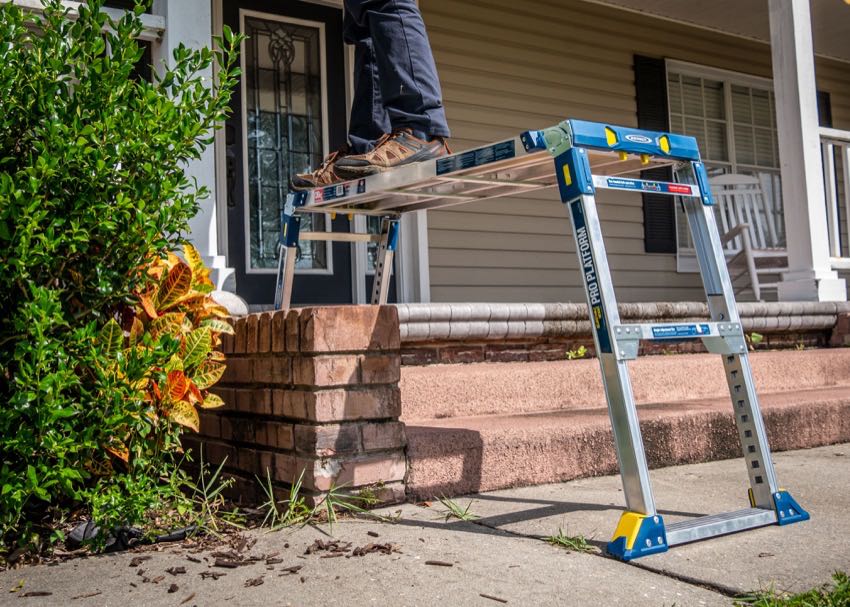 Werner's Adjustable Pro Work Platform is so convenient and easy to use that Clint "borrowed" it for some work at his house and we haven't seen it in the shop since. With a 46-inch x 14-inch platform and height adjustment up to 30 inches, each side can lock in independently to the other, making it great to use around steps and other uneven surfaces. Weighing around 21 pounds, it's easy to carry with a centered handle and folding legs. As far as we're concerned, the Werner Adjustable Pro Work Platform is the best around. Get this 300-pound rated work platform for $139.
Best Telescoping Ladder
I'm going to be honest—the idea of trusting my life to a telescoping ladder terrifies me. It looks like a Wile E. Coyote cartoon waiting to happen. That said, they're lightweight, store in very little space, and we haven't had any accidents using them or even talked to anyone who has.
In general, they lock securely and don't introduce any extra flex as you're climbing. They even come with duty ratings up to 300 pounds. So maybe it's an irrational fear.
Xtend + Climb Contractor Series
We tried out the first-gen Lionladder telescoping ladder and the company improved the design shortly thereafter. We liked the original, so adding additional stabilizers to the feet made a decent product even better.
However, Xtend + Climb is the dominant brand you'll find in major retail stores, and their Contractor series CS155+/300 is our pick as the best telescoping ladder. It carries a certified ANSI Type 1A 300-pound duty rating and is OSHA-approved for jobsite use. They're not cheap by any means, so make sure you really need the telescoping function enough to pass on a high-quality extension ladder for the same price.
This one can run more than $500 from some retailers, but we've seen it on Amazon for around $425.
Best Ladder for Home Use
For most jobs around the house, the best ladder for home use is actually a combination of two ladders. A step stool is a great choice to give you that little bit of extra reach you need. Changing lightbulbs or adjusting security cameras is a lot simpler when you don't need to haul out a larger ladder. We like models that fold up out of the way.
When you need more reach, a 6-foot A-frame step ladder is a good all-around choice. Some folks prefer to get the lightest (and cheapest) aluminum ladder possible, but keep in mind the duty rating. A Type III might be light, but it doesn't take a very big guy with tools to exceed the 200-pound limit.
Between a step ladder and an A-frame ladder, you can cover most basic homeowner needs safely.
Best Ladder for Cleaning Gutters
When you're cleaning gutters, you first need to decide if your expectation is to clean them from the ladder or from the roof. Both carry significant risk, so keep in mind that it's much better to retrieve a tool from the ground than for paramedics to lift you into an ambulance from it.
Either way, an extension ladder is your best bet for getting up there. Models such as Little Giant's Hyperlite make hauling the ladder easier while Werner's innovative GlideSafe makes raising and lowering much easier.
Best Ladder For Painting
Painters require multiple ladder configurations to get the job done. The best ladder for painting is one that has a wide platform to give your feet a break. For painting standard 8-foot ceiling rooms, a work platform is easy to carry, set up, and adjust the height. With roughly 3 feet of height, it can let you reach all the way to the ceiling to get to those corners.
There's also an A-frame ladder and you'll likely need a couple of different heights to cover the various types of rooms you paint in. Look for a platform or podium ladder to give you the reach of an A-frame with a more foot-friendly standing area.
Best Ladder for Painting a 2-Story House
When it's time to hit the exterior, the best ladder for painting a 2-story house is an extension ladder. While a bucket lift is ideal, not everyone has access to them and sometimes the job isn't big enough to justify renting one. Whether it's on the ground or a section of the first-floor roof, look for an extension ladder, such as the Little Giant SumoStance, with adjustable feet to deal with any uneven surface where you need to set up.
Best Ladder for Stairs
The best ladder for working on stairs is a multi-position ladder. Because these can pivot into an A-frame and have extensions for both sides, you can set the ladder up with one end longer than the other and keep the ladder just as even as you can on the floor.
Best Ladder Brands
As you can imagine, we've tested a ton of ladders over the years. A look around our shop reveals we primarily have Werner and Little Giant ladders that we rely on. To those brands, we'd add Lousiville Ladder as the top three brands we have the most trust in.
That's not a big surprise. Werner, Little Giant, and Lousiville dominate the landscape, and for good reason. These are the highest quality ladders we've come across and the brands our Pros put their confidence in.
How to Pick the Best Ladder
It only takes a moment on the Werner, Little Giant, and Louisville ladder websites to see that ladders have many different designs and features. Once you settle on a style, we identified three key questions to ask when shopping for the best ladder:
How Tall a Ladder Do You Need?
Each style will have a different safe working height. Remember that in general, the top 2 feet (3 feet on extension ladders) or so are unusable to stand on, though they can have features to hold and organize your gear.
What Duty Rating Should You Get?
Definitely factor in how much weight you need to support when choosing the best ladder for your application. This comes down to its Duty Rating. A ladder's Duty Rating indicates the maximum weight capacity it can safely carry. You can easily figure out how much weight you need to support by calculating the following:
Start with your weight (actual weight, not your dream weight!)
Add in the weight of your clothing and PPE
Weigh any tools and supplies you plan to carry with you
Consider any tools or supplies you may stored on the ladder itself
There are five categories of Duty Ratings specified by ANSI (the American National Standards Institute):
| ANSI Type | Description | Weight Rating |
| --- | --- | --- |
| Type IAA | Extra Heavy Duty | 375 lbs. |
| Type IA | Extra Heavy Duty | 300 lbs. |
| Type I | Heavy Duty | 250 lbs. |
| Type II | Medium Duty | 225 lbs. |
| Type III | Light Duty | 200 lbs. |
If you want to locate the official Duty Rating for a ladder, find the specifications label. Typically, this sticker lives on the side and should be easily readable. A common misconception is that longer lengths handle more weight. In actuality, length and ANSI Types have nothing to do with each other.
What's in a Frame? Aluminum vs Fiberglass
Aluminum and fiberglass are by far the dominant ladder frame materials. While aluminum tends to be lighter, fiberglass rules when working around electricity. Fiberglass models have recently gained some ground as new manufacturing techniques have dropped both weight and size. Due to advancements in materials, we no longer recommend wood ladders of any kind. For more safety tips and OSHA regulations, check out our Ladder Safety article!
Why You Can Trust Pro Tool Reviews
Ever check out a "review" site and you can't tell if they actually tested the tools or if they're just "recommending" the Amazon top sellers? That's not us. We won't recommend anything unless we'd actually use it ourselves, and we don't really care who the primary retailer is. It's all about giving you a legitimate recommendation and our honest opinion of each product.
We've been in business since 2008 covering tools, writing reviews, and reporting on industry news in the construction and lawn care industries. Our Pro reviewers work in the trades and have the skills and experience to know whether tools can perform well in the field.
Each year, we bring in and review more than 250 individual products. Our team will put our hands on hundreds of additional tools at media events and trade shows throughout the year.
Pro Tool Reviews consults with innovators in the technology and design of tools to gain a broader grasp of where these products fit and how they work.
We work with more than two dozen professional contractors around the United States who review products for us on real job sites. We consult with them extensively on testing methods, categories, and practical applications.
Our site will provide more than 500 pieces of new content this year absolutely free for our readers. That includes objective evaluations of individual tools and products.
The end result is information you can trust because of the editorial, scientific, and real-world professional experience we collectively utilize each and every time we pick up and test a tool.