We've used more than a dozen miter saw stands throughout the years. The best miter saw stand for the carpenter may not be best for the guy adding an addition to a home. One may prioritize portability and simplicity while the other may want a more robust unit that rolls over typical jobsite terrain.
So we have several recommendations depending upon who you happen to be and what things you prioritize in your workflow.
Editor's Note: Check out our best miter saw article for our top recommendations.
Best Miter Saw Stand Overall
Bosch T4B Gravity Rise
The Bosch T4B Gravity Rise miter saw stand has been our favorite since the first day we used it. This stand also stands the test of time—as evidenced by its 10+ year run.
The Bosch T4B stand has adjustable length and riser supports. The risers make an excellent feature for the fact that, if you set it up correctly, you don't have to hold the end of the board to make sure you have a true cut.
No one wants to make multiple trips lugging all of the equipment around the house when cleaning up at the end of the day. The Bosch T4B miter saw stand makes this less of a chore.
You can get it for $389.
Best Portable Miter Saw Stand
Metabo HPT UU240FM
The best portable miter saw stand in our experience has a great mix of the following:
Easy to transport
Reasonably lightweight
Simple to operate
The Metabo HPT UU240FM is the best miter saw stand for portability. It fits the bill on all of these items and then some. While billed as a "heavy-duty" model, it really functions as a truly portable stand that gives you helpful features without overdoing it.
You get quick-release mounting brackets a pair of 8-inch wheels, and 8 feet of outfeed support. The legs fold up very quickly, and the entire product weighs less than 50 pounds once you remove the miter saw. Speaking of miter saws, you get enough stability to affix a 12-inch slider. While we recommend removing the saw for transport—you can keep it on and move it to another part of the jobsite in a pinch. You really can't go wrong with this $192.99 miter stand.
Other Great Options:
Best Folding Miter Saw Stand
DeWalt DWX726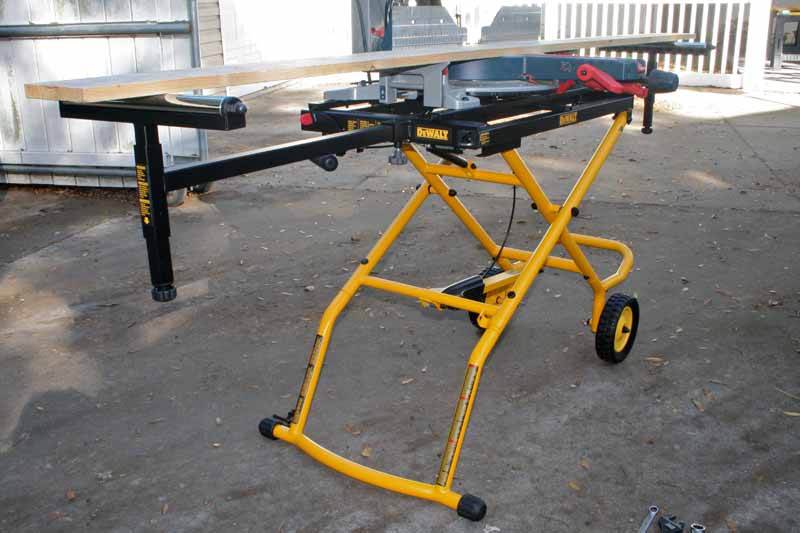 For the best folding miter saw stand we again prefer the Bosch T4B noted above. However, since we already covered that one, our next pick comes down to the DeWalt DWX726 Rolling Miter Saw Stand. Aside from being an impressive stand on its own, this folding stand prices out at just $199. That's $170 cheaper than the Bosch Gravity Rise. Considering you can buy almost two of these for one Bosch—you really have to seriously consider the DeWalt.
We like the simplicity of this stand along with its solid stance. Even when used with a 12-inch sliding miter saw it resisted wobble during cuts. It rises and collapses easily, and you can safely keep the saw in place while storing the system vertically.
Other Great Options:
Bosch T4B Miter Saw Stand (top choice) – $389
DeWalt DWX723 Miter Saw Stand – $229
Delta 36-267 Stand – $281.99
Best Budget Miter Saw Stand
Bosch T1B
When it comes to the best budget miter saw stand, we wanted to fall back to one of our less expensive picks. With these saws, even a "cheap" stand has to be able to offer enough support to make cuts, however. Still, a budget product should work with at least a 10-inch miter saw without problems. For that we selected the Bosch T1B miter saw stand. For just $148.99 you get a solid stand with dual sliding rails. And those rails extend out to a total of 8-1/2 feet to support material up to 16-1/2 feet wide.
Notably, this stand also includes an adjustable leveling foot. As anyone who's tried to park one of these on a jobsite—three legs can rest flat on anything… Four? Not so much. With the single adjustable leveling foot, you can find the stability to work on nearly any uneven surface.
Other Great Options:
DeWalt DWX723 Miter Saw Stand – $229
Bosch GTA3800 Folding Leg Miter Saw Stand – $249.99
Delta 36-137 Adjustable Miter Saw Stand – $204.99
What About the Best Fence Miter Saw Stand?
Lots of discussions have centered around the Fastcap Best Fence Pro Miter Saw Stand. This system features a rather robust product that suffers no foolishness. By that, we mean that it has a very wide stance, comes with dual sets of knobby pneumatic tires…and weighs a ton.
Depending upon whether you get the Best Fence bench mount system or the tricked-out Pro model, you'll spend anywhere from $399 to $1400+. Clearly, this tool doesn't target entry-level users!
We haven't yet reviewed this system in-house. However, having used well over a dozen stands, we can make some quick observations regarding this system. First, your minimum cost for a Fastcap Best Fence Pro model with wheels is $803.79. If you want dual 64-inch fences, that price goes up. The Pro models feature precision cut length indicators and stops as well as anodized fences.
The Best Fence miter stand also keeps the wheels at the top. That means you need to navigate around these obstructions while working. It's not a deal-breaker, but it could become a hassle depending upon how you work. In any case, we doubt you'll find a more solidly built (or expensive) miter saw stand anywhere.
Best Miter Saw Stands from More Brands We Trust
Best Ryobi Miter Saw Stand
The Ryobi Universal Miter Saw Quickstand gives you a very portable, basic miter saw stand. It lacks wheels but holds up to 300 pounds, letting you extend the extension rails and work stops to handle longer material. Use this if you want a fully-collapsible stand that fits easily into the work van or truck. You can even slide it into the back of your pickup truck. At $179, you can find less expensive products with similar or better features—surprising given Ryobi's typical value proposition.
Price: $179
Best Ridgid Universal Mobile Miter Saw Stand
The Ridgid Universal Mobile Miter Saw Stand with Mounting Braces has occupied a spot in our shop for years. Similar in general style to the Bosch Gravity-Rise, this stand lets you wheel around your miter saw on its large 12-inch wheels. That also gives it a ton of maneuverability when you're on a rough jobsite.
With 300 pounds of capacity and extension arms that include material stops, you can support longer workpieces. We do, however, wish this stand included at least one roller guide.
Price: $229
Best Delta Rolling Miter Saw Stand
Delta has a foldable rolling miter saw stand that definitely caught our eye. While it holds up to 350 pounds, it does so on smaller rubber-treaded wheels. Compatible with virtually any saw, the Delta 36-267 comes in as an affordable option for anyone looking for an entry-level rolling stand.
Price: $215.27
Best Bora Portable Miter Saw Stand
What sets apart the Bora steel folding portable miter saw stand (PM-4000) is its simplicity. For less than $100 you can get a truly compact tool that fits and goes anywhere. It has 116-inches of material support using the extension arms. It can also sustain up to 500 pounds between the material and the saw. That's a rugged tool for the price!
Price: $90.27
Best Makita Miter Saw Stand
The Makita WST01N Large Rising Base Miter Saw Stand looks a tad unconventional. What it offers is a truly wide range of uses. The spring-loaded table expands and collapses easily and rolls over rough terrain with its 12-inch wheels. Within, it hides and stores away up to 9-feet of material support that—unusually—includes vertical bracing. It also has 5 different height settings to adjust to nearly any application or user.
Price: $318.36
Best Milwaukee Miter Saw Stand
If you're a fan of Big Red, the Milwaukee 48-08-0551 miter saw stand gives you everything you need for portable saw cutting. Made of lightweight aluminum, you can easily throw it in your truck or work van. It supports up to 500 pounds and the optional carrying strap makes it easier to get on and off the jobsite. Lastly, this stand offers one adjustable foot. That helps you level it and ensure you're steady wherever you happen to be cutting.
Price: $239
Our Favorite Miter Saw Stand Reviews
What We Look for in a Miter Saw Stand
The following come across out as "make or break" features for a miter saw stand to be part of our recommended list.
Stability
You can't make a cut if your stand wobbles when you use it. Some products can hold your tool, but when you begin to work, they quickly feel unbalanced and unstable. In some cases, that may be solved by realigning the saw's front-to-back position on the stand. In other cases, the frame of the stand simply can't handle the duties required of it.
For fixed-leg stands, we look for an adjustable foot. As we mentioned above, you can level a three-legged stand on the moon. got to four legs, however, and you need to adjust the height of that last leg to eliminate wobbling when the ground isn't perfectly flat.
Outfeed Support
Making cuts for many on-site applications involves larger, longer pieces of material. A good stand always includes some amount of useful outfeed support. Better products have rollers that let material glide over to the saw blade. Others only include material stops. In either case, the outfeed supports should extend and retract conveniently. They also need the stability to handle heavier materials as needed without flexing.
Mobility
We can measure the mobility of a saw stand in several ways. It may include robust tires that let it roll over various jobsite conditions. Other stands might simply fold down simply once the saw is removed. If you can pick it up and carry it like a briefcase—that also fits our standards. The difference comes down to budget and preference. We've actually used both styles of stands over the years and the type of work you do—as well as the transportation you prefer—dictates your choice.
Ease-of-Use
Ease-of-use makes for a catch-all metric that determines just how well the features work. If the stand collapses, does it do so easily? If it has folding legs—do they tuck away neatly and without hassle? The same goes for adjusting outfeed supports, releasing the saw mounts, and utilizing material stops. A tough, sturdy product with difficult-to-use features doesn't make for a great user experience.
Saw Portability
While some miter saw stands might end up holding your saw permanently, others require its removal. We look for easy-to-use latches that let the mounting brackets release quickly and easily from the stand. If it catches or hangs up—that can cause problems when trying to set up or pack up for the day.
Value
Before we recommend a product, we want to make sure that what you spend makes sense. We check build quality, performance, and features and "tally" that against the cost. It's OK to pay more for a good product or tool. You just have to get enough value for the hard-earned dollars you're spending.
Why You Can Trust Pro Tool Reviews
Ever check out a "review" site and you can't tell if they actually tested the tools or if they're just "recommending" the Amazon top sellers?
That's not us. We only recommend what we'd actually use, even if we don't earn a commission from it. It's all about giving you a legitimate recommendation and our honest opinion of each product.
We've been in business since 2008 covering tools, writing reviews, and reporting on industry news in the construction, automotive, and lawn care industries. Our Pro reviewers work in the trades and have the skills and experience to know whether tools can perform well in the field.
Each year, we bring in and review more than 250 individual products. Our team will put our hands on hundreds of additional tools at media events and trade shows throughout the year.
We consult with innovators in the technology and design of tools to gain a broader grasp of where these products fit and how they work.
We work with more than two dozen professional contractors around the United States who review products for us on real job sites and consult with us on testing methods, categories, and weighting.
We'll provide more than 500 pieces of new content this year absolutely free for our readers—including objective evaluations of individual tools and products.
The end result is information you can trust because of the editorial, scientific, and real-world professional experience we collectively utilize each and every time we pick up and test a tool.