Choosing the best oscillating multi-tool used to boil down to just a couple of brands. Not anymore. Advancement in battery, motor, and vibration control technologies offers more viable options than ever.
As we considered the landscape, our team was unanimous in our selection of cordless oscillating multi-tools. Corded models are absolutely relevant and there are some outstanding options available. However, when we laid out the requirements of earning the "best" label, everyone wanted the convenience of battery power.
Best Oscillating Multi-Tool Overall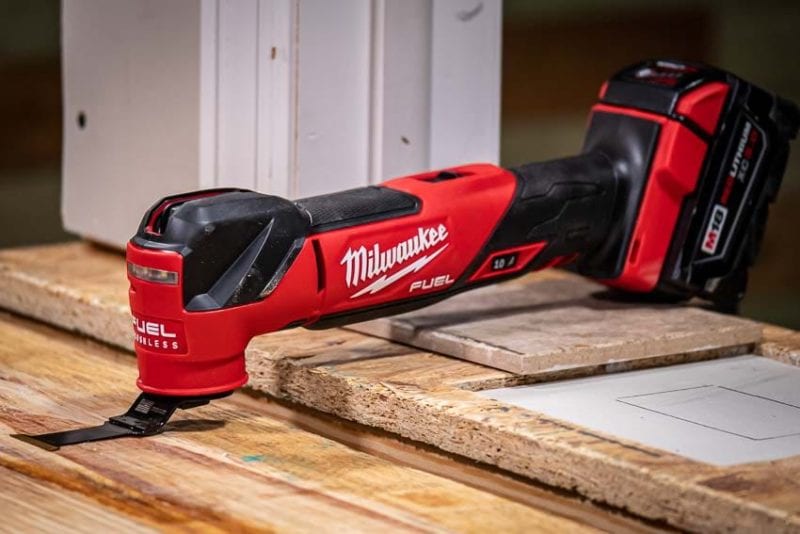 Let's clear the air here—if cutting speed is your highest priority, there's Milwaukee, and then there's everyone else. On a single cut, Milwaukee's M18 Fuel is way ahead of the competition. Plus, there's very little vibration when you're cutting.
Combined with the physical design, the control overall control of the tool is better, making your cutting even faster because they help you reduce mistakes during the cut.
While Milwaukee's performance tops the charts in our testing, it's not a complete runaway. This model still uses a clunkier accessory change system. There are several other interface designs that we'd rather use.
Best Oscillating Multi-Tool Vibration Control
This generation of multi-tools features some outstanding improvements in vibration control with several brands making huge improvements. Two models stood out in our testing with lower vibration than the rest.
Makita's XMT03 is good quality but has been in need of an upgrade for a while. When we first saw the XMT04—Makita's updated Sub-Compact model—we weren't 100% sure what to expect. Then we started cutting and sanding… what a difference!
Makita nailed the vibration control in this model, dropping it to the levels that beat almost all of its competitors. At the same time, they increased the cutting and sanding speed significantly. To top it all off, this model has a StarlockMax interface, although it still has a pin holding the blade in place, so it's not completely hands-free.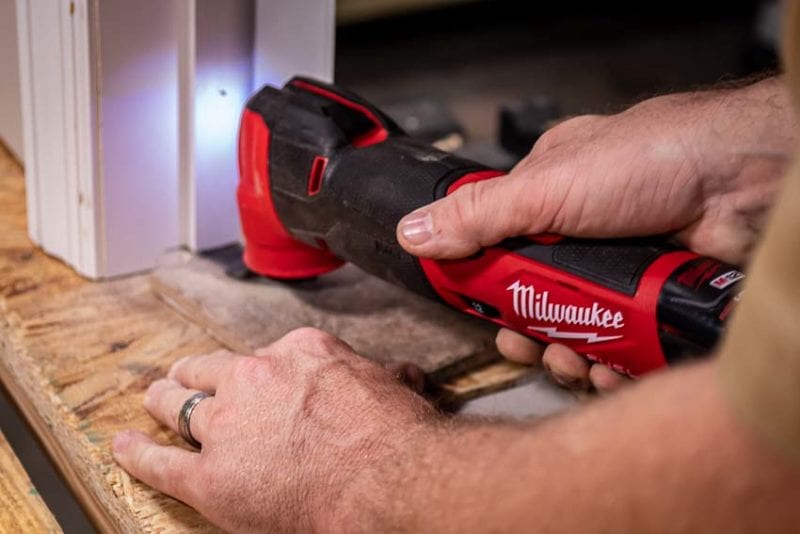 The big story for Milwaukee is that their design has finally overtaken Fein. Their M18 Fuel version is very close, but Milwaukee's M12 Fuel joins Makita with the best oscillating multi-tool vibration control of the group we tested.
Milwaukee's M12 Fuel oscillating tool earns another big win for the ergonomics of its design. Its 12V foundation is lighter than the 18V models, it's short enough to reach tighter spaces better, and its slim handle makes maneuvering into awkward positions easier.
Best Value Oscillating Multi-Tool
Flex brings a legit Pro-level cordless oscillating multi-tool to the table with performance and design that we don't expect from a first-generation tool. It was one of the fastest cutting in our tests and has five electronic speeds to choose from. Its isolated head design does a nice job of reducing vibration, though it's not as low as Fein, Makita, and Milwaukee.
The ergonomics of the tool are excellent, too. It has a slimmer handle than many with an overmold that promotes a secure grip and comfort. Add to that a Starlock hands-free accessory interface and you get a compelling package.
The best part is the price. $199 gets you the tool, a 2.5Ah battery, and a fast charger, making it our best value pick for Pros.
Best Budget Oscillating Multi-Tool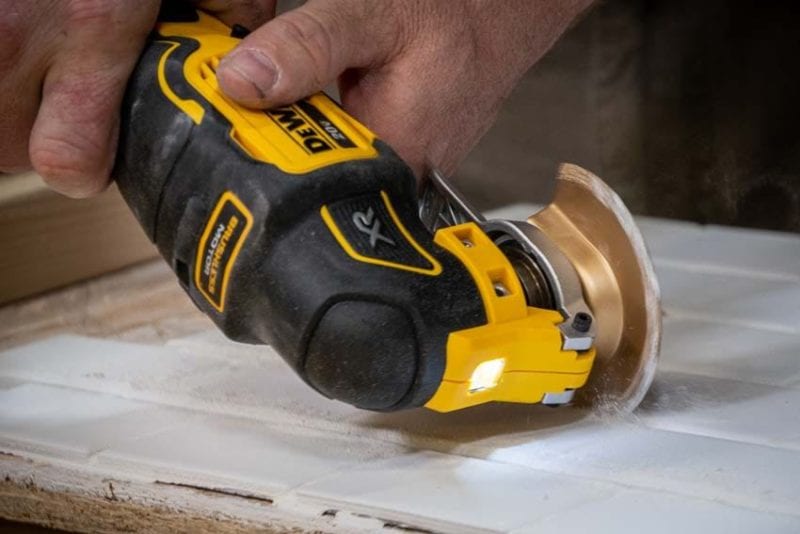 There's a difference between getting the cheapest oscillating multi-tool and a good tool on a budget. We didn't bother testing the cheapest models. We've gone down that road before and were left disappointed. DeWalt's XR brushless multi-tool has been out for a couple of years, but it's an excellent design. Both the cutting speed and vibration control are far better than the brushed model it replaced.
Even though the performance is better, the physical design didn't change much. The handle fits comfortably in your hand and the variable speed paddle trigger gives you control over both the speed and grip location.
Between this model and the 20V Max Atomic, we still prefer the DCS356. It has three speeds instead of one and a higher top-end speed. There's also a $99 kit available that makes this the best value oscillating multi-tool available.
Price: $159 bare, , $99 kit (1 x 1.5Ah battery), $219 kit (1 x 2.0Ah battery)
Heads up: DeWalt has a 12V Xtreme oscillating multi-tool on the way that's an even lighter and more compact design.
Best Oscillating Multi-Tool Blade Change
There were no surprises in our blade change evaluation as Starlock still dominates in speed and ease. By simply pressing the interface into the blade, it snaps the lock on it and you're ready to go. When it's time to change it out, the release ejects it from the tool without any additional help.
Bosch and Fein collaborated to create the Starlock interface and use it extensively. We also see it on Festool's cordless Vecturo, Flex's 24V, and Makita's 18V Sub-Compact multi-tools.
Even though Starlock has a significant advantage, Craftsman and DeWalt have a clamping style interface that's also very easy to use.
Best Oscillating Multi-Tool Blades
For our testing, we primarily used Milwaukee oscillating multi-tool blades. They have a very deep line that covers just about anything you need for cutting, scraping, and sanding. As far as universal fit blades go, we haven't run into anything Milwaukee doesn't have that we've needed. Here's a snapshot:
Bi-metal blades
Titanium coated bi-metal blades
High-carbon blades
Titanium-enhanced carbide blades
Japanese tooth blades
Drywall blades
Sanding pads
Diamond grit (grout removal) blades
Scrapers
Sealant cutters
What they don't have at the moment are blades for Starlock multi-tools. For those models, we turn to Imperial Blades (owned by Milwaukee Tool) to get corresponding blades with the Starlock interface.
The Elephant in the Room: What About Fein?
Fein has been a favorite multi-tool of ours for a while now. We still use the cordless MultiMaster and SuperCut models that we've had for years. However, Fein shifted to a MultiMaster-only cordless offering and we haven't been able to get our hands on them to see how they compare to the models we have and love.
Chances are, these are still among the best oscillating multi-tools available. Until we can use them to know for sure, we can only go on Fein's stellar reputation.
Best Oscillating Multi-Tool Recommendations from Brands We Trust
Bosch was part of the team that developed the Stalock system, so it's no surprise our favorite Bosch model features it. With both 12V and 18V models available, it's the higher performance of the 18V system that we're drawn to in this case.
While its speed is somewhat muted by a 2.8° oscillating angle, we like the 8000 – 20000 OPM control the variable speed dial offers and the improved efficiency and life of the brushless motor. Pair this one with a 4.0Ah Core18V battery for the best balance of runtime and weight.
Price: $199 bare tool
Best Craftsman Oscillating Multi-Tool
Craftsman's CMCE501 cordless multi-tool has a less refined look than some of the other options, but it really works well. The slim handle is comfortable to use and it's one of the lightest options you can get your hands on. Plus, the blade change system is a clamp style that we like second only to Starlock. It's far easier to use than most other designs.
A variable speed dial lets you set the range from 10000 to 22000 OPM. While it doesn't have a brushless motor, it's capable of doing almost any job we ask of our other multi-tools. For DIYers who want to cut the cord, it's more than adequate. Normally retailing for $99.99, we found the kit at several different retailers for just $79.00!
Price: $79.00 kit (1 x 2.0Ah battery)
When Festool made a cordless version of the Vecturo multi-tool, the product team made a great move by shifting from a proprietary accessory interface to StarlockMax. The rest is classic Festool. As we expect from Festool, this is a highly-refined system that goes beyond the tool. It starts with an ergonomically sound physical design with the performance and life of a brushless motor.
From there, you have accessories for dust collection, precise positioning, a depth stop, and the OSC-A adapter that they connect to.
Price: $375 bare, $599 with accessories, $799 with accessories and batteries (2 x 4.0Ah)
Best Fein Oscillating Multi-Tool
Now that every multi-tool in Fein's lineup is under the Multimaster name, it's no surprise we recommend trying the MultiMaster. But which one? The best is the cordless MultiMaster 700. It's not just because it has the most aggressive cutting with a 4° arc (sometimes you actually want the lower angle). The biggest advantage is its brushless motor. Compared to the 300 and 500 models, you'll get more efficient use of your battery and longer tool life.
The trade-off? The 700 is the largest of the three cordless options, so look at the other models if you want something more compact.
Price: $199 bare
Best Hart Oscillating Multi-Tool
Hart makes a compelling case for DIYers with the HPMT01. It drifts from the standard design trend with a one-finger trigger and a handle design that's comfortable to use. Using the dial in front of the trigger, you can set its 20000 OPM top speed lower for a more controlled approach when you need it.
At just 1.6 pounds bare, it's one of the lighter models available and the 1.5Ah battery that comes in the kit doesn't add a ton to it. It's also one of the most affordable options we recommend. The bare tool is just $64 and the kit is $89.
Price: $64 bare, $89 kit (1 x 1.5Ah battery)
Learn more at Hart's website.
Kobalt quietly has one of the best oscillating multi-tools for the money. In our testing, its cutting speed was in the top tier and its isolated head design offers a nice reduction in how much vibration you feel. Its brushless motor tops out at 20000 OPM (variable down to 11000 OPM) and a 3.6° oscillating angle help keep it competitve.
For the design, the KMT 124B-03 does just about everything well even though it doesn't necessarily stand out like some of its competitors. Blade changes are agreeably easy and the ergonomics are comfortable. If you're still not convinced, the price might just tip you over the edge. At $99 for the bare tool and $169 for the kit, it's an excellent value.
Price: $99 bare, $169 kit (1 x 1.5Ah battery)
Best Metabo HPT Oscillating Multi-Tool
Metabo HPT has a few noteworthy items on their CV18DBLQ5 brushless oscillating multi-tool. Using the variable speed dial, you can set the speed from 6000 to 20000 OPM, giving you a lower slow speed than most when you need the best control. There's also an auto mode that adjusts the speed based on the load the tool senses. The downside is that its 3.2° oscillating angle makes the cutting a little slower than some of its competition.
This is the only cordless model currently in the lineup and it's an 18V tool, so it's compatible with both 18V and 36V MultiVolt batteries, but not the AC adapter. Keep in mind Metabo HPT backs this and other lithium-ion tools with a lifetime warranty.
Price: $99
With the latest generation of 18V tools, Ridgid is breaking away from the larger size of Octane for more compact, lighter models. In the case of the R86240 oscillating multi-tool, it's a break away from the JobMax system as well. The latest multi-tool is just 2.0 pounds without a battery and 3.0 pounds with a 2.0Ah Max Output pack.
Controlled with a slide switch and variable speed dial, the tool's 10000 – 20000 OPM and 3.6° oscillating angle are on par with what we expect. While the physical design is a change from the ergonomics of the JobMax, Ridgid keeps the pivoting accessory interface that we'd love to see change into something else in the future.
As we're writing this, the kit is only $10 more than the bare tool, so be sure to take advantage of that!
Price: $139 bare, $149 kit (1 x 2.0Ah Max Output battery)
Ryobi's 18V HP Brushless upgrade made its way onto the PBLMT50 oscillating multi-tool, making it a more legitimate Prosumer option than before. It has a slender handle profile that angles up to make sure the battery doesn't get in the way of your flush cutting.
It retains the same 10000 – 20000 OPM speed as before, but gains cutting speed thanks to an increase to a 3.6° oscillating angle. It also has a tool-free accessory interface instead of the hex wrench style the P343 had. Overall, it's a huge step forward.
Price: $119 bare, $144 kit (1 x 2.0Ah High Performance battery)
Skil's OS5937-10 is a solid value if you're looking for a brushless package on a budget. For $149.99, you get a brushless tool with a 2.0Ah battery, an upgraded PWRJump charger, and a nice blade/sanding set to get you started. Combined with its solid cutting performance and low-vibration design, it's a solid package for the price.
Price: $149.99 kit (1 x 2.0Ah battery)
Oscillating Multi-Tool Buying Guide | What We Look For
Everyone has different priorities when searching for the best oscillating multi-tool. Some Pros just want the fastest performance, others might value vibration control the highest. Regardless, our team looks for the same general characteristics even if they're in a different order.
Cutting and Sanding Speed
To test speed, we compare how fast we can cut wood, drywall, nails, remove grout, and sand. We also test how the blade affects your ability to work when you're switching between tasks.
Vibration Control
Vibration control has been dominated by Fein for a long time. Their technology has been so far ahead of everyone else that it hasn't been competitive at all. That's all changing, though.
As we test speed, we build our first impressions of each tool's vibration control. Then, our three-man testing team spends time cutting and sanding to rank them into groups and assign their final scores.
Ergonomics
When we consider the best oscillating multi-tool ergonomics, it starts with weight. Cordless models tend to be heavier than corded ones, of course, but working with a compact battery can shave it down a bit.
Length can get in the way if you're working in tighter spaces, so we measure that.
We also consider the handle design. Most use a grinder-style barrel grip with varying diameters. A design that feels good in our hand is great. However, we also check how it feels as we use the tool in the variety of angles we often have to switch to in the field.
There's the issue of how the battery connects to the tool as well. If it's in the way of your grip or forces you to adjust your angle of attack into a cut, it can be a pain point. We're looking for battery connections that power the tools without throwing off their balance or force grip changes.
Blade Change
Starlock set a new bar for oscillating multi-tools a few years ago with a completely hands-free and super-fast blade change. There's still no other system that comes close to its speed and convenience.
For the rest of the group, there are several versions of tool-free changes. We work them all to see how securely they hold the blade along with how convenient and quick the changes are.
While it works for some folks, we generally stay away from models that require a tool to change the blade.
Value
When it's your bank account funding your tool purchases, we get that you want the most bang for your buck. For us, value is much more than just how much the multi-tool costs. It's what you get for the money and some give you more than others. We weigh pricing against the performance and design of each model to calculate a value score.
Additional Features to Look For
Variable speeds
Brushless motor
Why You Can Trust Pro Tool Reviews
Ever check out a "review" site and you can't tell if they actually tested the tools or if they're just "recommending" the Amazon top sellers? That's not us. We won't recommend anything unless we'd actually use it ourselves and we don't really care who the primary retailer is. It's all about giving you a legitimate recommendation and our honest opinion of each product.
We've been in business since 2008 covering tools, writing reviews, and reporting on industry news in the construction, automotive, and lawn care industries. Our Pro reviewers work in the trades and have the skills and experience to know whether tools can perform well in the field.
Each year, we bring in and review more than 250 individual products. Our team will put our hands on hundreds of additional tools at media events and trade shows throughout the year.
We consult with innovators in the technology and design of tools to gain a broader grasp of where these products fit and how they work.
We work with more than two dozen professional contractors around the United States who review products for us on real job sites and consult with us on testing methods, categories, and weighting.
We'll provide more than 500 pieces of new content this year absolutely free for our readers—including objective evaluations of individual tools and products.
The end result is information you can trust because of the editorial, scientific, and real-world professional experience we collectively utilize each and every time we pick up and test a tool.