Last Updated on July 13, 2023
When hurricane season rolls around, we always get a ton of questions about the best generator for a lot of different needs and prices. Even as hurricane season begins to wind down, winter storm season warms up. The reality is that, somewhere, every season is generator season.
We got our team of experts together including contractors, outdoorsmen, and hurricane veterans to recommend the best generators. Since our list includes portable units, whole-home devices, and even models designed for camping and tailgating—peruse the list to land on the specific recommendation you're looking for.
Editor's Note: Check out our article on the best generator for home use if you just want to focus on the home.
Best Portable Generator for Home Use
Generac 6500/8125-Watt Portable Generator with COSense (GP6500 COSENSE)
To determine the best portable generator for home use, we wanted a model that has a balance of everything. You need power, quality, portability, and price. Couple that with the understanding that it's going to be used on an occasional basis. It goes without saying that our selection would also likely include carbon monoxide detection.
The Generac GP6500 is an all-around great generator. Its 6500 running watts and 8125 starting watts are more than you get from the small 5000-watt class. It provides plenty of power and enough outlets to run just about anything on 120V. Plus, it has a 120V/240V plug if you need it.
While the total harmonic distortion is too great for sensitive electronics, it has the carbon monoxide sensor we're looking for and wraps it up for less than $900. Generac has a rather wide line, so if you want a little more or less power, they should have a model that fits.
Price: $899
Also Consider:
Ryobi 6500/8125-watt generator with CODetect (RY906500S): pretty much the same as the Generac GP6500 with a slightly larger engine and slightly smaller gas tank. Buy it for $949 at Home Depot.
Craftsman 5000/6250-watt generator with CO detection (CMXGGAS030731): Lower on watts but still highly effective and $150 less. Buy it for $799 at Lowe's.
Best Generator for Camping and Tailgating
Westinghouse 1800/2200-Watt Portable Inverter (IGEN2200C)
The best generator for camping and tailgating has to be one that's small enough to easily transport and quiet enough not to disrupt the party. Everything else—like USB ports and a CO sensor—is a bonus.
We like the Westinghouse IGEN2200C thanks to its combination of a very manageable 47-pound dry weight and whisper-quiet 52-decibel operation on the low end. Kicking it over the top even more, it has a THD under 3% so your electronics won't have any issues.
Price: $529
Also Consider:
Honda 2500/2800-watt portable inverter generator (EG2800i): a bit less refined, but with more power and longer runtime—plus a Honda engine. Buy it for $1199 at Home Depot.
Champion 1850/2500-watt generator (201122): 39-pound dry weight and still under 60 decibels with less than 3% THD for electronics. Buy it for $699 at Lowe's.
Best Whole House Generator
Generac Guardian Series Natural/LP Gas Generators
When you're looking for the best whole generator—also known as a standby generator—it's a different kind of device. These turn on automatically when the power goes out, and they're not at all portable. Some people (including my neighbor) bury an LP tank to keep it out of the landscape view when they don't have a natural gas line already in place.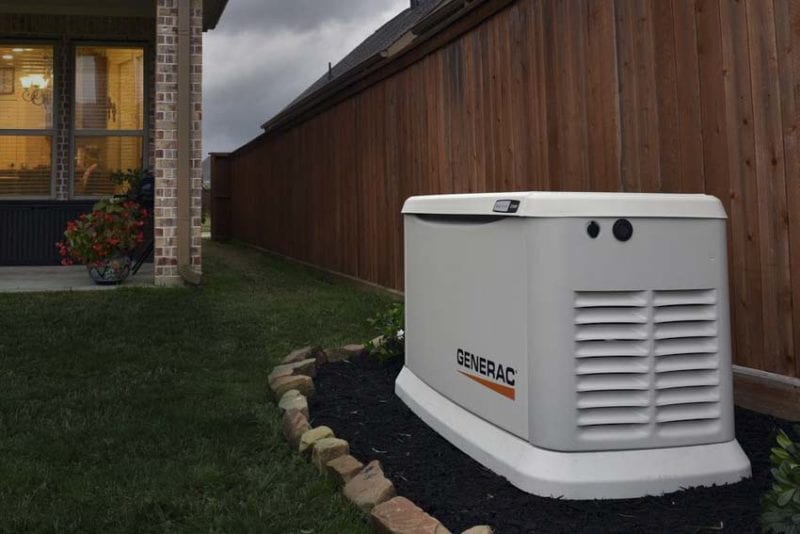 As you shop for these systems, keep in mind that you need to add the cost of a transfer switch and professional installation to the price.
The Generac Guardian series ranges from 14kW to 26kW and comes with a pretty reasonable price tag. Generac's Mobile Link also lets you monitor the status of your system from anywhere in the world using cell data or WiFi.
Price: $4,697 – $6,997
Also Consider:
Best 10000-Watt Generator
Honda 9000/10000-Watt with CO-Minder (EB10000G)
One thing to keep in mind as we start considering watt-specific generators: manufacturers often use the peak, or surge, wattage rather than the running watts. As a result, 10000-watt generators may only have 8000 running watts.
When you get to 10,000 watts, you're pretty much at the top of what portable generators offer while still being readily available. The best 10,000-watt generator in our book needs to have a powerful engine and an impressive feature set to make using such a beast easier.
The Honda EB10000G is a true commercial-grade generator. The Honda GX630 powerplant includes 688cc of displacement. As you'd expect, this model includes CO-Minder carbon monoxide detection to go along with an electric start and low noise/high efficiency for its muscular class.
Price: $5,499
Also Consider
DuroMax 8500/10000-watt electric start portable generator (XP10000DX): true 8,500 running watts with 120V (20A), 120V (30A) twist lock, 120V/240V (30A) twist lock, and 120/240 (50A) heavy-duty outlets and an electric start. Buy it at Home Depot for $1299.
Best 5000-Watt Generator
Honda 5000/7000-Watt Electric Start with Co-Minder (EM5000SX)
5000-watt portable generators sit in the sweet spot between power, portability, runtime, and price. You can still find a nice feature set, and this power level works just about anywhere except camping and tailgating.
No one puts together a better package than Honda does here. It starts with a commercial-grade Honda iGX390 engine with electric start and CO-Minder carbon monoxide detection. Wrapping up the major highlights, it's also compatible with Honda's My Generator app where you can monitor or turn on/off the generator remotely. Overall, it's the most complete package we've seen.
Price: $2,599
Also Consider:
Craftsman 5000/6350-watt portable generator with CO Detection (CMXGGAS030731): Excellent value choice with Briggs and Stratton 306cc engine and carbon monoxide sensor. Buy it at Lowe's for $799.
Best 3000-Watt Generator
We see 3000-watt generators primarily around RVs and with smaller crews on residential jobsites. With plenty of quiet models in this range, they also crossover into camping and tailgating.
If you're looking for a life of portable generator luxury, the Honda EU3200i is the best 3000-watt generator. Powered by a Honda GX130 fuel-injected engine, it's one of few in this class to offer an easy 2-step start. It also features remote smartphone monitoring and control.
Running 54-58 decibels depending on the load, it's super-quiet. The Honda Eco Throttle system offers great fuel efficiency, so you can expect to get up to 8.6 hours on its 1.2-gallon tank based on an 800W load. At full load, you're looking at 3.3 hours per tankful. You can also even a parallel kit if you want to connect 2 together.
Price: $2,599
Also Consider:
Ryobi 3400/4000-watt portable inverter generator (RYi4022X): Excellent high-value choice with 3400 running watts and 12-hour runtime. Buy it at Home Depot for $799.
Best 2000-Watt Generator
Westinghouse 1800/2200-Watt (IGEN2200C)
The best small generator is typically in the 2000-watt class. These are highly portable and our picks all include an inverter to give you "clean power" that's appropriate for sensitive electronics. As the smallest in power, they also tend to be the most affordable inverter generators.
Great for camping and tailgating, the Westinghouse IGEN2200C is also our top pick for the best 2000-watt generator. Reasonably priced in this group of inverter generators, it has 2200 running watts, super-low noise level (52 decibels), is less than 50 pounds, and gets 6 hours of 50% load runtime on a gallon of gas.
Price: $529
Also Consider:
Honda 1800/2200-watt portable inverter generator (EU2200i): powered by a Honda engine with low noise and weight, but it costs over $1,000. Buy it for $1299 at Acme Tools.
Champion 1850/2500-watt portable inverter generator (100889): Good sub-$500 budget pick with low noise and just 39 pounds dry weight. Buy it at Lowe's for $699.
Best Gas Generator
Honda 5500/7000-Watt Electric Start with EFI (EU7000iS)
In determining the best gas generator, we pulled cost out of the equation. We tasked our team to tell us about the generator they think is the best based on their experience and why it outshines others.
Two brands really set themselves apart for our team: CAT and Honda. After a few tense words and a damaged ego or two, Honda came out on top thanks to its use of a seemingly bullet-proof GX engine and some extra features.
Of the choices available, the Honda EU7000iS puts together the best package with a GX390 EFI engine at its heart. With 5500 running watts, it's impressively powerful for a generator that includes an inverter to deal with electronics and maintain and quieter noise level. How else do we love thee? Let us count the ways!
Push-button electric start
GFCI outlets and electric circuit breakers
Parallel capable
Electronic fuel injection (EFI)
CO-Minder version coming soon!
Price: $4,999
Best Dual Fuel Generator
DuroMax 8000/10000-Watt Dual Fuel Electric Start (XP10000DX)
Dual fuel generators can use either gasoline or propane to run the engine. After a storm, it may still be possible to find propane even after fuel stations run out of gas. They also tend to run cleaner on propane. The trade-off is the power level typically drops slightly but it has excellent runtime compared to a tank of gas.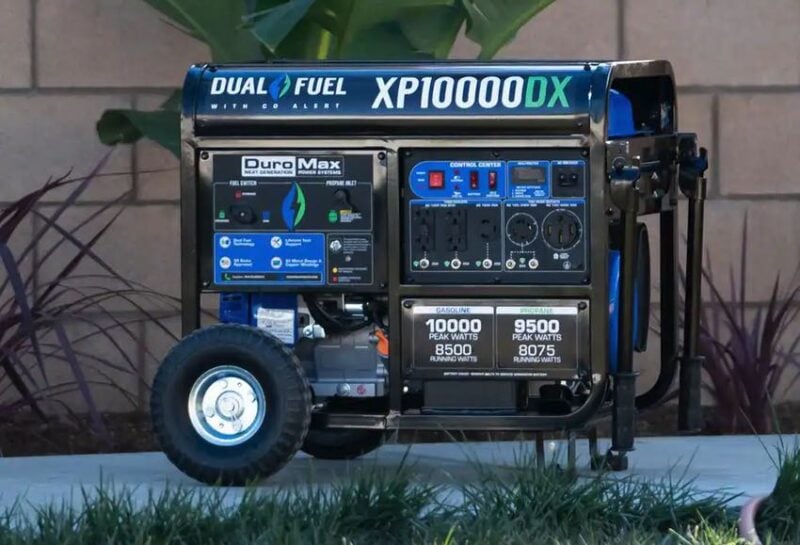 The best dual fuel generator our team selected is the DuroMax XP10000DX. Coming in just under $1,300, this is a power play on our part—an 8000-watt power play. You can actually go with a bit more with the DuroMax XP12000DX, but we like that you get nearly 2 hours more runtime with the same 8.3-gallon fuel tank.
Price: $1299
Best Electric Start Generator
Champion 8000W Electric-Start Tri-Fuel (100416)
Having an electric start drastically changes your generator experience. There's no hassle of pulling a cord—as long as you remember to charge the battery. These come with both lead-acid and lithium-ion power sources and we prefer lithium-ion. The nice thing is you can find them across a pretty wide range of power levels.
Champion has several electric start models that feature a battery to eliminate the pull cord. The generator charges the battery, but always ensure you have it topped off before you think you may need it. Of the many available Champion generators, we like the 8000-watt tri-fuel model for its flexibility (natural gas, propane, and gasoline). It delivers a great balance for both jobsite and emergency power use.
Price: $1299
Best Quiet Generator
Honda 2800/3000-Watt Electric Start Inverter Generator (EU3000S1AG)
Generators are definitely not quiet by nature but they can improve greatly with smaller engines (and power) and full enclosures. Most models are in the 2000–3000-watt range, though you can find a handful that reach a little higher.
Honda's EU3000S1AN takes home another accolade from our team, this time as the best quiet generator. Powered by Honda's GX200 commercial engine, it's one of few in this class to offer an electric start.
We like its super-quiet 50 – 57-decibel noise level, making it one of the quietest available. Other highlights include 13-hour runtime at 50% load on a full 3.4-gallon tank and CO-Minder to monitor carbon monoxide levels. It's also parallel capable if you want to connect 2 together.
Price: $2,599
Also Consider
Champion 1850/2500-watt portable inverter generator (100889): excellent budget pick under $500 with < 60-decibel operation and 39-pound dry weight. Buy it at Lowe's for $699.
Best Battery Inverter Generator
EGO Nexus 2000/3000-Watt Power Station
Not everyone needs a solar recharging option for their battery-powered inverter. With the average power outage lasting just 3 hours, most folks don't need a full off-the-grid solution.
If that sounds like you, go for the EGO Nexus Power Station. It's capable of running 2000 continuous watts with 3000 surge watts, giving you more flexibility than the Goal Zero Yeti.
Also helping its flexibility, the unit runs on up to four EGO 56V batteries that attach on the outside. In the event that you do run through the power you have on board, there's always the possibility of keeping an extra set of batteries on hand. Plus, they run EGO's exceptional line of lawn care equipment, making them more valuable than just as a backup power supply.
Now that solar charging is an option, this is the most versatile option available.
Price: $549 bare or $1,499 with four 56V 5.0Ah batteries
If You Need More Onboard Capacity: Goal Zero Yeti 3000X 1500/3000-Watt Lithium Power Station
Okay, so if you really want a quiet generator, nothing beats a battery inverter. Noise level is only part of the equation, though. Because there are no emissions, this is the only way to have a generator for indoor use.
There are a couple of trade-offs, though. You need to have enough batteries to cover the length of time you're going to be without power (solar charging can help with that). You also won't get near the power you can from a gas, propane, or diesel generator.
They're also more expensive on a watt-to-watt basis.
This was another really tough choice with 3 quality competitors that have major plusses but also a caveat or two. The Goal Zero Yeti 3000X ended up with the most votes by our Pro team thanks to its massive 3075Wh capacity and available solar panels.
The downside? It's expensive and we didn't get as much startup wattage in our testing as our other recommendations.
Price: $3,499 (no panels)
Also Consider:
Best Generator Brand
When we sat down to discuss the best generator brand, we thought through a lot of different characteristics. In the end, we all agreed that the number 1 consideration is that it has to work reliably. It can have all the features and power in the world, but that doesn't mean anything if it won't start when you need it to. But, hey, we still want those features.
Given those parameters, we feel the best generator brand is Honda. Their engines are incredibly long-lasting and start reliably for both consumer and commercial uses. They have available features that compete against what anyone else has to offer. Honda, like most companies, has also added carbon monoxide detectors to their entire line of portable generators.
You're going to have to pay premium prices, though. Honda generators tend to run hundreds of dollars more than others.
We put together a comprehensive guide that you can read here for buying a portable generator. If you just want the Cliff Notes, ask yourself these questions:
How much power do you need?
120V, 240V, USB? What outlets do you need to run your equipment or home?
Running electronics? Check for total harmonic distortion (THD) under 6%)
Powering a jobsite every day or emergency power a few times a year?
Gasoline, diesel, propane, natural gas, or solar fuel sources?
How long do you need to run on a tank of fuel?
Recoil or electric start?
Is noise a factor?
What about electronic fuel injection for better fuel efficiency and fewer maintenance issues?
Need a set of wheels? Not every generator comes with them
Need a lift? Lift hook bars are helpful
More Helpful Generator Content