From Least Mode to Beast Mode: Updated Bosch 18V Cordless Reciprocating Saw Makes Major Improvements
Admittedly, the last Bosch 18V cordless reciprocating saw didn't perform all that well head-to-head against its competition. At the time, Bosch told us they had a replacement in the works and it was going to be something special. We got our first peek at the Bosch GSA18V-125 at World of Concrete in 2017 and it is indeed a whole new approach.
Our initial impressions were very positive. But now that it's been out for a couple of years, does it still retain that initial glow?
Pros
Excellent cutting speed
Outstanding vibration control
Orbital action switch
Cons
One of the heaviest saws in its class
Longest saw in its class
Bosch 18V Cordless Reciprocating Saw Features
Design
There's no doubt the "hawkbill" design is very different from anything else on the market the major players have out there. And this design – particularly in the handle and trigger – is a major advantage. The trigger swings all the way through the 90-degree turn in the handle and gives you a ton of grip options. Whether you're cutting overhead, on the floor, or moving down a wall, it's easy to adjust your grip to maintain better ergonomics and reduce fatigue.
Brushless Motor
Bosch uses one of their EC Brushless motors in the latest rendition of the Bosch 18V reciprocating saw. We all know the advantages – longer runtime, better power, and longer life. With the disappointing performance of the previous model, this represents a large step forward in performance for Bosch. We'll get to more details on that in a moment.
Orbital Action
In a previous shootout, Ridgid crushed it in the wood cutting test. Why? They had the only model with orbital action. Bosch does more than just jump on board – they give you three settings to work with. There's "off" of course, and then two orbital settings, one more aggressive than the other. We'll take a look at the effects on performance in a minute.
Rafter Hook
I love rafter hooks on reciprocating saws and the Bosch GSA18V-125 has an effective one.
Core18V Battery
We're going to go into most of the detail about the performance gains of the Core18V battery on our YouTube channel and the article we're constantly updating. However, simply installing this battery gives the saw a clear performance boost. Keep your eyes open for the specific details on that. The kit that's currently available comes with an 8.0Ah Core18V battery.
Bosch 18V Cordless Reciprocating Saw Manufacturer's Key Features
Bosch GSA18V-125 delivers 0-2,500 strokes per minute with a 1-1/4″ stroke length
Versatile soft-grip handle and easy toolless blade change system highlight enhanced comfort and ease of use
Compact 19-inch length for easy maneuverability
Compact design is aided by an angled-motor placement, which allows greater access to hard-to-reach areas
Bosch GSA18V-125 reciprocating saw offers greater utility so users can saw overhead and in awkward positions for longer periods of time
The first cordless reciprocating saw to feature three orbital settings (0-1-2), which are optimized to maximize cutting
Delivers a long and labor-saving 1-1/4″ stroke that allows more material to be removed
The handy variable speed controls include a dial to set the desired maximum speed and an accelerator trigger for adjusting the operating speed, such as starting a cut
Bosch 18V Cordless Reciprocating Saw Wood Cutting Performance
We put the GSA18V-125 Bosch 18V Reciprocating Saw through some initial testing on site. It's clearly got an improvement in performance, ergonomics, and feature set. But to see how much of an improvement is there, we turned back to the same kind of testing we did in our shootout with the main focus on wood cutting.
For nail embedded wood, the Bosch CRS180 cut at a painful average of 53.21 seconds – second to last in the group. In the most aggressive orbital action, the cut time plummeted to 10.13 seconds with the 6.0 amp hour battery and 9.67 seconds with the Core18V. Either time is a massive improvement.
Bosch 18V Cordless Reciprocating Saw Testing Results
Bosch performed well across the board in our shootout cutting tests. It's definitely in the top-tier in wood cutting, where its 9.42-second average in 2 x 10 nail-embedded PT was just 0.33 seconds off the lead.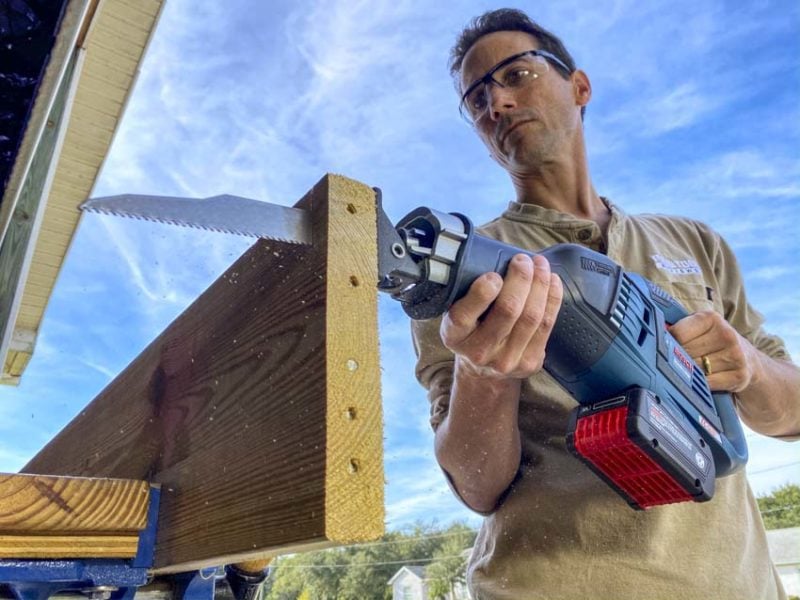 It scored very high in 2″ EMT as well. Its 4.31-second average cut time was 0.56 seconds away from the leader. It followed that up with a 9.28-second average in #5 rebar, losing just under 2 seconds to the leader.
Overall, Bosch earns the second-highest cutting speed score and is a great option when you have to cut a variety of material types.
Additional Performance Considerations
Stroke Length and Speed
Bosch dials in the stroke length at a longer 1-1/4 inches and combines it with a 2500 RPM maximum speed. Even with the longer stroke, the speed needs to come up a bit to move it into first place. As a comparison, Ridgid's Octane pushes 3100 RPM with a 1-1/8-inch stroke – nearly 3500 linear inches per minute of cutting. Makita jumps up to 3750 inches per minute with 3000 RPM and 1-1/4-inch length. Bosch lags behind a little with a little more than 2800 inches per minute of cutting.
Still, the power of the saw keeps the blade moving closer to its top speed and offers impressive cutting speed.
Variable Speed Dial
Every reciprocating saw needs variable speeds on more than just the trigger. You can go all out with speed and orbital action in wood, but some metal cutting requires a bit more speed control than you can manage with the trigger alone. This Bosch 18V reciprocating saw includes a variable speed dial with 6 markings, but infinite settings between them.
Vibration Control
Bosch tends to be very good in the vibration control department and it shows with the Bosch GSA18V-125. With the shoe engaged against your cutting surface, it's possible to cut with very little vibration compared to other cordless models.
Blade Changes
This Bosch 18V reciprocating saw still uses a rotating shaft blade lock but adds a metal release that pushes it. It's a little less cumbersome than the previous model, but it's still short of a self-locking and ejecting style.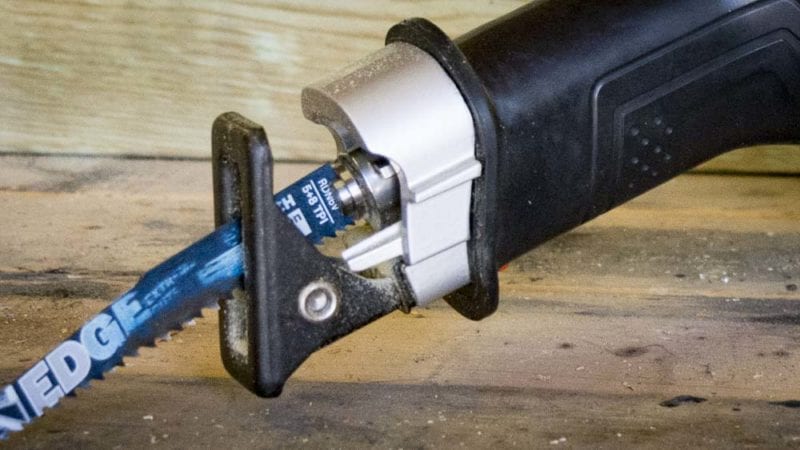 The Bottom Line
The updated Bosch 18V cordless reciprocating saw is a huge leap forward for Bosch's cordless lineup. The Bosch GSA18V-125 takes the CRS180's last-place finish and makes a serious run for the top spot in this class.
Put simply, the Bosch GSA18V-125 reciprocating saw has better performance, ergonomics, and features by leaps and bounds over the previous model and is a legitimate contender in its class.
As good as it is, there's still room for improvement. Bosch could stand to bump up the RPMs to get even faster cutting. You can buy some improvement by adding the Core18V battery to your Bosch arsenal. Aside from that, the saw is nearly flawless in its design.
Where Pros will take a second look is the price. It's $279 as a bare tool—up $99 from the last edition, but with huge upgrades. That makes it the most expensive on our list by a pretty large margin. There's also a kit option that comes with a Core 18V battery for $399.
Bosch 18V Reciprocating Saw Specifications