When I agreed to review the Bosch 12V Brushless PS32-02 drill and PS22-02 driver, I decided I would use this as an opportunity to cross a bunch of items off of my to-do list. Now, it's not that I don't have cordless drills of my own, but we all know that there's nothing like a new toy – uh, tool – to motivate one to knock out some projects that may have been lurking for some time.
The first thing I noticed about the pair of tools is the high build quality. The drill and driver are identical in every way with the exception of chucking mechanism, so unless otherwise stated, the following attributes apply to both. The exterior is plastic, but not the brittle plastic that cracks or shatters easily when bumped, dropped, or presented with a stiff breeze. The surface is appointed with a lot of rubber grip surface, giving the user a secure grip and giving the tool a great feel.
Shootout Results
It's extremely compact and lightweight, with great speed and torque output as well. Truth be told, the Bosch PS32 12V Drill doesn't have a really weak spot in its game. It's that all-around combination that sets it apart it what was really a tight race from top to bottom.
What's even more interesting about this drill is that we originally reviewed it back in late 2014, meaning that it has been on the market for the last 5 years. Considering that some of the drills we tested in our recent shootout have had the benefit of newer technology, the Bosch's 1st place finish is pretty impressive.
Overall 12V Cordless Drill Ranking: 1st place
Check out test methods and overall results here!
Bosch 12V Brushless Drill Driver Features
My test drill weighed in at 1 lb. 15 oz., and my driver weighed 1 lb. 10 oz., making them some of the lightest tools (if not the lightest tools) in their class. In addition, the Bosch tools are the most compact and well balanced 12 volt drill and driver I have held. Each tool comes with an extra battery and and charger, allowing you to work essentially continuously without having to purchase any accessories.
Also included with each Bosch 12V Brushless tool kit are 3 driver bits, a quick change hex adapter, a belt clip, and bit holder that can be installed by popping a plastic plug off of the back of the tool and attaching either or both with the included screw. The belt hook works wonderfully. It is heavy steel and not spring loaded so it clips and unclips from the belt easily, and its location makes the tool easy to grab. The bit holder, however, seems like an afterthought. While it holds 4 bits just fine, it seems clumsy hanging off the back of the tool and easily catches on clothes, tool belts, etc. I ended up not installing it on the drill so I would be able to use my other hand on the back for some extra push power to get through tough materials. Overall, the Bosch 12V brushless tools appeared to be well designed and well built. Now let's take a look at how they performed.
Bosch 12V Brushless Tools in the Field
I tested the drill and driver in a variety of materials, installing treated fence pickets and hanging gates, securing conduit brackets in brick, removing and replacing metal roofing panels, and drilling through sheet metal, quarter-inch steel, and three-eighths inch aluminum. Both tools performed admirably in each task. The brushless motor paired with full metal gear drive ran smoothly and quietly and provided plenty of power even when really pushing to get through heavy gauge steel. The new 2 amp-hour battery seems to last forever before needing to be charged, with my batteries charging in about 80 minutes from dead flat to a full charge.
The two gear ranges provide extra control and some extra power in the low range – though I found there was plenty of power for most tasks in the high range. The variable trigger allows infinite speed control from dead slow to near 1300 rpm. The torque clutch on both the drill and driver are easy to use and provides consistent results, but the surface can be slick in dusty or damp conditions making the adjustment a bit challenging. The single sleeve chuck on the Bosch 12V Brushless PS32-02 drill provided positive grip and was easy to use, as was the hex-chuck on the Bosch 12V PS22-02 driver.
Really, the only thing I found that I didn't like was the bit holder. Seeing that you can opt to simply not install it, I don't see that as a negative. I really appreciated the increased run time of the 2 amp-hour 12V battery thanks to the efficiency of the brushless motor. With what is available on the market today, I think you'll be hard pressed to find a better option for a lightweight, well-balanced, 12-volt cordless drill/driver.
Specifications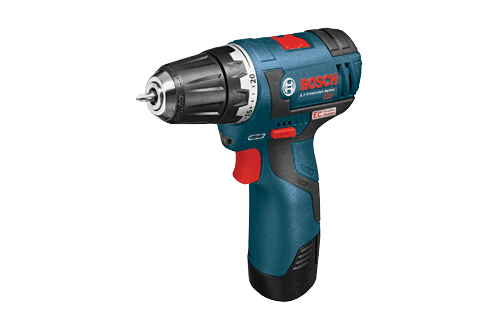 PS32-02 12V Max EC Brushless Drill/Driver
No Load RPM: 0 – 400/0 – 1300
Torque: 265 inch-pounds
Chuck Size: 3/8″
List Weight: 2 pounds
Price: $114.99
Warranty: 3 year
PS22-02 12V Max EC Brushless Hex Drill/Driver
No Load RPM: 0 – 400/0 – 1300
Torque: 179 inch-pounds
Chuck Size: 1/4″ Hex
List Weight: 1.6 pounds
Price: $129.00
Warranty: 3 year
Shop Amazon
This review was originally published on April 18, 2014. We've updated the scores to reflect the Bosch PS32's performance in our recent Best 12V Cordless Drill Shootout.