In this Pro Tool Reviews Thursday Throwdown, we're pitting two of the most popular budget brands against each other. On paper, a Craftsman vs Ryobi hammer drill competition looks pretty easy to sort out. But this is one that proves specifications and feature lists don't tell the entire story.
Interested in watching the video? Watch it here on our YouTube channel!
Craftsman Vs Ryobi Hammer Drill Quick Glance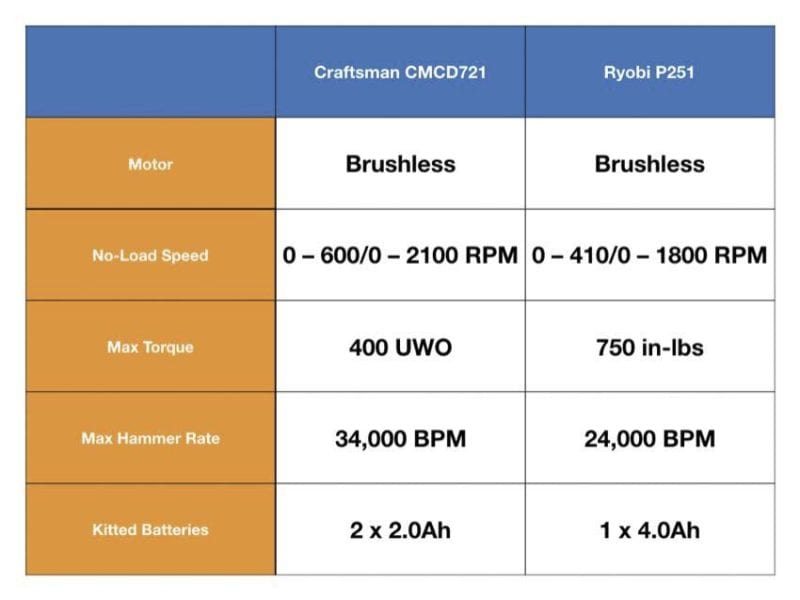 Aside from the basic numbers, what stands out is that Craftsman uses unit watts out for its torque rating while Ryobi uses the more standard inch-pounds. While both measurements are useful, you can't convert one into the other for a direct comparison. That's why we test!
Read more about unit watts out and torque.
Craftsman Vs Ryobi Hammer Drill
High-Speed Drilling
For our first test, we used 1-inch Bosch Daredevil High-Speed Auger Bits to drill through layered OSB. Ryobi had a little bit of hesitation at the end, but both made it through with no problem. The final results were mixed, with each having their share of faster drilling.
We switched over to 1-inch Bosch Daredevil Spade Bits to see if we could get some sort of result. Both tools had a mix of drilling through and getting caught right at tear-out with neither one really outpacing the other.
In high speed, it seems like a 1-inch bit is right on the edge of what you can expect to effectively drill with either model.
Winner: Tie
Low-Speed Drilling
Kicking our hammer drills into low speed, we chucked up 2 9/16-inch Milwaukee Switchblade Self-Feed Bits to work through a pair of untreated 2 x 4s. This test became less about speed and more about passing or failing.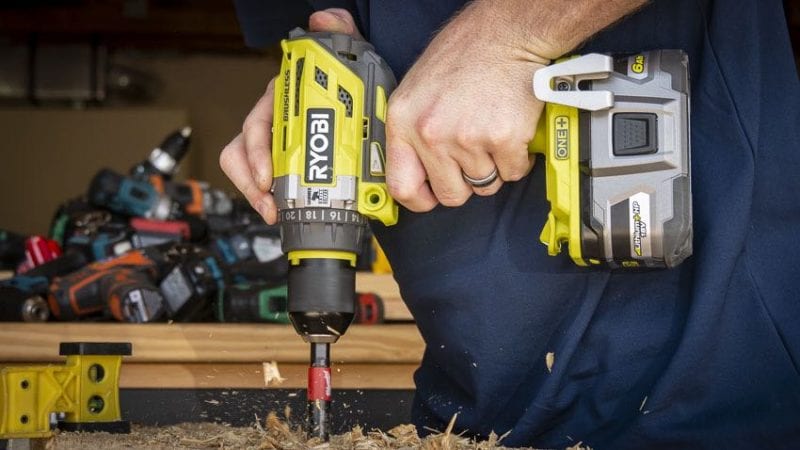 Ryobi was able to punch through, though it stalled at tear-out and needed an extra trigger pull. Craftsman wasn't quite able to make it through the first 2 x 4.
Would Craftsman have made it with a 4.0Ah battery instead of a 2.0Ah? If you're buying the kit, you're getting 2.0Ah batteries, and realistically, the little bit of boost you get from a bigger pack wouldn't have been enough.
It's pretty clear that 2 9/16-inch self-feed bits are bigger than what you should expect to use from either drill. You can get away with a little bigger bit with Ryobi and 2-inch is about as big as we're comfortable recommending. Craftsman needs to stick with a little smaller range, with a comfortable upper level around 1 1/2 inches.
Winner: Ryobi
Concrete Drilling
With Craftsman's higher speed and blow rate, we figured it was headed for a win in our concrete drilling test. However, Ryobi kept up and there just wasn't a noticeable difference between the two when we tested them with a 1/4-inch Bosch Daredevil MultiPurpose Bit.
In fact, both hammer drills kept up pretty solid speeds. They'll slow down as you increase the bit size, but they're excellent with 1/4-inch bits or smaller.
Winner: Tie
Feature Sets
When it comes to the basics, Craftsman and Ryobi are pretty comparable in their respective feature sets. While both have brushless motors, neither get into advanced features such as kickback control or smart controls.
Craftsman has an advantage with its slide-style battery pack. It gives product designers more flexibility with the handle design that they use for better handle ergonomics.
Ryobi adds a couple of things that Craftsman forgoes. It has a Mag Tray to hold small fasteners and an onboard bit holder. On the functional side, the P251 separates the mode switch from the clutch collar. That's really a preference thing, but we like it.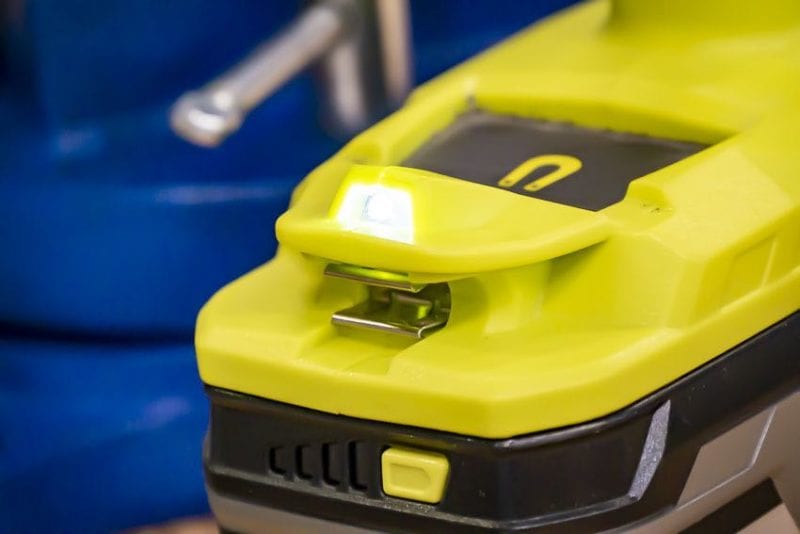 Ryobi also includes an auxiliary handle and Craftsman doesn't. Whether you need one is a matter of power level, so that's more of a requirement difference than an omission on Craftsman's part.
Neither feature set is a deal-maker or breaker compared to the other, but Ryobi offers a little bit more.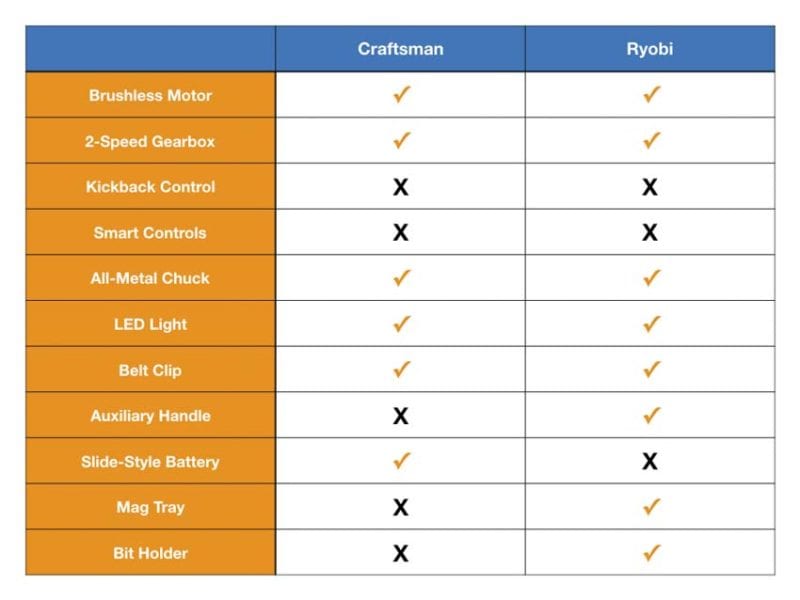 Winner: Ryobi
Size and Weight
Craftsman and Ryobi don't appear to be massively different side-by-side, but Craftsman is a bit more compact. Without batteries, Craftsman is 8.0 inches tall and 7.2 inches long. Ryobi is a touch shorter at 7.9 inches but more than an inch longer across the top (9.0 inches).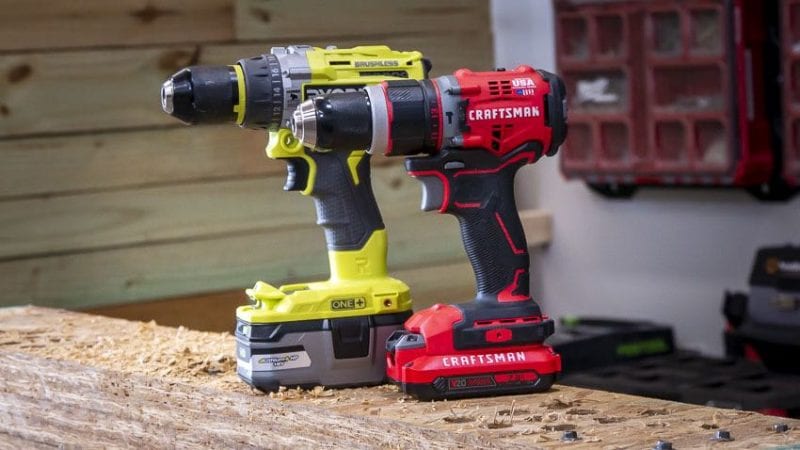 Ryobi's batteries are a bit taller across the board, so Craftsman feels even more compact when you're using it.
Craftsman has an advantage in weight as well. Bare, it weighs 2.73 pounds and 3.55 pounds with its 2.0Ah battery. Ryobi weighs 3.2 pounds bare and 4.7 pounds with its 4.0Ah battery. To even things out, we also measured it with a 2.0Ah pack, getting it down to 4.1 pounds. Either way you look at it, Craftsman's weight is quite a bit lower.
Winner: Craftsman
Price
You can pick up the Craftsman CMCD721 as a bare tool for $119 or with a pair of 2.0Ah batteries and a charger for $179. You can find both versions at Lowe's.
Ryobi's P251 comes in a kit with a 4.0Ah battery for $159. The strange thing is that the kit model number is P1813, so keep that in mind as you're searching Home Depot.
Winner: Ryobi
Warranty
Both Craftsman and Ryobi offer a 3-year warranty with their tools, making this one a tie.
Winner: Tie
Compatible Tools
Both Craftsman and Ryobi have impressive tool lines that work on the same batteries as the hammer drills we tested. However, Ryobi goes quite a bit deeper in some of the trade tools, such as PEX crimpers, and lifestyle products.
Winner: Ryobi
Final Verdict
In our Craftsman vs Ryobi drill Thursday Throwdown, the final score is 7 – 4 in favor of Ryobi with 3 of those areas coming out as ties. Ryobi enjoys more low-speed power, a less expensive price, and a deeper line of compatible tools. However, Craftsman is lighter, more compact, and isn't far behind in performance. Both are excellent choices for entry-level or light-duty professional work or as primary tools for DIYers.