I tried to describe the feeling of riding along at 12+ mph while cutting grass on a zero turn with 4-wheel steering to a colleague who runs a professional landscaping company. When my description then turned to describe the dually wheels, he became absolutely convinced I was pulling his leg. So, at first glance, the Cub Cadet Pro Z 972 SD zero-turn mower may seem a bit of an oddity. But then again, it's a zero-turn mower that cuts on inclines up to 25 degrees and rides like you're sitting on a cushion of air.
Because you basically are.
Recommendation
Clearly, a $16,000 commercial zero turn mower with dualie 25-inch wheels won't appeal to everyone. In fact, the Cub Cadet Pro Z 972 SD Zero-Turn Mower directly targets those looking for a solution to provide solid traction on slopes up to 25-degrees (up to a 46% grade). The 35 HP Kawasaki FX1000v (999cc) engine performs like a Kentucky Derby stud and the 7ga steel frame delivers excellent stability. On top of it all (literally), you ride with the comfort of a professional driver on the high-back air-ride suspension seat.
Mowing on Hills
This mower is all about traction and mowing on uneven and sloped terrain—so let's start there.
The Pro Z 972 SD zero-turn mower is perfect for municipalities and properties with steep terrain since it handles up to 25-degree inclines. The dually wheels and oversized front tires help you stay straight when mowing across hills. On a typical zero turn mower, you have to cut across hills with the front wheels elevated at an angle since the front casters do nothing to keep you straight on the grass. All of the stabilizing force rests on the rear wheels. Because of this, your mower stays in a constant state of tearing up the grass.
Also, turning while on a steeper incline often causes the wheels to kick out. This tears up the turf further and ruins your cut line. Cub Cadet already improves the situation with their dual transmission system. This ties directly to the front steering wheel via mechanical linkage located under the floorboard. Turn the wheel, and the rear wheels respond accordingly—giving you four-wheel steering.
On hills, driving with the Cub Cadet Pro Z 972 SD allows you to maneuver straight without having to cut on a perpetual angle. when you turn, the four-wheel steering lets you complete the circle without sliding the back wheels. More than that, however, the dually wheels and weighted 16-inch front wheels provide exceptional grip above and beyond what four-wheel steering alone accomplishes.
The system works so well, you can actually turn down the hill rather than up—something not at all recommended with traditional zero turn mowers.
Cub Cadet Pro Z 972 SD Features That Matter
A 35 hp Kawasaki FX1000v (999cc) engine and 16cc heavy duty Parker HTG (hydrostatic) transmission provide the powerplant for this high-end zero turn.
Cub Cadet uses thick 7-gauge (.187-in) steel for the top and bottom plates, cutting deck, and reinforcements.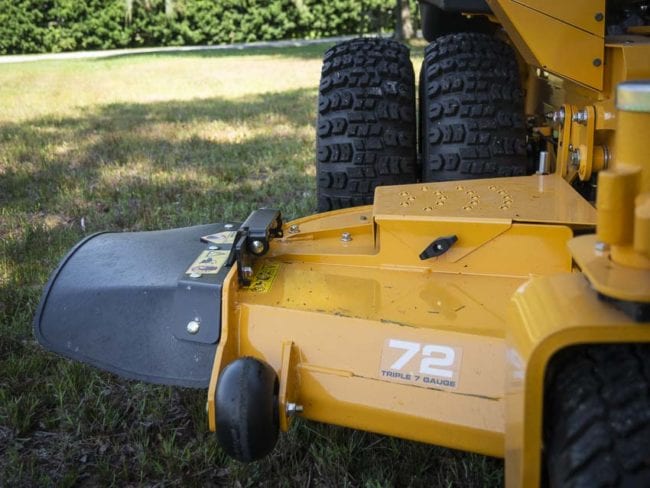 The frame construction on the Cub Cadet Pro Z 972 SD uses fully-welded, full-length 3/8 x 5-inch laser cut steel. It's virtually bullet-proof…seriously, they make steel targets out of this stuff. The axles use a 2 x 3-in tube with 1-2-inch thick steel front yokes.
The thick 5/16-in steel rear "bumper" includes pre-drilled mounting points for attachments. Ours came turned inward, but you can easily remove the bolts and reverse it to add a hitch for a small accessory trailer.
The Pro Z 972 SD zero-turn mower also integrates tie-down slots into the frame so you can easily chain or strap the mower to your trailer.
Mechanical Features
This mower uses an electronic power lift to raise and lower the 72-inch wide deck. Given the amount of steel and width of the deck, I'd prefer this over a traditional spring-assisted foot pedal.
You can cut as low as 1-inch all the way up to 5-inches. Deck height adjusts via the use of a pin, and the cutting heights break down by 1/4-inch increments.
The hand-operated brake lever also engages and releases the hydro pump. Twin 7.45-gallon fuel tanks feed the powerful 35hp Kawasaki FX1000v 999cc motor. A digital fuel gauge keeps you on track with your fuel.
Comfort
The Cub Cadet Pro Z 972 SD zero-turn provides a ride that defies logic. At the high speeds we drove this mower, the high-back air-ride suspension made it feel very comfortable. You can customize the amount of air in the seat using the front-mounted control switch. The seat has an EVC (Elastomeric Vibration Control) cushion to tamper small vibrations from the motor and padded armrests. The seat can angle back and even has lumbar support.
You get power steering with this mower, and the steering wheel also adjusts up or down via the column to match your seated height.
Finally, a 12-volt outlet kit means you can run small electronics or even convert to a USB port to power your smartphone while you mow.
Pro Z 972 SD Zero-Turn Mower Performance
We used the Cub Cadet Pro Z 972 SD Zero-Turn Mower for about 6 weeks, testing it on both level and uneven terrain. It mows consistently and quickly, handling both Florida Bahai and St. Augustine grass easily. I liked much of the functionality—from the electronic deck to the adjustable steering wheel height. And I initially didn't believe I'd like the steering wheel, but I now feel it provides a better mowing experience. This is certainly the case on inclines, but even on flat ground, it provided more stable turning and control.
The 999cc Kawasaki engine (couldn't they eke out that last cc?) provides tons of power, and the ride comfort remains one of the best I've ever experienced. The Cub Cadet zero turn starts up quickly and the dual tanks deliver plenty of cut time without ever having to stop and refuel.
We've looked at earlier Cub Cadet mowers like the Pro Z 148S EFI, but a dually setup and an air-ride seat put this model into a class of its own.
For Pros, this dually-wheeled mower could produce much cleaner cuts and eliminate damage to areas with sloped terrain. The cherry on the top would be Cub Cadet's 3-year limited commercial warranty (with no hour limitations) and their 5-year / 1,750-hour limited deck construction warranty. I can't imagine how you'd damage that tank of a deck, but we still like seeing that warranty.
Conclusion
The Cub Cadet Pro Z 972 SD zero-turn mower cuts on inclines up to 25 degrees and rides like you're sitting on a cushion of air. It handles hills even better than regular Cub Cadet steering wheel mowers—and that says a lot since they do well on their own. This mower would suit a commercial landscaper wanting to service municipalities or other large spaces that feature uneven terrain and lots of hills. Despite the wide 72-inch deck, the anti-scalping wheels do a decent job. For just under $16,000 this mower gets the job done without overcharging for the specialty nature of the dually wheels and extra-wide deck.
Cub Cadet Pro Z 972 SD Zero-Turn Mower Specs
Engine Type: 35hp 999cc Kawasaki FX1000v
Fuel capacity: 2 x 7.45 gal. tanks (14.9 gal. total) with electronic fuel gauge
Speed (forward/rev): 12 mph/6 mph
Transmission: Parker HTG 16cc pump / 310cc wheel motor
Construction

7ga. steel shell fabricated 72 in. deck
5/16 in. steel trim and discharge sides
7ga. top plate
7ga. bottom reinforcement
1/4 in. steel rolled leading edge reinforcement
8″ sealed cast aluminum spindle housing (maintenance-free)
3/4 in. thick UHMW-PE replaceable trim-side wear guard

Cutting height: 1 – 5 in. (1/4-in. increments)
Blades: 3 x high-lift Fisher-Barton Marbain blade
Discharge chute w/high-density, impact-resistant rubber
Steel tool-free quick release spindle covers
Anti-scalping: 4 front HD w/bushings & grease zerk
Trim-side wear guard
Adjustable height cup holder
Electronic hour meter
Dimensions (discharge chute up/ROPs down): 88 in. L x 85 in. W x 49 in. H
Weight: 1,850 lbs.
Warranty: 3-year (no hour limit) commercial; 5-year/1,750 hour limited deck construction
For more information, check out the Cub Cadet website.