DEWALT's lithium-ion cross line laser really hit home with residential contractors and now we're partnering with DEWALT to tell you about their latest expansion in laser technology—the DEWALT 20V MAX* 3 x 360 Green Line Laser.
DEWALT 20V MAX* 3 x 360 Green Line Laser Design
Basics
Fundamentally, this is a 3-plane laser with one horizontal and two vertical beams. DEWALT opts for the higher visibility of green beams that let you see it out to 100 feet in optimal conditions.
A lock switch on the side locks the diodes down for transport and turns off power to the laser. In the unlock position, the diodes self-level up to 4°. If you happen to be outside that range, the laser blinks to let you know.
For use with a tripod, the base pairs with both 1/4-inch and 5/8-inch threads.
New and Unique
So much for the ordinary. From here, the DEWALT 20V MAX* 3 x 360 Green Line Laser is very different from other models we've used.
It's immediately noticeable how different the overall form factor is. The laser housing is separated from the power source and that's important. This is DEWALT's first 20V MAX* product in the line laser sector and the orientation allows for almost any 20V MAX* battery up to 8.0Ah as a power source. You can't use FLEXVOLT® batteries, but what's cool is that you can use DEWALT 12V MAX* packs. This 12V MAX*/20V MAX* combination is something we haven't seen before.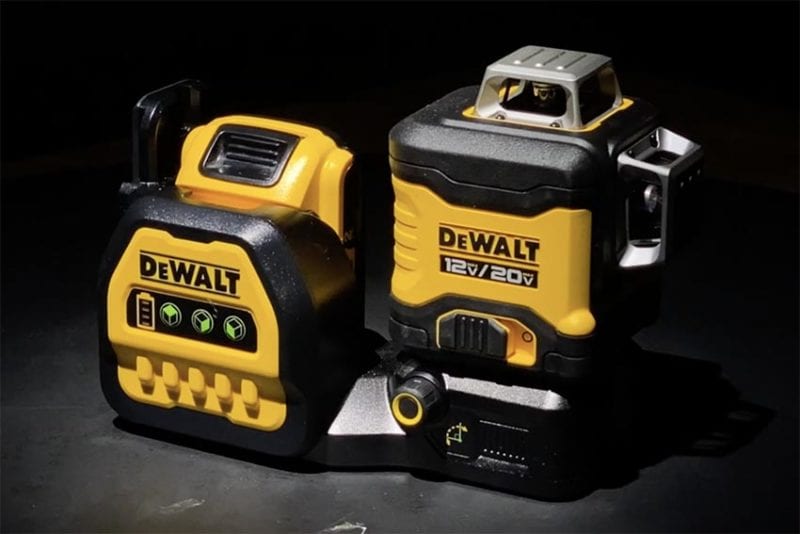 The diode controls aren't on the laser housing where we're used to seeing them. They're on the outside of the battery port. Each beam has its own power button, letting you choose exactly what you need without cycling through with a mode button until you finally get the right combination.
Switching back over to the laser housing, there's a dial just below it on the side. This is a fine adjustment knob and it's a great helper when you're setting up vertical beams. Start by getting the beam close to your target and then use the dial to center it. The operation is much smoother and less clumsy than moving the base by hand and that could save you time.
While the laser's form factor is longer and heavier than most others, DEWALT provides magnets that are capable of holding against steel or the drop ceiling bracket that comes in the kit. It even holds on thinner and painted steel surfaces.
For those of you using Tool Connect™ inventory management, there's a recess for adding a Tool Connect™ Tag under the base to help you keep track of your laser.
DeWalt 20V MAX* 2 x 360 Green Laser Performance
When it comes to performance, a 20V MAX* 2.0Ah battery can run up to 10 hours** with all three lasers in use. That's plenty to get through a full day and you can get even more if you only need one or two beams.
Combined with 1/8-inch accuracy at 30 feet and an IP54 rating*** against dust and water intrusion, this is a line laser that's ready to help you deliver the results you demand as a professional on jobsites that demand a lot from your tools.
DEWALT 20V MAX* 3 x 360 Green Laser Price
The laser is available in two kit options. The DCLE34030GB kit includes the 3 x 360 line laser, green target card, drop ceiling attachment, and manual packed in a TSTAK® storage system compatible case. You can find it for $549.
If you need a battery and charger, you can add them to the package with the DCLE34030G kit that runs $599 and comes with a 20V MAX* 2.0Ah battery.
DEWALT backs this laser with a 3-year warranty, 1-year free service agreement, and 90-day money back guarantee.
If a 3-plane laser isn't exactly what you need, keep your eyes open for DEWALT 20V MAX* cross 5-spot, cross 2-spot, and cross line models at your favorite retailer.
Specifications
Model: DCLE34030
Power Source: DEWALT 20V MAX* or 12V MAX* batteries (not FLEXVOLT compatible)
Accuracy: 1/8-inch at 30 feet
Self-Leveling Range: +/- 4°
Range: 100 feet visible, 165 feet with detector
Runtime: 10 hours** with a 20V MAX* 2.0Ah battery
Warranty: 3 years with 1-year free service agreement and 90-day money-back guarantee
Price: $549 kit w/o battery and charger, $599 with 2.0Ah battery and charger
*For 12V Max*: Maximum initial battery voltage (measured without a workload) is 12 volts. Nominal voltage is 10.0; For 20 V MAX*: Maximum initial battery voltage (measured without a workload) is 20 volts. Nominal voltage is 18.;
**On average, using DEWALT 20V MAX* 2.0Ah battery with all 3 laser lines in use.
***Provides some level of protection from dust (limited ingress) and liquids (light splashing) during normal and reasonably foreseeable use. Applies to tool, not battery or charger.