In our Best Shop Vac review article, we break down a host of models. There's everything from value pricing to premium and small capacity to large. DeWalt is a surprisingly new player on the scene. The $140 DeWalt 9-Gallon Wet/Dry Vac and its brethren are part of a new lineup from Alton Industries, which also brands dust extractors and vacuums under the Porter-Cable and Stanley names.
Notable Features
9-Gallon Canister: Firmly in the mid-size range for shop vacuums, the DeWalt 9-Gallon Wet/Dry Vac should provide enough to capacity to get the job done without taking up too much space on the floor. The size is a good fit for most shops and garages with easy enough portability to carry to the job site.
Blower: Converting the DeWalt 9-Gallon Wet/Dry Vac to its blowing mode is a simple affair. Simply disconnect the hose from the vacuum port, and reattach it to the motor exhaust. In seconds, you've got yourself a low-power blower.
Mobility: DeWalt has fitted this vacuum with four 360° rotating caster wheels. This will help the vacuum turn around in tighter spaces. Of course, the lack of larger wheels means that hopping cords and debris will be a challenge, but free motion around the shop will be a snap.
There's a pretty clear improvement in quality here as well, with rolling characteristics that are much smoother than the other models we use.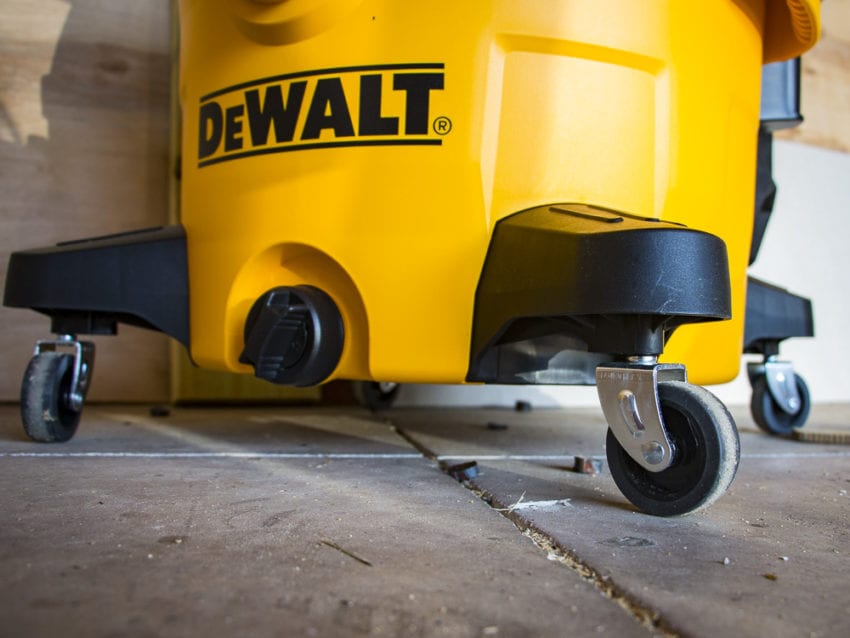 Accessory Storage: Rather than carving out places on the base of the vacuum for each individual accessory, DeWalt uses bag storage that hangs from a back handle. Personally, I prefer this option, though Managing Editor, Kenny Koehler, will disagree with me. While it's a bit more disorganized, I don't have to navigate around wand pieces sticking up or nozzles falling off if the cord hits them.
Included in Kit
2 extension wands
Washable cartridge filter
Floor nozzle
Utility, crevice nozzles
Disposable filter bags
Accessory storage bag
Hose and Cord Management: This is one of those areas that DeWalt has put some thought into. The cord wraps easily and securely around the handle. Where a lot of models have let us down, the DeWalt 9-Gallon Wet/Dry Vac has a pretty fantastic hose management system. The hose wraps around the motor housing and is held in place by heavy-duty rubber straps.
Performance
The DeWalt 9-Gallon Wet/Dry Vac comes with a 5 Hp motor that can pull a max 90 CFM and 70-inches of water lift through its 7-foot long, 1-7/8-inch diameter hose. The motor is actually a little smaller than some of the other options out there that give you a 5.5 Hp motor to work with. As always, it's not the size of the motor as much as what you do with it. It's a spot-on balance to ensure you have both airflow and lift.
In our suction force test, this model brought 4 lbs, 7 oz of pull force to the table. That's on par with other models in this size class. However, the CFM rating is a bit low compared to the others. It's not ineffective, though, and I'd rather have the balance of the two than to sacrifice lift to get higher CFM.
Build Quality
One of the highlights of the DeWalt 9-Gallon Wet/Dry Vac comes down to its build quality. Everything about this vacuum just feels solid. The individual components are rugged and durable. It doesn't feel like it has any weak points, like flimsy latches or ill-fitting pieces. In fact, everything fits together really snug, from the canister to the housing to the cord and accessories. A similarly specced model from another brand might be a bit cheaper, but the build quality on this shop vacuum is a cut above the rest.
Best Wet/Dry Shop Vacuum Under $100
The DeWalt 9-Gallon Wet/Dry Vac makes a pretty strong case for itself. For $139.99, you get a 9-gallon unit that balances its power output well between CFM and water lift. Even though the performance stats won't blow your mind, it's a really well-built piece of equipment that's clearly a step or two ahead when it comes to quality. If you want a smaller system, check out the DeWalt DXV04T 4-gallon vacuum. For something larger, the DeWalt 16-gallon wet/dry vac impressed us as well.
DeWalt 9-Gallon Wet/Dry Vac Specs
Model: DeWalt DXV09P
Motor: 5 HP
Canister Size: 9-gallon
Hose Diameter: 1-7/8″
Hose Length: 7′
CFM: 90 Max
Water Lift: 70″
Warranty: 3 years limited
Price: $139.99