When there's work to do, but it's cold outside, a good heated jacket can be your best friend. Body heat helps, sure, but having a jacket that fires up to 131° within seconds helps a lot more. As we learned through our Best Heated Jacket Shootout, you've got a few options. When you've absolutely got to be outside on the job this winter, don't be content to stand there shivering. Consider getting yourself outfitted with one of the newest DeWalt heated jacket models.
Pros
Multiple battery storage locations thanks to the extension cord
Accurate fit according to the size chart
5 heat zones, including both sleeves
Excellent heating times
Excellent value rating
Cons
Lowest battery efficiency rating and runtime
No battery adapter clip
Recommendation
DeWalt does a great job of spreading out the heat but lacks runtime. It's going to be a good bet if you don't plan on running in high the entire time or don't mind picking up an extra battery.
Features
Heat Controls
Rather than placing the user controls on the outer shell, the DeWalt Heated Jacket has its heat controls located on the inside of the left breast. It's not a particularly aggravating feature, but we kind of wondered what the intended advantage is to placing it there. You'll need to adjust the settings by unzipping the jacket a little to get to them.
Battery Storage
What's of more concern is the fact that DeWalt opted to put this jacket on the 20V Max battery lineup. That means more heating power and longer runtimes along with more compatible tools. However, it adds a lot of bulk that you don't necessarily want pressing into your kidney, which is where the battery pocket is located.
You'll feel the weight when you're walking around, but sitting down is where you'll really notice the size of the pack.
Incidentally, this placement and battery size turns an otherwise acceptably snug fit into a level of discomfort when you zip it up, especially when you have what the guys in the office graciously refer to as "a contractor's build" (read: I could stand to lose a few inches from my midsection).
The fix for this is to go a size up if you're on the upper end of the scale. If that makes things too loose, just go with one of the alternative battery pockets.
Heating Zones
The DeWalt heated jacket gets full marks for heating coverage. It includes heating elements in the left and right chest areas, upper back, and in the shoulders/upper arm areas. The coverage here is really very good and has an advantage over jackets that just go with the chest and back heat zones.
Additional DeWalt Heated Jacket Features
Durable wind and water resistant insulated woven outer shell
Warm fleece lining
Smooth finish sleeve lining for easy on/off. Will not stick to your sweater
5 pockets: left and right waist, 1 external accessory pocket and 2 internal accessory pockets
Expandable battery pocket
Washer/dryer safe
Fit
The sizing chart on the DeWalt website is accurate. However, you should be aware that it will be a tight fit. With all heated jackets, the size charts give you a snug fit to make better contact between your body and the heating elements.
Personally, I'm willing to give up some heat efficiency for a jacket that doesn't feel like a second skin, but that's something you'll need to decide before you order. If you're between sizes, definitely go up.

The DeWalt Heated Jacket fits well across my shoulders as expected. I would like more length at the waist so that when I reach up I'm not exposing my midriff to the cold. For whatever reason, this is a common issue for all manufacturers.
Feeling Hot, Hot, Hot
Temperature
Let's move onto the real point of what a heated jacket is all about: the actual heat.
Within 20 seconds, the DeWalt Heated Jacket reaches 100° and then hits its max 131° temperature within 90 seconds. For comparison's sake, the fastest-heating jacket we tested reached its max temperature in 84 seconds, while our slowest jacket reached peak temp in 220 seconds.
Heat retention is important for a jacket as well, so we set each jacket to high for an hour and compared the internal temperature to the outer temperature. The DeWalt Heated Jacket does ok in this category, allowing 74% of its heat to reach the outer shell.
This doesn't sound incredibly impressive but bear in mind that the most efficient jacket we tested allowed 71% heat to reach the outside, and the worst in this category allowed 79%.
Battery Efficiency
To test battery efficiency, we compared the battery's runtime – with the heat turned all the way up – to its watt hour output.
What we found was that the DeWalt had the worst battery efficiency of the whole lot of jackets we tested. It finished with 4.5 minutes of runtime per watt-hour of battery capacity.
On the other end of the spectrum, the best performer in our shootout pulled off 12 minutes of runtime per watt-hour.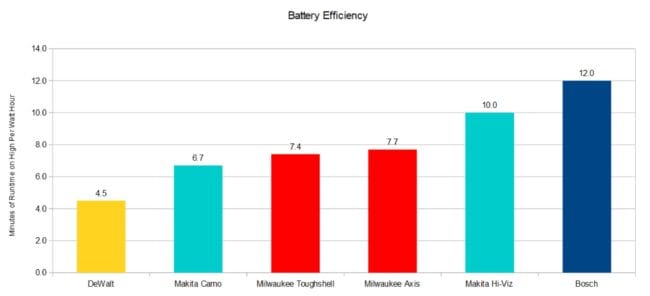 DeWalt does go with the larger 20V Max battery to help pick up some runtime, though. Using the 2.0 Ah battery, it ran on high for 2 hours, 41 minutes. That's the lowest of the group, though both Milwaukee jackets were in the same neighborhood with their 12V batteries. On the high end, a Makita model ran right at 6 hours on a compact 18V pack.
Something DeWalt might want to look at in the future is separate controls for the core and sleeves so you can preserve battery life when you need longer runtime.
Pricing
This DeWalt heated jacket, along with a battery and charger, will run you $224.99. It comes with a 1-year limited warranty, 1-year free service, and a 90-day money back guarantee. That's a little higher than the lowest kit prices out there but still earns an excellent value rating for what you get.
The Bottom Line
With all the data sorted, this DeWalt heated jacket comes in 4th place out of 6 with a solid 89.4 points.
DeWalt Heated Jacket Specs
Model Number: DeWalt DCHJ060ABD1
Voltage 20V Max
Snow Cuffs: Yes
Heating Zones: 5
Weight: 3.64 lbs
Battery & Charger Included: Yes
Insulated: Yes
Hooded: No
Machine Washable: Yes
Water Resistant: Yes
Warranty: 1-Year
MSRP: $173.99
Shop Amazon