DeWalt's Workhorse Table Saw Keeps On Truckin'
DeWalt has been making table saws since I can remember. Nearly a decade after its initial launch, the DWE7491RS is still one of the best portable jobsite table saws on the market. We took a closer look at why so many Pros still use this table saw as their go-to option.
DeWalt Portable Jobsite Table Saw Design
To see why the saw is so popular, we have to start by taking a look at the overall design. DeWalt made the first portable table saw our team used with a rack-and-pinion fence system and we immediately fell in love with its ability to quickly and accurately set up our cuts square to the fence. It also has a flip-up fence to accommodate narrow cuts. Since then, it's a feature that has stuck around, including on the DWE7491RS.
Then there's the table size. With a 32 1/2-inch right-side rip capacity, there's room to spare for those sheet goods. Combined with 24 inches of left-side rip capacity, it's a generous table size.
Of course, it's also a solid performer. There's 4800 RPM behind the 15-amp motor and its accuracy is excellent with proper calibration. The chink in the armor is that the 90° cut capacity is 3 1/8 inches with its 10-inch blade, so it's just shy of what you need if you're trying to rip 4x material.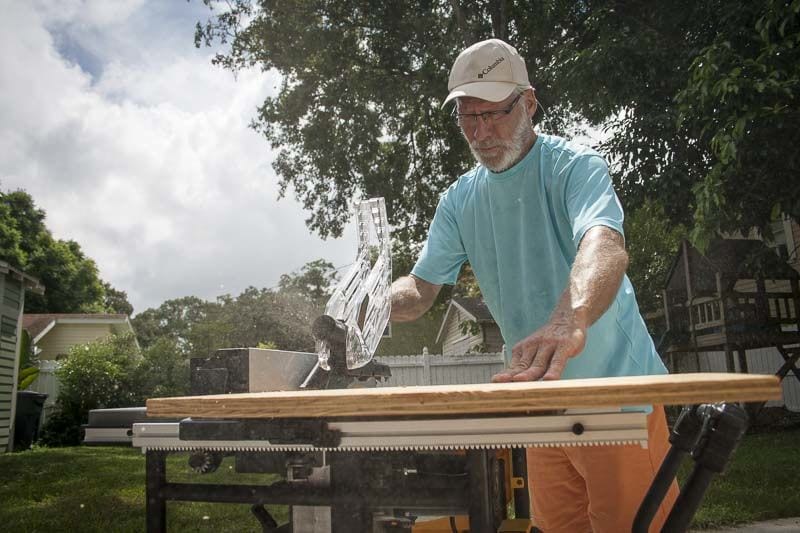 Additional Features
2 1/2-inch dust port
Includes 24T blade
3/4-inch dado capacity
Onboard tool and accessory storage
DeWalt DWE7491RS Portable Jobsite Table Saw Price
What wraps it all up with a nice, neat bow is that the DWE7491RS is affordable. With a well-built rolling stand, it runs $649.
There are other portable table saws you can get with more power, a larger table, slightly better accuracy, or perhaps a little more stability. You're going to have to pay more for it or give up features such as the rack-and-pinion fence to get it. When it comes to the complete package, we really like what DeWalt offers for the price.
Specifications
Model: DeWalt DWE7491RS
Power Source: 120V AC
Motor: 15-amp
Blade Diameter: 10-inch
No-Load Speed: 4800 RPM
Bevel Capacity: 47°
Warranty: 3 years
Price: $649 with rolling stand
Check out DeWalt's entire table saw lineup here.