Milwaukee Tool invented the first reciprocating saw – known as the Sawzall – back in 1951. Ever since then we've needed blades to accommodate it. Originally designed as an electric hacksaw, it took a while before blades began being developed specifically for cutting through wood. The reciprocating saw has undergone several major innovations over the past 65 years. Some of the most significant changes have come on the blades. Take the Diablo Demo Demon Carbide-Tipped Recip Blades for example. It's a major change with significant advantages over the bimetal blades we were using just a few years ago.
Carbide has been making its way into several different accessories. It brings with it superior cutting speed, durability, and the ability to cut through tough materials that bimetal blades couldn't. It also brings a premium cost. We brought in the Diablo Demo Demon Carbide-Tipped Recip Blades for our recent best cordless reciprocating saw head-to-head. We chose it for the many advantages these blades offer. Let's take a look at what those advantages are and how the Demo Demon performed during our testing.
The Carbide Difference
Not all carbide is created equally. Diablo controls their own carbide blend processes and are able to dial in a finished material that has outperformed the competition so far. These carbide teeth resist breaking off and dulling on tough materials. You may have seen testing where Diablo puts their blade against several other competitors in a demolition cocktail that includes asphalt shingles, flashing, pressure-treated wood, and fluted masonry nails. Most blades on the market, including bimetal, can make it through most of the materials. However, it's these hardened nails that other blades have an issue with.
In the test you see below from the Diablo Red Fire media event at STAFDA 2016, you can see their blade is cutting faster and through more nails than even the carbide competition.
Testing the Diablo Demo Demon Carbide-Tipped Blade
That test was designed to show off what Diablo can do in some really tough materials. But the meat and potatoes of a reciprocating saw blade's life isn't cutting through hard metal nails and screws. It's wood and nail-embedded wood with standard nails that end up being the majority of the wood blade's diet.
Head-to-Head
When we tested eight of the best reciprocating saws head-to-head, the wood cutting test required them to cut through 2 x 12 pressure-treated pine that was embedded with five 16D nails. Though not included in the results because the differences were negligible, we also tested them in clean wood. Once all the dust settled, I brought a couple of other nail embedded wood reciprocating saw blades to compare the cutting performance to.
Diablo Demo Demon Performance Results
In those tests (all three blades on the Ridgid Gen5X Reciprocating Saw and using orbital action), what I found was that Diablo Demo Demon Carbide-Tipped Recip Blades were consistently faster than other carbide-tipped and bimetal blades that I compared it to. How much faster?
It was a whopping 3% faster – roughly 0.3 seconds.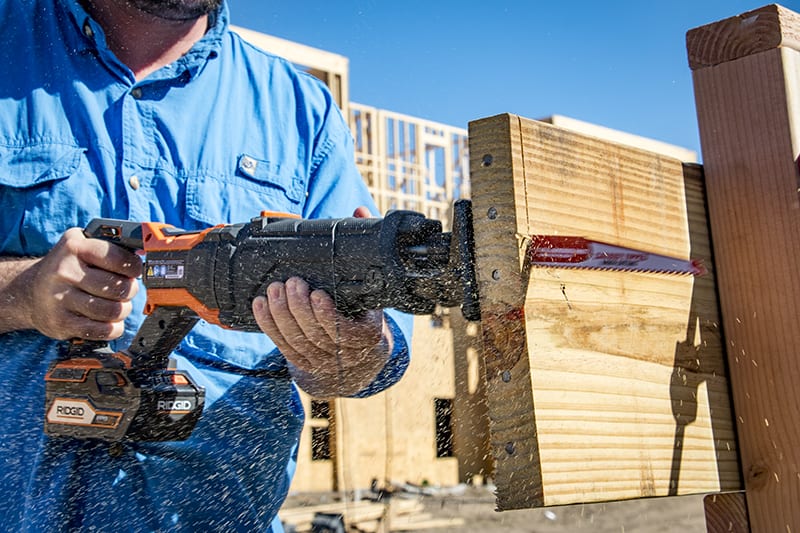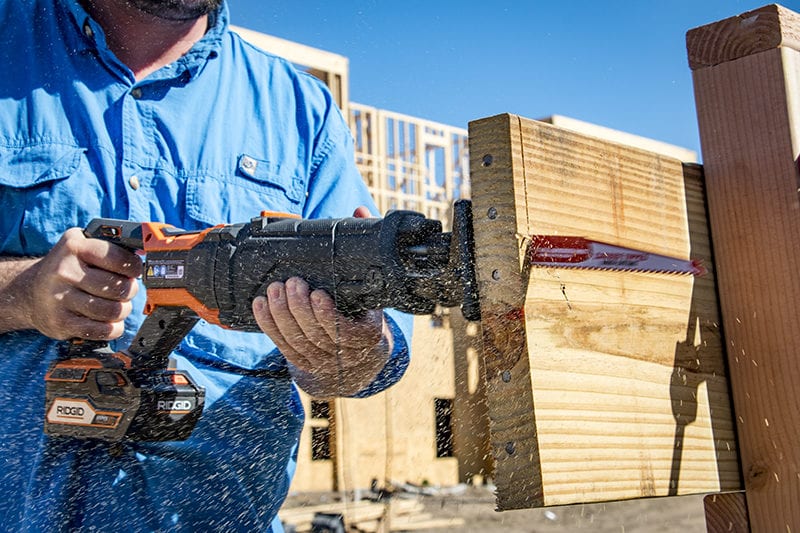 More than Just Speed
So if you're cutting through hardened nails only 5% of the time (or even less), does it really make sense for you to pay the premium for the Diablo Demo Demon Carbide-Tipped Recip Blades?
If you're only looking at speed, you might be tempted to go with the cheaper option. But what Diablo also does well with this model and its carbide blend is more than just a slight speed advantage. There's also a durability factor here that sets it apart from the competition.
Diablo claims that this generation of Diablo Demo Demon Carbide-Tipped Recip Blades will outlast bimetal blades in nail-embedded wood by a factor of 20. I haven't these blades to a failure point yet, but everything with my experience so far suggests that this claim is accurate and possibly on the conservative side.
The Bottom Line
When you look at the design as a whole – 6/9 TPI variable tooth design, carbide blend, plunge cutting tip, and oversized blade body – you get a recip blade that gives you a slight increase in speed, helps to reduce vibration, and offers a lifespan that outpaces bimetal by a huge margin. So far, they're outperforming the carbide competition as well.
Though there is a premium in buying the Diablo Demo Demon Carbide-Tipped Recip Blades, the value is in the cost per cut. You will buy far fewer of these blades then you will bimetal and even though it's more out of your pocket at the cash register, you'll more than make up the price difference since you won't be stopping to pick up new blades nearly as often.
There's no doubt that Diablo Demo Demon Carbide-Tipped Recip Blades are Pro-level accessories. Diablo's name carries with it a very high reputation and many Pros consider it to be the best blade available.
Diablo Demo Demon Carbide-Tipped Recip Blades Key Features
New Variable Tooth Design provides faster cuts with less vibration in nail-embedded wood
High-performance carbide for greater durability and cutting performance
Enhanced carbide tip to blade connection for extreme impact resistance
Unique plunge tip design that enables faster and easier plunging
1 in. oversized blade body for straighter cuts with less vibration
Diablo Demo Demon Carbide-Tipped Recip Blades Specifications
Model: Diablo DS0906CWS
Tested Length: 9 inch
Available Lengths: 6″, 9″, 12″
TPI: Variable 6/9
Tooth Design: Carbide Tipped
Package Quantity: Single
Price: $8.99