We recently made a head-to-head (tooth-to-tooth?) comparison between several different circular saw blades. Blades contribute significantly to a saw's overall cutting performance. In short, the blade makes the saw. Consequently, it makes sense that we should want to review the latest blades when they come in. In this case, we wanted to test the Diablo Tracking Point Framing Saw Blade.
Few companies have innovated the circular saw blade as much as Freud has with Diablo. They manufacture specially-coated carbide blades for every material and desired finish. We've reviewed a bunch of Diablo recip and circular blades over the last few years with highly favorable results.
One of Diablo's newest designs is the Tracking Point – a symmetrical third tooth inserted after the left and right bevel of an ATB design. Diablo claims that the Tracking Point enhances cutting efficiency, provides straighter cuts, and controls carbide wear for up to 5 times longer cutting life and 2 times the durability in nail-embedded wood (though the Demo Demon is still a separate model for demo applications).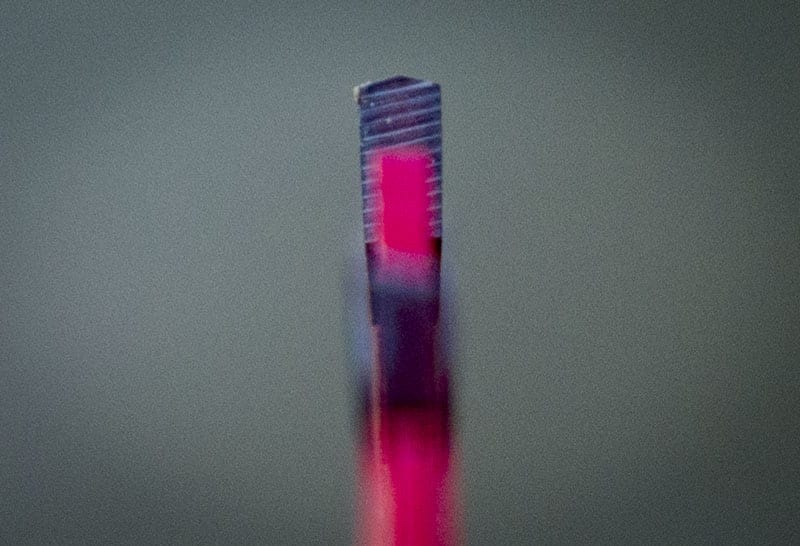 It's a thin kerf (.059-inch), 24T blade with Diablo's anti-vibration technology. Just as I wrote about the other blades, the Diablo's thin kerf is appropriate for the cordless circular saw I'll be using for the comparison. Thin kerf typically yields more power with cordless saws. Originally, however, thin kerf originally found its home in corded saws short on power.
I expect the blade to cut faster through the pressure-treated wood we have set up for its next meal thanks to the smaller kerf, but that can often lead to increased vibration. The Anti-Vibration design should mitigate that, so we'll see how it feels in the cut.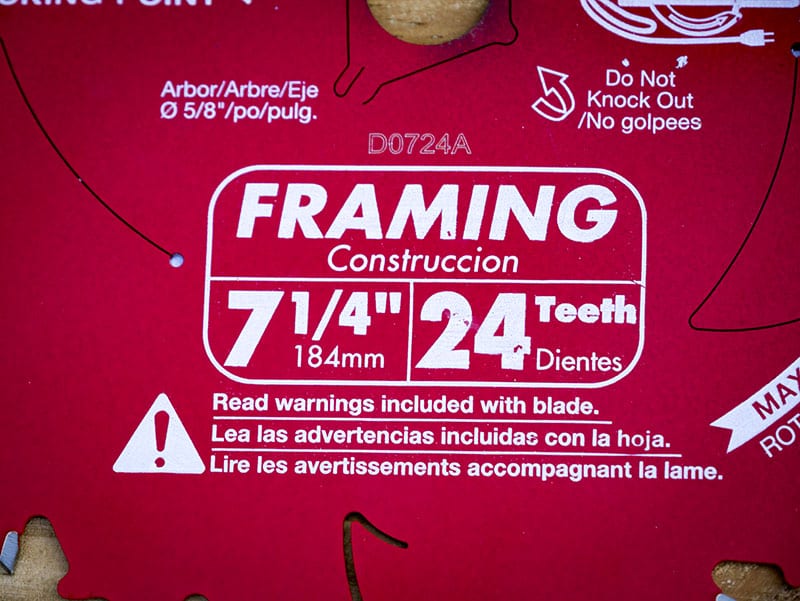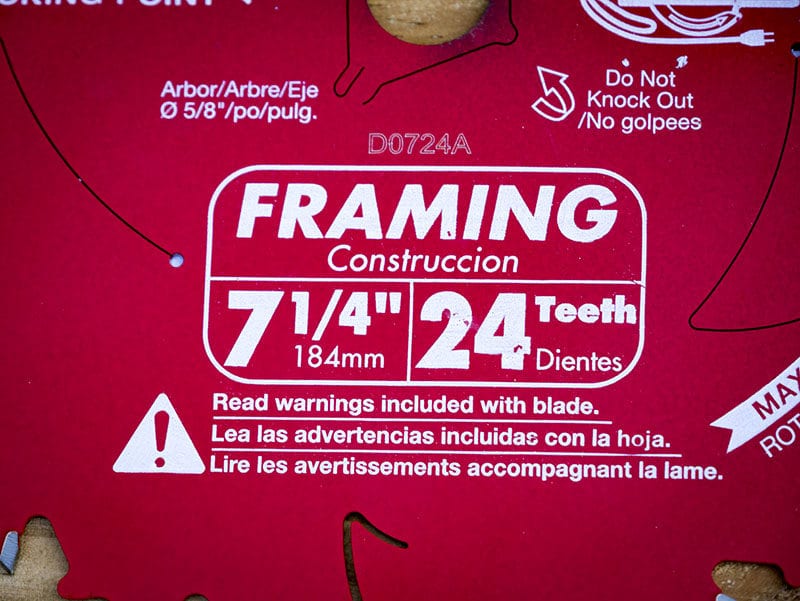 Cutting Your Teeth
With a 24-tooth design, you shouldn't be expecting an incredibly smooth finish – that's what high tooth count blades are for. With fewer teeth and larger gullets, the Diablo blade is designed to clear material quickly and aggressively.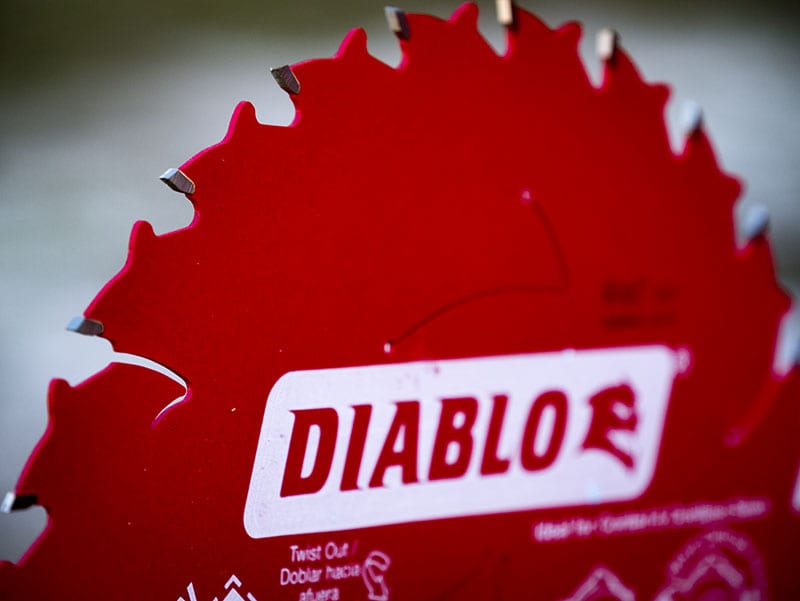 For our testing, I clamped a pressure-treated 2×12 to DeWalt's Metal Folding Sawhorses. I went with compact batteries in Ridgid's Gen5X Circular Saw so I wouldn't be standing around making cuts all day. For each iteration, I made a crosscut, set the saw down for 30 seconds to recover, then made the next cut. This eliminated the possibility of thermal shutdown so I'd know the saw quit only when the battery was exhausted.
With such a solid reputation, I figured Diablo would easily leave its competitors behind. After the results were tallied, our solid standard framing blade (Hilti) gassed the saw at 26 cuts, Diablo (framing) made it to 35 cuts, and DeWalt (multi-purpose) pushed on to 39.
The Diablo cut quickly, but fell slightly behind on vibration, though not a level I would consider excessive by any means. Hilti's thicker kerf stabilized better as expected and DeWalt's combination of technologies controlled vibration better as well.
The Bottom Line
Diablo once again proves that they produce a blade far superior to what you can expect from stock models, but they seem to be stirring up some competition.
Although Diablo was close to the top in the number of cordless cuts on a single battery charge among the blades we tested, it wasn't quite as smooth as the DeWalt 2X Demo we put it up against in clean wood. There might have been a difference if we'd cut some nail or screw-embedded wood, but we'd need to call on the Demo Demon for that – this is a framing blade after all.
The Diablo Framing Saw Blade with Tracking Point retails for under $10. That's nearly half the price of the DeWalt blade that had better efficiency and vibration. The question that's left is what the full usable life of each blade will be. You'll have to decide if a small amount of vibration is worth saving 50 percent. For pure framing duties, I'd absolutely save the cash.
And what about the claim that the Diablo Framing Saw Blade with Tracking Point cuts straighter?
That was noticeable as well with an improvement in cutting accuracy.
Diablo Framing Saw Blade with Tracking Point Manufacturer's Key Features
Tracking Point tooth design provides straight cuts & control carbide wear for up to 5x longer cutting life vs other blades and 2X the durability in nail-embedded wood
Tracking Point tooth design also delivers extreme cutting efficiency in corded and cordless saws (65% more cuts per battery charge in cordless saws versus other blades)
Newly Enhanced Anti-Vibration design provides the ideal combination of stability and rigidity
Perma-Shield Non-stick coating resists heat, gumming, and corrosion
Laser-Cut Thin kerf for less resistance and greater cutting efficiency
Diablo Framing Saw Blade with Tracking Point Specs
Model: Diablo D0724A
Price: $9.97
Tooth Count: 24T
Tooth Design: ATB with Tracking Point
Tooth Material: Carbide
Diameter: 7-1/4″
Kerf: 0.059″
Arbor: 5/8″