Looking for a budget-friendly way to add concrete drilling and chipping to your capabilities? We're teaming up with DongCheng in this sponsored post to tell you more about the DongCheng 20V cordless rotary hammer and how it can help on your next project.
DongCheng 20V Cordless Rotary Hammer Performance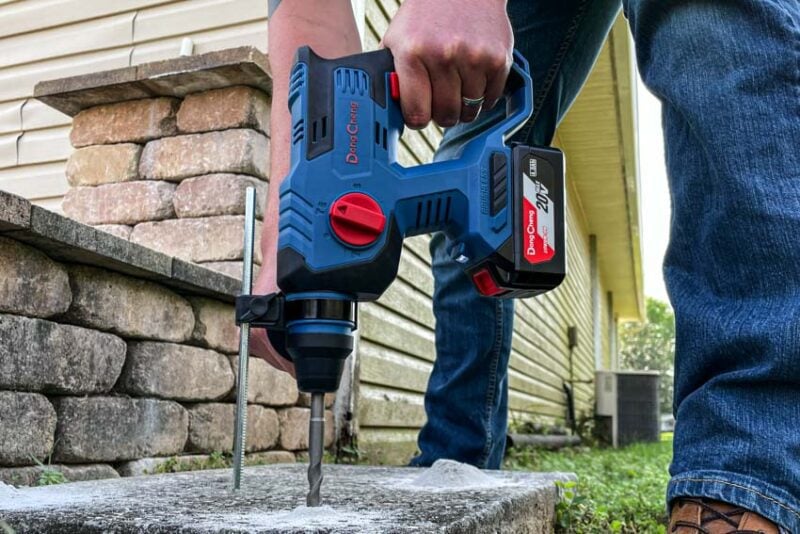 Brushless motor
SDS-Plus chuck
2.1 Joules (1.5 ft-lbs) of impact energy
0 – 1400 RPM
7/8-inch max drilling diameter in concrete
Efficient heat dissipation
Starting with the performance, DongCheng uses a 20V battery to power a brushless motor. It tops out at a quick 1400 RPM and delivers 2.1 Joules (1.5 ft-lbs) of impact energy.
What that means for your concrete drilling is that you can use any SDS-Plus bit up to 7/8 of an inch. For those of you who also use your rotary hammer for metal or wood drilling, you can use bits up to 1/2 an inch in steel or 1 1/8-inch in wood.
You control the tool in two ways. First, there's a variable speed trigger, just like we expect to find on every rotary hammer we use. There's also a mode selection switch with options for rotation only, rotary hammering, chisel rotation, and hammering (chiseling) only. For a rotary hammer that's as budget-friendly as this one, having all four of those options is unusual. Most that we come across have just the rotation and rotary hammering modes.
DongCheng 20V Cordless Rotary Hammer Design Notes
5.8 pounds with battery
Forward and reverse modes
Ergonomic grip design
Tether point
LED light
As a 7/8-inch rotary hammer, this model is compact. Across the top, it measures 10 1/4 inches long. With the 4.0Ah battery that comes in the kit and the side handle installed, the total weight is an easy-to-manage 5.8 pounds.
Overall, the grip design is comfortable to hold. It has an ergonomically curved shape with a rubber overmold that adds some comfort and grip security.
DongCheng 20V Cordless Rotary Hammer Price
$149.99 kit list price
5-year warranty
The list price for the kit is just $149.99 ad that includes a 4.0Ah battery and charger. For a brushless rotary hammer, that's a really attractive price. However, we found it on Amazon for $104.99 at the time of writing, and it comes with a 5-year warranty.
Have any questions or thoughts about this rotary hammer? Drop them in the comments below!
Discover more DongCheng tools by clicking here!