Step Up Your Tilling Game With The Power And Dual-Rotation Of The DR Power Pro XLDRT Rototiller
Preparing the soil and planting your own vegetables is one of the most rewarding parts of having more property than you get in the city. While some soil isn't too challenging, a lot of it is, especially when you're prepping it for the first time. The DR Power rear tine rototiller Pro XLDRT has just one question for you: are you ready to get serious about tilling?
Pros
Strong tilling performance
Forward and reverse tine rotation
Beefy tires
Side panels and rear debris shield keep soil from being thrown on you
Forward, neutral, and reverse transport modes
Heavy enough to keep from bouncing around
Adjustable handle height
Cons
Engine oil access is tough
No electric start option
DR Power Rear Tine Rototiller Performance
Engine
The Pro XLDRT starts with a DR Power 209cc overhead valve engine that's capable of putting out 9.5 ft-lbs of torque. The good news for our friends in California is that it is a CARB-certified engine.
The one downside we discovered is filling the oil. The engine holds 20 ounces of 30W-HD oil. The most convenient access of the two still has a good deal of blockage. Grab a long, narrow funnel rather than trying to pour straight from the oil container.
Tilling
We have a backyard vegetable garden up in Georgia and we planted it on time, but with the hectic schedule our family keeps, we weren't doing a great job of maintaining it. We gave our DR Power rototiller its first test by clearing out the rows in between our growing veggies.
The engine drives a set of 11-inch tines that cover an 18-inch width and can till up to 11 inches deep. It was so much easier and more effective than using weedeater attachments or other small tillers.
What's great about this model over some of the others is the tines have dual rotation capability. When you're working in loose soil or established gardens, keep them running in forward. When you need to break up hard soil or you're tilling up a section of land for the first time, flip them into reverse. To do that, use the gear selection lever just to the left of the handle center.
To test the reverse function, we decided to expand the boundaries of the garden. With a mix of Georgia clay and topsoil, the rototiller's ability to dig through that hard-packed mix was impressive.
As strong as the tiller is, there are limitations. The tines can handle occasional small rocks. However, you should avoid rocky soil and sections with bigger rock chunks.
DR Power Rear Tine Rototiller Design Notes
Drive System
DR's engine also powers the drive system. Using the speed selector on the right, it's easy to match up the drive speed with the work of the tines.
The same selector that switches the tine rotation also controls forward and reverse for the drive. The big thing to remember is that no matter which way the tines are rotating, the drive is in forward. There's a separate forward, neutral, and reverse for transportation with the tines off.
Be aware that there's a difference between when the tines are in forward and reverse. The forward spin helps push the machine along and moves faster than the same setting in reverse. If you need some extra resistance to help slow down, there's a drag stake you can drop for that purpose.
The pneumatic wheels are a beefy 13 inches x 5 inches with an aggressive tread that does a great job gripping the soil and moving the machine forward.
Debris Shield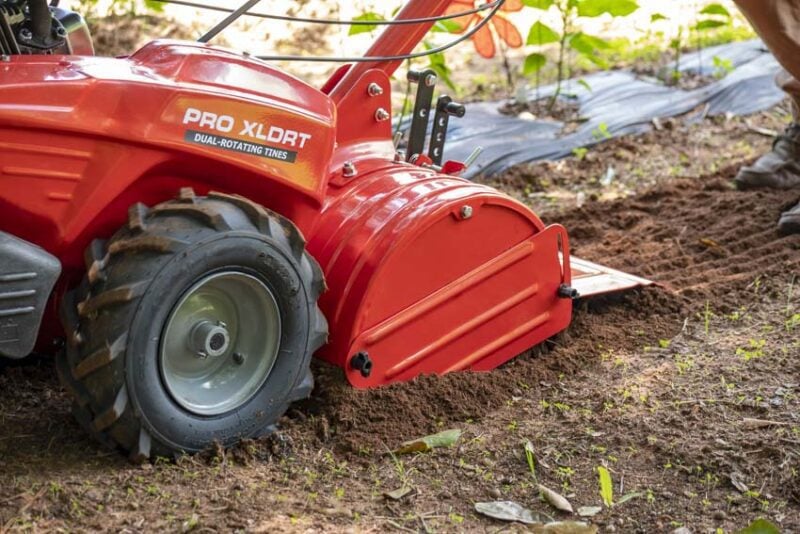 DR Power's design does a nice job of keeping the soil off of you. Side panels and a spring-loaded rear debris shield keep it in check.
Additional Notes
Recoil starting (pull start)
96-ounce fuel capacity
Adjustable handle height
Front brush guard
205 pounds
DR Power Rear Tine Rototiller Price
The DR Power Pro XLDRT has a list price of $999.99 and comes with a 2-year residential/90-day commercial warranty. Keep your eyes open, though—at the time of writing DR's website had it for $799.99. If you order online, shipping is free.
The Bottom Line
The Pro XLDRT rear tine rototiller is the most powerful walk-behind in DR Power's lineup and its ability to rotate the tines in both directions makes a huge difference. If you're serious about tilling up a larger section of your property for planting, skip the underpowered budget options and attachment systems, and put the Pro XLDRT to work instead.
DR Power Rear Tine Rototiller Specifications
Model: DR Power Pro XLDRT
Engine: 209cc OHV
Torque: 9.5 ft-lbs
Tilling Width: 18 inches
Tilling Depth: Up to 11 inches
Tine Size: 11 inches
Wheels: 13 x 5 inches
Price: $999.99
Warranty: 2 years residential, 90 days commercial
Discover more outdoor power equipment at DR's website.